On the idea of ​​the game will be passed after the victory over the four final boss.
Their location can be seen on the map: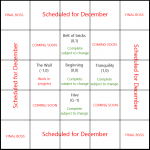 Perhaps there will be more levels.
The levels will vary in difficulty and their passing at times will vary depending on the selected equipment.
Will be possible to complete the game without equipment items. (But it is very hard).
I'm working on the level "The Wall" and I think it will soon be ready.