We now have a full team for the project and the pace of the development has picked up significantly during May.
Over the past several weeks the focus has been on the visual design for 2112TD. We want the game visuals to really stand out and feel immersive, capturing the story and time line which the game is set. 2112TD is being built in a 2D environment using a mixture of both 2D still images and 3D sprite sheets. The objective is to create a classic strategy game experience.
There are three core visual elements in the game, the technology, the monsters and the environments.
We're hoping to use each of these elements to really set the scene. There are going to be lots of 'visual quirks' designed to bring the battlefield to life.
Recently a decision was made to introduce tower platforms which perform a similar function to helipads in the real world. The player can select these pads and place towers on them. Once selected a cargo ship will fly onto the screen and deploy a crate at the build location which will unpack into the turret.
Video of the work in progress Cargo Ship

Each tower in 2112TD will have a unique 'in-active' and 'active' mode. When not in combat towers will appear in-active. When a monster comes into target range the tower will a visual transition as it prepares to engage.
2112TD will feature two types of paths. There is the small path and the main path. On some maps the player will encounter a 'fortification platform' which will appear as a long metal strip on the main path. Like the tower platforms the player will be able to select and build here but instead they will only be able to build a wall. This wall will hold back monsters while they attack it, providing a chance to deal some extra damage to large groups.
Currently, we are working hard on the game maps. This is one of the biggest challenges we've faced so far as there are many technical hiccups to over come. Everything has to be scaled and the perspective has to be right so that the models don't appear out of place. This has required a great deal of testing and there is still much to do.
Screenshot of the Neptune Prison Map with the tower platforms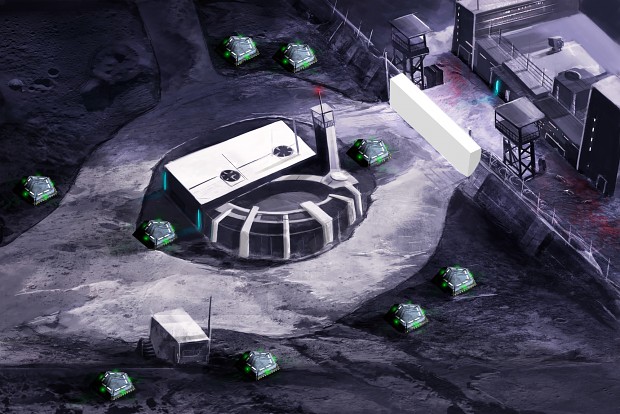 We've posted lots of new concept art on our social media profiles for your viewing pleasure. Hopefully this time next month we will be able to showcase some early game play footage.
We'd love to get your feedback on our work in progress materials so please leave us comments.
Keep up to date with us on Facebook as well.