I hate not having regular updates to share, but it's hard to create an interesting update when I've spent the last two weeks writing a website. So first of all apologies if for not updating too regularly, believe me i want to i just find it difficult to find the time and interesting content to show!<!-- br-->
Anyway, rest assured I am still working hard on the game and I have some cool new things to show here.
New and improved website
During the last 2 weeks my main focus has been re-writing and designing my new site. I didn't update the previous one enough so this time I'm going to make sure it is packed with the most up to date and relevant news on Samphi. Here are a quick screeny (in progress shots) of the site and I expect it to be live in the next 2 weeks.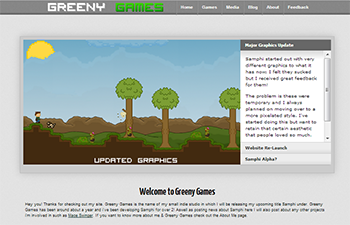 Improved Graphics
One of the biggest changes that 0.6 is going to bring is a complete overhaul of the graphics. I have had a lot of great feedback regarding Samphi's graphics so I don't want to change them too much but I find this new style much more natural for me so I'm going to roll with it.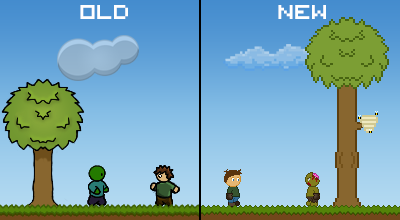 I hope you agree that the new art style is smoother and will allow me to create better animation and overall aesthetic throughout the game. Below are a few new resources that I have created that show of the art style.

UI Updates
The UI for Samphi has changed in almost every release that I have put out so far. This is because I'm still experimenting and finding what kind of UI will work best with the game. I've decided to strip it back a bit this time around in the hope of making it cleaner and easier to use. It's not quite done yet so I have no image but I'll drop one soon.
Character Creation
As Samphi is still in alpha the character creation process so far has been very simple; your given a male character with no name and you can only have a single save file. I would like to roll out greater character control in 0.6 which will include the ability to name your character and the choice between male or female. I would also love to provide more than 1 save file and basic customization but I'm not sure if I'll squeeze that in! Below are the new male & female character sprites.

Improved Combat
Up until now I have received a fair few comments along the lines of "This is Terraria 2". While this is flattering it's not my aim to make a clone. Samphi is going to be MUCH more combat focused and until now it's been very basic and lacking. I hope to improve this in 0.6 and make the combat much meatier, showing Samphi's true aim.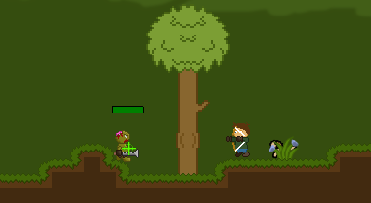 New Items
The last thing I am going to speak about in this update is the addition of many new items. I have already quite a few of them and I have many more cool things planned. Some cool new items include honey, wheat, chests, bread and spike balls. Their icons can be seen below. Like I say this is just a small portion of the new items and if you have any suggestions for more let me know!

New Images
To accompany this post I've added a few new images so you should check them our here.
That's all I've got for now, but I hope it shows the progress i'm making on 0.6 and let you know i'm still working hard on the game! I'm going to try my absolute best to get some video content out soon but i can't make any promises! I have so much stuff to do!
As always, let me know what you think of the direction i'm taking the game; all feedback good or bad is greatly appreciated and will help make Samphi awesome. Be sure to follow @greeny_games & @SamphiGame on Twitter for running dev news and chat.
That's all from me for now. Ciao.