Hey guys, we hope you have all loved what we have put out so far, and we are going to be making some huge changes to hopefully put out more of the right stuff. These changes were onset by the loss of two team members and this news article will tell all of our fans out there what the hell happened to us.
To start off, we are not dead and not dying; this project is still on and we are still aiming to finish it.
The Losses:
We have lost two team members, one vital, one less vital but still good. First, we lost Elliot, a 3D Props Artist who made that crate that we uploaded a few weeks back as well as a few other props. He is the less vital of the two we lost, and he left because his work schedule was changed and he wouldn't have enough time to commit. Then, the same day, a few hours later, we lost Collin. Collin, as some may know, was our composer and also, as some may not know, my writing helper in writing Wake Up Call's storyline. Collin, I would say, was a very influential team member and perhaps just as vital as influential, as he was on often and talked to us often and overall quite active. He left because of ideal issues, as in, he didn't think and act the same way I did and was not happy with the progression Wake Up Call was taking. That said, he doesn't think it will be a bad game, just not one he wants to work on. Those are the two people that we lost and we are recovering fairly well right now, considering the facts.
In Collin and Elliot's memories, here is Collin's best music piece and Elliot's prop render.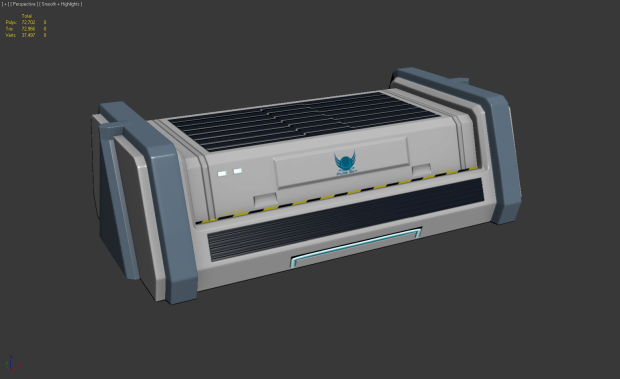 The Bright Side:
Despite the cloudiness and sadness of the tone of this update, there is a bright side. These events have led me to go back and look back on how we are developing Wake Up Call, and now we are going to fill in more of the blanks that were left early on in the project. I realize that I pushed too hard sometimes and now we have a chance to go back and make a lot of concept art, documentation, and prototyping work that we should have done already. This means Wake Up Call will get a fresh start, without a full restart, which is exactly what it needs. So, for the next few months we are going to be fixing and filling things mainly.
What Changes Are in Order:
Well, because of all these changes in team structure and organization and whatnot, there also will be changes to how we share our work with you guys out there. For a while we will be silent while we regroup and push forward. Now, we will try to start updating you more often as soon as we can, but I think it will take a good month or two to get to starting updates again. But we will do it when we are ready to do it. And, once we do start to share again, updates will probably be bi-weekly rather than weekly, so one update every two weeks. Updates will also have plenty of video content of prototypes, features, etc.
That is all from us at Leatharian Studios, hoping you aren't too sad and hoping to come back soon.
--Project lead, Millan Singh, aka fragfest2012.