First, thanks to everyone who voted for the game! I really appreciate it. More than anything I really appreciate all the positive comments on the game over the last few weeks. Everyone on Twitter and Facebook have been completely positive. Even the comments on Steam have been 99% positive. That really means a lot.
The game has been on Greenlight for less than 3 weeks so the news today came as a bit of a shock. I honestly wasn't expecting to get approved so quick. For some background, Valve takes into account a few things:
Votes
Press reviews
Crowd-funding successes
Performance on other similar platforms
Awards and contests
As far as votes, Verde Station appeared to be on a great trajectory. From the graphs that Valve shared (images below), my game was on the same path as the #20 game after 30 days. Meaning that if voting continued, Verde Station would have likely hit #20 after another 2 weeks. It's not scientific by any means but a good indicator of where it was headed.
As far as press reviews, the game got an article on Rock, Paper, Shotgun, several on VR Focus, and even a mention in a new video series called Hailing Frequency by World of Spaceships.
However, I like to think that the community around the game made the biggest impact. I was pleasantly surprised that 99% of the comments on the Greenlight were positive. The few that were negative were from people that don't like this type of game and that's perfectly fine. So thanks for all the great comments! Now some stats:
Overall visits and votes
15 days worth of visits and votes
(Click for bigger)
Yes vs No Votes
The No votes don't worry me too much. Verde Station is not your typical game. I expected about 50% of people to not be interested so this lines right up.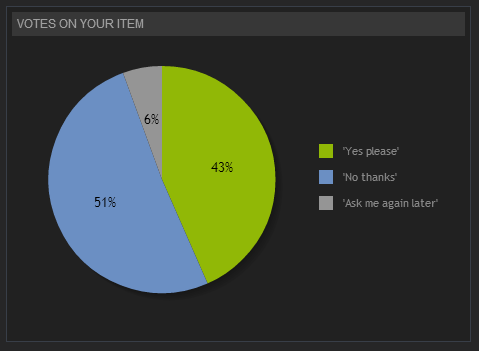 Yes Votes compared to other Greenlights
This was the most difficult graph to interpret. Verde Station is the green line (haha). Notice it's right in line with both the current #20 and #100 games. That makes no sense to me. It's also above the #5 game but below the #10 and #15. Not really sure what that means.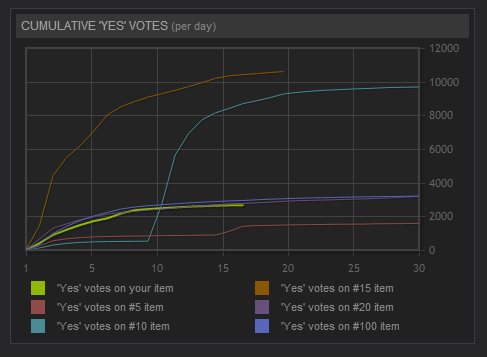 Also, be sure to check out the full list of games in this batch. Two of my personal favorites are Darknet (another great VR game) and Deep Space Settlement (really intense space based real-time strategy game).
Where can you find more?
Verde Station Twitter
Duelboot Twitter
Personal Twitter
Facebook
Game site
Company site
DevLog