I've finally gotten round to making a new website for the game, and putting a free version of The Hit online. Here's the link if anyone wants to skip reading and go download it.
The free version is a bit bare-bones right now, but I'll be gradually populating the city and adding gameplay features over the coming weeks. There's a lot to go in already, and a bunch more that only exists in prototype form. This version also has no inventory, so interactivity will be minimal. It will have everything else from the main game, however, including NPCs, interiors, vehicles and everything else I add.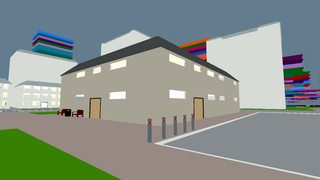 What it does have is a development gallery (just look to your left as you leave the hotel), where you'll be able to learn about all the different systems I'm creating, and see how the game has developed from early versions to where it is now (and where it's going next). I've been very lax when it comes to updating my devlog, so this will be somewhere I can write about the game without ever having to leave Unity. Again, I'll keep adding to that as I go. I already want to add some 3D models and a couple of walk-in environments, as well as another floor to talk about the narrative system.
Here's a quick preview of what's already in there.