Aaaaand we're back!
We have, as some people might have noticed, been inactive on this game for quite a while now. This in activity was due to two things: First of, both of us got quite busy with school for a couple of weeks. Secondly we started working on a different title (that may or may not see the light of day) with a couple of our friends, draining the little time we had for TSS outside of school. But now we're back! And to celebrate this, me and Kristian have been spending this weekend working full time on TSS. During this time we've come a pretty long way from where we were before, and a lot of features have been added into the game.
Things that have been done this weekend:
New animations
With new features comes new animations! We've been able to add a bunch of different animations to the game, like melee attack, spawn or death. We had some minor offsetting issues, but those were quickly solved. We have also changed the target-tile animation, to something that looks way more slick and futuristic.

Spawn animation for the second player's units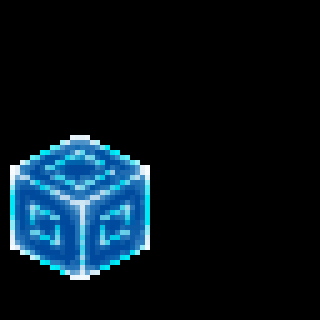 Melee attack animation
The new Target Tile animation
Player 2 sprites
So now that TSS is starting to look more like a game and less like crap, we've needed two teams for testing purposes. Therefor, we were also forced to add sprites for the second player and his/her units, which turned out pretty muck like this: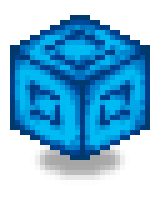 The idle animation for player 2's units
So far the second player units only has a few animations for it, but more of those will be created as we add more features to the game.
Implemented parts of the UI
Today some of the UI has been implemented. The parts that have been implemented are the ones that show the health of the currently selected unit. And also another piece of the UI that show the remaining health of the players avatar and how much RAM that the current player has left. There is a lot more UI to implement but that will be done in the near future. Pretty much all the graphics for it is done, all that is left is for the programmer to have time to actually implement it. But that isn't on the top of the priority list at the moment.
Added Action Point and Health systems and
Stats have been added to the game! Not all of them but the most basic ones. The stats that are ins o far are health, ram and action points. The health is for both the avatar and the individual programs, the same goes for the action points, each unit in the game has their own action points. The ram however is global for the whole player. More stats await ( probably! )
Made units spawnable and killable
Using the avatar players can now spawn programs at terminals. No customization is implemented for the programs yet. The customization is going to blow your mind! ( when we've made it ). Programs can attack each other as well. And we've also managed to chuck animations for these things in there so it is starting to look pretty awesome.
That's all for now! We'll keep on working on TSS now that we've got time, so be sure to watch us to keep up with the game!