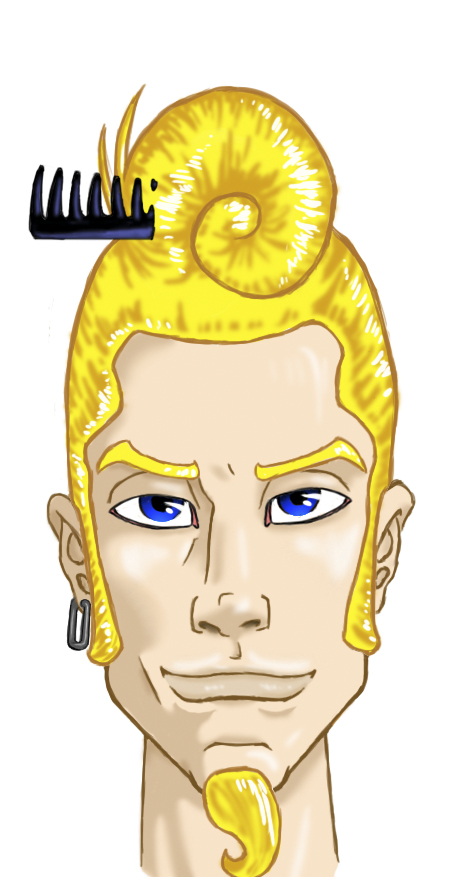 Clyde Mainman is a space taxi driver who works for the agency SSA (Space Security Agency) performing high-risk missions moving super space actors to their dangerous and hostile destinations.
Clyde is a crazy guy, who likes to live life to the limit, in his whole life has made thousands of madness, his first arrest was gliding his jetpod causing numerous traffic accidents at the tender age of 8 years.
As expected, the following years continued to be equally promising, he accumulated endless fines and never paid. However, his skills as a pilot for Jet-pod (vehicle propelled by magnetic levitation power) were growing as fast as the money he owed in fines. He became so good riding jet-pods that even many of his friends encouraged him to participate in several stellar careers, earning his first win in life.
Despite this fantastic achievement, which gave him his moment of fame, only led to the beginning of his troubles, as her past as a crook space, full of fines, incidents as a mercenary and some other thefts in planetary service areas caused SSA to notice him.
Clyde's life would change, I liked it or not, since the SSA made ​​it very clear. As soon as he got busted his record of over a thousand pages front and offered 2 destinations: the prison Tilirio mines (the mineral that occurs with the fuel of Jetpots) or the cabbies Academy SSA a place where only the best pilots are chosen Jetpot to train as drivers of spatial super agents.
Undoubtedly one of the most dangerous professions of space, lots of speed, missiles aiming at you, on your tail galactic terrorists and meteorites falling on your jetpot, nobody in their right mind would choose such a fate, but if Clyde.