Hey, we just released on Greenlight, if you think Rogue Invader would be a cool game to play, we'd love your vote:
There are real reasons there are a million marines, but only one drop pod and one pistol available in Rogue Invader. Lore and backstory is super-important as we play games, so we worked hard on developing a (mostly) believable backstory. Some of what follows doubles as a player's guide as well.
Without further ado:
The Mission
After 20 years of fending off the zeno invasion force, terran command commissioned a fleet to strike at their heart to end the war and end the constant slagging of terran planets.
Jump by jump, ships of this fleet were destroyed as it raced for ten months to get to the heart of zeno-controlled space.
The Carrier: GCS Gate of Valhalla
All soldiers are equipped and launched from the GCS Gate of Valhalla. You have a million marines, but can launch them only one at a time. Equip them in the launchpad with weapons you designed in the arms locker, built in the forge, and researched in the labs. Launch them to end the struggle once and for all.
The GCS Gate of Valhalla is supported by three frigates, two destroyers, four dreadnoughts, and 23 fighter wings. Collect resources to create items to take advantage of this support (we highly recommend the Orbital Bombardment).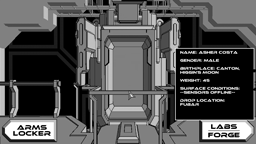 The Arms Locker
In the arms locker, you design weapons based on the chassis you've unlocked. Each chassis accepts 1-6 modifications. These modifications drastically change the weapon's effects. A heat sink will increase a weapon's fire rate. Battery amplifiers increase the maximum damage the weapon does.
Things created in the arms locker are blueprints and all constituent parts must be created in the forge in order to include them as part of your loadout. Each design can be changed at will and you can create new ones and save them using the rename feature. All changes made to the design are automatically saved.
The Forge
In the forge, you build gun chassis, modifications, armor, and other items. For guns and modifications, these are the physical versions of the things you designed in the arms locker. Creation--assuming you've collected enough resources to build items--is simple. Click on the tile to create, click near the recycle button to return a fraction of the materials to your supply.
The Labs
If you choose to beam items and weapons you find on the planet to the GCS Gate of Valhalla, you can research them in the lab. By researching weapons you find, you might be able to develop a functional blueprint, so you can add this weapon to future load outs, or you might discover a new modification that can make future invasions easier.
The Invasion
One soldier at a time, you invade the zeno homeworld. It is quite different from terra--its terrain feels almost organic as rocks and trees change locations each time the pod lands. You also notice how quickly the zenos rebuild structures after previous soldiers destroyed them. This certainly is a strange place...
The Enemies
As you arrive on the surface, you feel very prepared. You've been briefed ad nauseum about the different types you will encounter: grunts, brutes, and snipers. Easy.
But as you move forward, you get a little uneasy about the clicking sounds coming from the direction you came...
Ending the invasion
The Guns
The first marine sent to invade had only a pistol. She beamed back enough resources to build a rifle before being gunned down by a trio of zeno grunts. You can use the guns you find or beam them back to the GCS Gate of Valhalla to be researched to create blueprints so future soldiers can use them.
Your weapon arsenal may include:
Terran pistol
Terran rifle
Terran minigun
Terran flamethrower
Zeno light rifle
Zeno sniper rifle
Zeno grenade launcher
Weapon designed by kickstarter backer
The Mods
Mods are necessary to success--they change the core attributes of the gun. They are researched in the labs as you beam weapons back to the GCS Gate of Valhalla.
Your mod list will include (after researching):
Scope mods

Basic scope--extends range of gun and how much screen you can see while aimed
Motion tracker--hints enemy location when not on screen
Smart targeting--improves accuracy when firing from hip

Core mods

Battery amplifier--improves damage, but reduces number of shots per clip
Heat sink--improves firing rate, but is heavy
Laser-splitter--creates a shotgun effect for lasers, increases damage potential, reduces effective range

Magazine mods

Clip size--increases number of shots per clip
Anti-matter rounds--increases base damage 200%, reduces shots per clip
(This is a partial list. We've implemented twice as many mods.)
If you haven't already, go vote YES for us on Greenlight. We're grateful for every vote. And even if you don't we're grateful you took the time to learn more about Rogue Invader.
Enjoy your day,
Nathan and Lee J