So, we've been busy. This month has given birth to the beginning of a new area, what should eventually become the first location of the game. We also welcome Helani Falprin to the game and have discuss some funky ideas regarding immersion. ...I'll get more into it when we reach that part.
** The Island **
Over the past month, the island of Fay has become my main focus. Inspired by the Greek island Santorini, Fay is comprised of layers upon layers of little stone buildings that dig into the hard rock around them, allowing for winding roads and plenty of staircases to riddle the town.
Rooftop view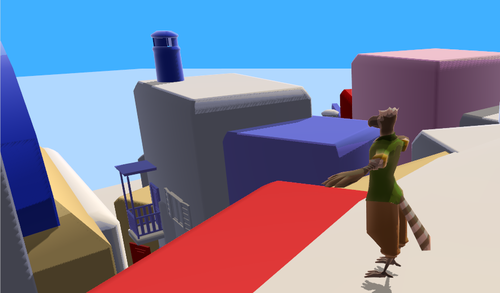 Dimly lit streets with glowing staircases (that I really need to fix).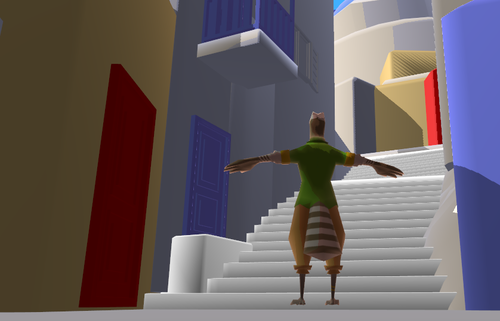 Intersection at what should eventually become part of a market building.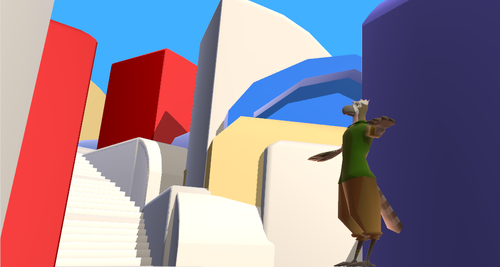 Apartments?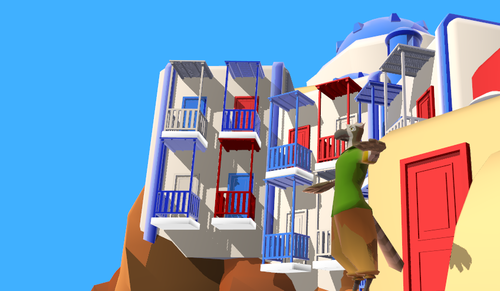 Finally, a nice view of the entire island. Maybe I'll make it into a screensaver.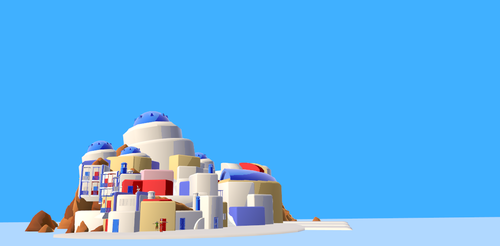 So far the city is pretty interesting to navigate and in my opinion it's great to look at. This next month I play to focus on adding clutter, plants and detail textures to the buildings. In fact, I've already got a bit of a head start. As you can probably see, I've got a few windows, doors, chimney's and balconies made. I've also been trying to get some nice flowering vines to look the way I would like. They're starting to get there, but I still can't apply the effect that I want.

I really love the lighting on the third one, and it get's my texture across well, but I just wish that I could combine it with the soft occlusion lighting of the middle image. Tell me which one you prefer below if you like. Feedback is always appreciated.
** Secretary Birds Are Fun to Make **
Next we have Helani Falprin, our second protagonist in the story. She's a grey secretary bird, very tall and plays as a melee based character. The large wings will make for some pretty fun fighting mechanics I'm sure. Also, her long legs also allow for great maneuverability, allowing her to jump both higher and further than normal. She has a very strong, leading personality, however, Helani is extremely put off by irrational action. This puts a bit of a stress between her and Herreth's relationship.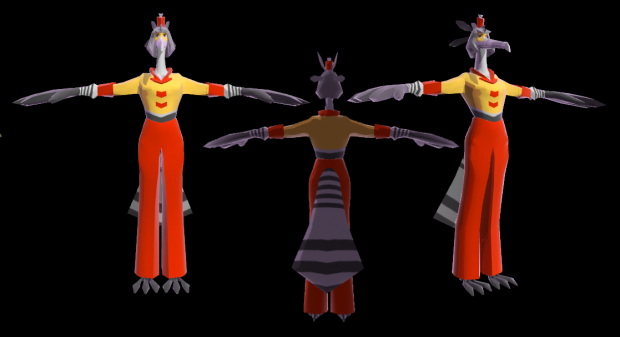 While my partner and I were discussing characters, we thought that it would be good for each playable character to have their own physical as well as mental strengths and weaknesses. Herreth for instance is able to perform wall running, sliding, and other parkour actions, however, he can't take nearly as many hits as Helani or handle extreme situations as well as she can. In contraction, Helani, due to her size, lacks the ability to dodge attacks as well as the other characters. Additionally, though maneuverable, Helani cannot move climb like Herreth can. Because of their strengths and weaknesses, everyone will have to work together to get by in the world of Quill.
** Immersion **
I was in the shower, having a good solid think, and I began to reflect upon something my father once mentioned about how many games today lack the beauty of simplistic action. It would be quite the change of pace if we could do very minor things on the side of saving the world or fighting off baddies. At first I thought the idea was a bit silly, but now that I've looked at it for a bit, I actually think it would make for a very unique experience. What if you could just sit down, surrounded by let's say the bustle of a city or the beauty of a countryside and just watch everything. This would probably be more relaxing or immersive than fun, so I've been thinking about how I could apply game mechanics to such a situation to make them interesting for the player.
We have been talking about the addition of collectibles into Quill. Seeing a bunch of items lying around on the ground doesn't really create immersion, so we began to brainstorm ways in which we could subtlety include this construct. We then recalled back to the vistas of Brütal Legend. I a sense, these really cool sights were collectibles, however, instead of cluttering the ground like a ton of pennies they instead added to the feeling of hugeness that the rock world possessed. My friend and I think that something like this would be great for Quill knowing that we desire for each area of the game to be entirely unique and full of personality. At the same time, however, we don't want to reuse an concept from Brütal Legend.
This brings me back to my first discussion. What if you had the option to sit down and look at something groovy, but at the same time were allowed to do something such as sketch? Some of my early concepts for Herreth include him carrying a small map and notebook bag, so I think it would be kinda cool if the player could sit down, whip out a sketchbook, and then be given a first person view in which they could sketch or paint, watercolor in particular (I know that's a bit specific, but I'm kind of looking back upon my own travels overseas in which I did that very same thing). By doing so, along with having made a piece of art the player could receive information, story background, and maybe even hints regarding secret locations and side-doohickeys on whatever spectacle they chose to paint.
I don't know if what I'm saying sounds groovy or totally out of question, but I just wanted to know what some other people thought about it. I think it could really add to the personality of the game and set it apart from others, which is something that I really hope Quill will do.
** Conclusion **
Thanks again for reading through my rambling. Hopefully next month I'll be using videos to make these updates as opposed to massive walls of text. Anyway, stay tuned for more Quill. Next time you should be seeing some pretty interesting things. Character animations for example. It's about time I got to work on that.