Hello everyone, and sorry for keeping you all in the dark about the game's development as of late. Lots of really exciting things have been happening behind the scenes, and it's finally about time for us to unveil the results...
東京ゲームショウへ行きましょう!
It took over a month of writing e-mails back and forth with lots of people, researching and inquiring about many things, but I can finally tell you that we'll be showcasing Quark Storm at this year's Tokyo Game Show! It's the first time I'll be travelling outside Argentina to showcase the game, and it looks like it's going to be an amazing experience.
It was thanks to being backed and assisted by Gamester, a local organization which hosts a bi-monthly games workshop called Game Work Jam, that I've managed to get so far with all these preparations. I had to do most of the research and file most of the paperwork by myself, but their support has been vital for getting in touch with organizations I could never reach as just a random indie developer with a game prototype.
Aside: If anyone happens to be a game developer in Japan and would be interested in meeting up during the TGS, then please get in touch with me with your information so we can arrange something, and remember that I can also send you a TGS business day pass if necessary (companies only, though).
Meet the Quark Team (and other Global Game Jammers)
Also, it was at this Game Work Jam that I've met up with two guys who have joined Quark Storm's development team: Martín Igarzabal, who will be in charge of the game's art, and Tonux, who will be taking care of the level designs for me so that I can just oversee the designs as I work on the game's programming, as well as on editor tools to make his life easier. In the short time that we've been together as a team, we've managed to meet up outside of the Game Work Jams to settle some things about what we'll be doing with the game, and we've come up with some pretty nice ideas which you'll probably be hearing about soon. We'll be talking about the new things once there's something we can show in-game, so please look forward to it!
Some Game Work Jam group photos, in chronological order.
Exciting projects are everywhere in this meet-up of
people who are working on their games,
and others who want to team up with them
Besides the three of us, Christian Fernando Perucchi will be giving us a hand with the game's music. He's a really talented composer who has already worked on other game's music, and we've already exchanged a few words about the kind of style I think would work for Quark Storm, so he's currently working on it. You want to know what the music is going to sound like? Sorry, but that's still a secret! The most I can tell you is that you can check Christian's previous works out on his Facebook page or his Bandcamp profile.
Back to coding (finally!)
Now that I'm no longer sending e-mails back and forth and all day long, I've been able to get to work on the game's code a lot more than I have in the past month. One of the things I've just finished fixing is a level-baking tool, which pre-builds the level shapes within Unity's editor so that the game isn't required to calculate the level layout in runtime every single time a level is loaded. That was a huge issue that made my first test level take ten to fifteeen seconds to load in my Xperia Tipo test device, so it obviously had to be corrected ASAP.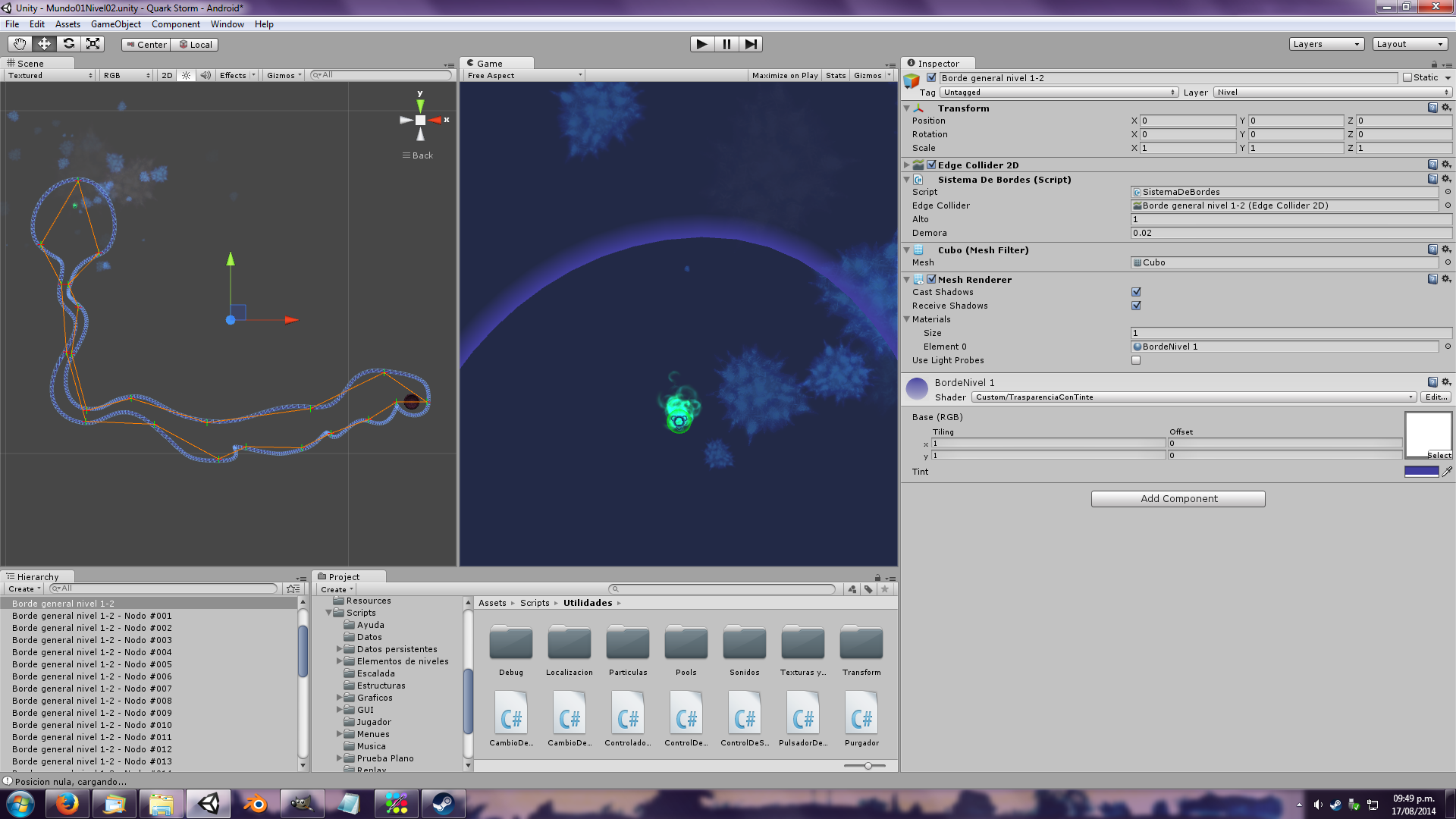 Notice the level border is already in place before the game is even running?
Doing these kind of checks before runtime is a huge boon, performance-wise
With that hotfix out of the way, I'll now begin working on the new features we've settled on from our last Quark Team meeting, with the goal of coming up with a new demo for showcasing at TGS. Also, we're currently talking with a fellow Argentine indie dev, Agustín Pérez Fernández, who will be lending us a hand to bring Quark Storm to iOS devices as well!
Closing words
We're going to be hard at work with all the new features for the sake of having a new demo for the TGS, and now that I already have some editor tools in place and new teammates I feel like development will be speeding up considerably. New gameplay elements are coming up really soon, so please stay tuned for more news updates.
See you all at Tokyo Game Show!
---
Addendum - game download links
In case you wanted to check the old demo out but missed the links the first time around, here they are! Feel free to download and try them out, but please be aware that these demos are almost a year old, so they're missing out on all the improvements and features we've been working on. A new demo version will be up a short while before the TGS, and I'll be replacing the files at these links, and moving the alpha 0.31 demo to a different URL.
Windows
MacOS
Linux
Android