It's been a week or so since my last post; and today, the time spent on prospect will show. It's time to talk about the Map and Survey Drones. Prospect will contain more than one type of drone, and they will vary visually and internally depending on the time they're from. Nothing on the surface of the planet is new (except you and your pod), you'll be discovering things that pre-date Jesse's conception; and that's where it gets interesting.
You'll be discovering long lost satellite's that have met their end by simply passing the planet and then you'll see familiar vessels, such as shuttles and more. It's up to you, and incidentally your drone, to find them.
Let's start with the map.
In the first few minutes of play on the surface, you'll quickly discover that you have a large area to explore, and over time you'll populate the map with information vital to your survival; the locations of resources and other areas of interest for example. Your local area is revealed to you, courtesy of your AI companion 'Maggie', which was scanned on your arrival. Maggie is a verbose companion, the aim is for her to keep you informed of events and data. She'll keep you company... and she'll be your only company.
The map is split into 49 sections, they cover the entire terrain corner to corner. When you send a drone to a grid co-ordinate it will scan the area and reveal that portion of the map and anything of value located there; then it will return to you ready to be used again. Objects of interest are revealed as question marks, and to find out what they are and if they are of use to you, you'll need to visit their location and examine them.
With that in mind, here's one of the drone interfaces you may encounter.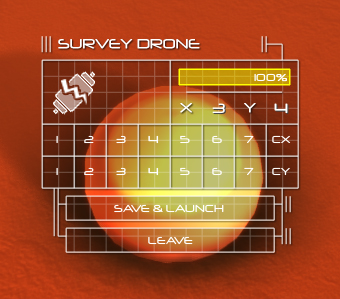 Drones require a power source, and when in use that power is drained. As with the Escape Pods, components can be replaces. The meter on the right displays the amount of power remaining. The survey drone relies on co-ordinate input before it can be launched. The first line of numbers relate to the x-axis of the map and the second the y-axis. Click one of each to set the location to be scanned and then launch. The drone will power up, gain altitude and move to the location before scanning and returning to the player.
In time, the interface may change. Feedback allows me to find out whether it's intuitive or not, and there will be a download available soon for you to try it out yourselves. For now, here's a video of what I've discussed in action. The voices are currently Text-to-Speech and will be replaced by voice acting in the future.
Thanks for reading, lethal_d0se.