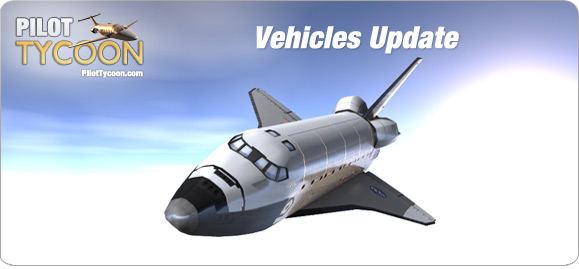 In the beginning we started with an airplane list but shortly after, it actually already turned into a vehicle list. We explained a bit about this on our Indie Db page and on our website.
We will give you a small update about the vehicles you can use in the game.
We already told that there will be over 50 vehicles to choose from this will be of course mostly airplanes but can also be as the above image shows a space shuttle, but also boats and even other vehicles. But we will keep the so called other vehicles as a secret so far.


The people that watched the trailer to the end may have noticed the space shuttle.
And yes space travel will take a part of the game mostly at the end of the game when you have developed yourself.
Currently we are also working on different space jets that can transport people in to space.
And we actually landed on mars but this will be something for the latest developments of the game.
We will give an update about this soon.

We will bring a large variety of airplanes to the game. Below you will find a list of examples and a list of things to come.

This is a list of airplanes that are also definitely going to be in the game.
Airbus A320
Extra 300
Boeing 757
Boeing 707
British Aerospace 146
DG800 (glider)
Beechcraft Bonanza V35B
Hughes 369HS
RAH-66 Comanche
Cessna 182 RG
Maverick Jet
Lake Renegade 270 Turbo
Thank you all for reading next week we will give another update.
Check out our Indie Db page for more info or support us by visiting our Kickstarter campaign.