New Year's Eve is a day to breathe out and look ahead to the coming year. However, it's also a day to look back at the year that's been. And that is why we chose to let our first post be a retrospective of 2011, giving you a digested piece of Coilworks news about what we have been up to for the past year.
With that said, let's begin.
Coilworks started out as a three-person operation in late 2010, by the start of the new year two more members had joined and an idea of what we wanted to create had begun to take shape. We had a small corner of a much larger room at the incubator's (think of it like a greenhouse for companies) "business lab", with another team almost twice the size of ours sitting in the opposite corner. Looking at the resources at hand, we decided to scale down our massively ambitious plan to something we were more likely to be able to handle in the short term, and the plan for Project Ovelia was laid out.
We quickly realized we needed more people to complete even this smaller product. Some knowledge, like sound, music, animation and voice acting, were fields we simply didn't believe we could do ourselves at the level we wanted. We also needed a writer to let the rest of us focus on the tasks we had and another programmer to speed the programming up. So while development went on during the spring, we were looking for these people. It would take until August to fill all of the positions.
In parallel with this, we were hard at work building the game. We were initially aiming for an August release, which as time progressed seemed less and less realistic. Nevertheless, we aimed at revealing the game before the summer break. This turned out to be one super-stressful milestone, but we managed to get a prototype with all game mechanics done in time.
And so, the day of the game reveal came. Quite a few people showed up, mainly students from the university's game development programs, to see what the fuzz was about. Although the game didn't have any proper graphics at this time, just gray box block levels, those who tried it seemed to enjoy the mechanics.
Summer came and went by with more work but also some time to regain energy, and as August was drawing to a close, we (finally) got our own offices! And the company (finally) got its formal founding after months of preparations and paper work! We were now a proper company rather than just us working on a project, which was a big morality boost. But then, new problems arose.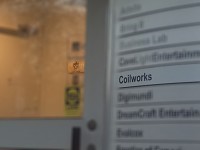 We have for this past year run the company without external funding, living on student funding, part-time jobs or saved money. In August, this meant studies started for those on student funding, which forced some split attention and for some of us less time to work on this project. We didn't want that to go on for too long, so we decided to look into the possibility of seeking money. And the perfect opportunity, the Swedish Game Conference (or "SGC"), was coming along in early October, which was just a handful of weeks away. So we started working super-hard again, and kicked in a final spurt the entire last night which didn't end until one hour before the conference. This resulted in a trailer we showed for selected people, such as potential publishers and the other team members.
The result of the conference is not yet clear. The publishers wanted a demo to see the game being played, so have since then been working to get a fully working game ready. Yet it's a fully viable option for us to finish the game on our own, it'll just be trickier. We really look forward to be able to show you all the game with graphics, sound and music - sometime this coming year.
And with that said, we set sail for a really exiting 2012. See you there!