Fixing bugs
Hi all! Last week, I felt a bit tired in my free time, so I decided not to work on one of my bigger projects (which require more thinking), but do some smaller stuff and some easy bugfixes instead. For example, territory information now no longer is displayed inside your home, you can no longer walk through town signs, you get back the right materials if you click 'cancel' while building, etc. Oh, and I told you last time that there were no tooltips in the Big Book. There are now: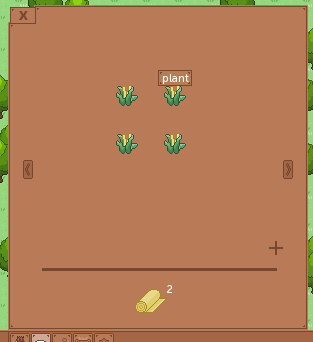 Sending emails
But there is one big thing I did do: like I announced a few weeks ago, I sent all of the playtesters I invited an email. The main reason for this is that I'm trying to find out why exactly people stop playing after while. By eliminating this part of the game, whatever it may be, or by putting more effort into existing parts that people like, I hope to create something which is a bit more 'addicting' - in the healthy way, of course.
What did I expect? Not that much, to be honest. I expected that 5-10% of the players would respond, and that there would be a lot of negativity - 'i quit because your game is shit', people annoyed by the fact that I emailed them, that kind of stuff. What I was hoping for were one or two answers of people taking my question seriously, and that their answers would give me tentative clue on where to go to find addictiveness.
The results
What did I get? Something completely different. This is what I discovered:
I got around 10% bounces - that is, emails that do not exist. Apparently, I invited a number of non-existing people, or at least quite some of the invites I sent never reached someone. I'm really confused that people apparently give up non-existing emails, but it's good to know anyway :).


Of the remaining emails, around 20% got a response. Much more than I expected!


None of the answers I got was negative, almost all of them were surprisingly positive, and some were even extremely positive. Instead of an expected decrease in confidence, my confidence got a huge boost!


The most common responses were 'no time' and 'forgot about it', and one person even admitted losing his enthusiasm because of the long wait. I think these are actually three variations on the same theme. It's not that I don't believe that these people were really busy or didn't forget about it, but I personally don't forget about games and make free time for games I'm really enthusiastic about. That is, I believe subscribers lose enthusiasm over time, which make them feel they have better things to do (which might be true, of course :) ).



I of course already knew this was a bit of problem, but this result has been a true eye opener for me. I really really really should hurry up and make testing groups even bigger, so the waiting line can get shorter. So, although this didn't really answer my question, it was still a useful finding.

A surprisingly large number of people said they were confused by the controls. I was hoping most things were clear enough by now, but apparently that still needs some work. To fix this, I'm currently working on a nice animation that is shown when you first start up the game - more about that later. I hope that this, in combination with the Big Book, will make things a little easier for newbies.


And finally, and this is I think really an answer to my question: people don't really know 'what to do next'. That is, you're thrown into the game, and all you get is this:






Some trees, some plants, a weird looking portal... good luck. Yeah of course, with some imagination, you can figure out a few first things to do, but what then?

There seem to be two basic places where it goes wrong: firstly, right after people have done some basic things (building your first house, etc), they tend to get lost. I implemented the achievement system to give people an idea of what to do next (and I can clearly see people get a lot further into the game since I implemented it), but apparently it's not clear enough that you could really use the achievements as guideline. I have a number of ideas of how to do this, but more about that later. Secondly, while the game really focusses on multiplayer interaction, there often aren't that many people to play with. In the past, I tried to fix this by adding more things to do together, in the hope that that would encourage people to invite their friends. Unfortunately, that doesn't really seem to work that way; I should probably take the opposite route, and focus on additions which are also fun alone. Again, I have a number of ideas of how to do that... more about that later.
So, to summarize, my idea to email players directly was hugely succesful. I learned that people lose interest because I make them wait so long, that the ones that play really like the game, but don't know what to do. To fix this, I'm going t focus on making the achievement system more notable, and on activities which are also fun when playing solo. Sounds doable, right?

If you want more development, see [twitter] or [facebook]. If you want to be a tester, you can subscribe on [olvand.com].