Hey all, I've got some exciting things to share with you! This update's got a tough new biome, new enemies, weapons, and numerous bug fixes.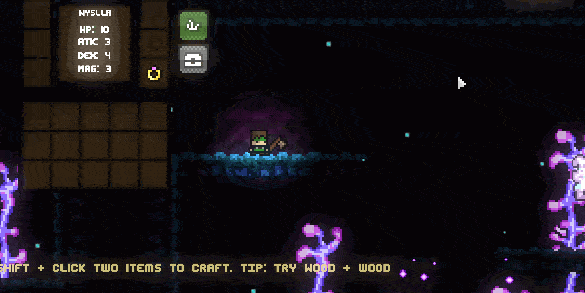 Gameplay
Added CRATER BIOME (If you want to live, don't go there)
Added Space Butterfly
Added Cosmic Skeleton
Added Space Commander Boss
Added Laser Sword
Added Laser Crossbow
Added Total Biscuit of Knowledge
Increased vision for all enemies
If Arrows equipped, picking up same type will go straight into Arrow Slot
Slightly reduced spikey chain ball spawn in Dungeon
Bug Fixes
Fixed Drum Deleting Item bug
Fixed Broodmother pushing into walls bug
Fixed Arrow crafting wrong quantity bug
Fixed Wizard Beard not working
Fixed Gatherer Trait not working (It is now 50% chance to activate)
Fixed Spawning in Town bug
Fixed Defensive Trait - it is now +4HP -1ATK
Fixed Not Recording Boss kills
As always, thanks so much for the support. Please continue to report bugs to magicitegame@gmail.com and give me all of your cool ideas right here on Indie DB!
Oh and I've been wanting to ask, which races/hats are your favorites? :D