Greetings everyone!

I hope you are all doing well, I myself am extatic to finally announce some big news!
---
FIRST TRAILER!
After months of hard work we're happy to show you the first glimpse of Jarvis gameplay through this little trailer:


What you are seeing is work in progress but we still think it represents the game very well at this point! What do you think? We'd love to hear your input!
---
STEAM GREENLIGHT!
Our second announcment is that Jarvis has just been submitted to Steam Greenlight!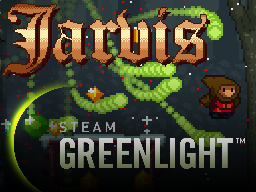 Jarvis needs all the votes he can get so please help him out if you'd like to see this game on Steam!
---
Wait what was "Jarvis" again?
For those of you who don't quite know what Jarvis is about, here is the gist of it:

Jarvis is a 2d platform game set in a far away land where an evil force has awakened. Amidst the chaos an unlikely hero is summoned forth.

In order to save the lands from the evil that plagues it, you must venture through haunted forests, dark caves, ancient ruins, demonic castles and defeat the dark entities that stands in your way.

Throughout the game you will gather abilities, master spells and uncover secret treasures that will aid you on your quest.

The game features:

- Fun action-packed gameplay inspired by classic platform games
- A colourful world full of places to explore, featuring forests, caves, castles and ruins
- Learn and master spells, skills and abilities
- Visit the local town to regroup and improve/upgrade your gear
- Exciting and challenging boss battles
- Everything visualized in charming pixel art!
- Level Editor: Change or create new areas using the developer editor
- Mod-support: Make your own adventure, change scripts, stats, dialogue, audio, art, etc. and package it into your own mod
---
Phew. Thats all for this update, what do you think? Again, please leave us your input. We'd love to hear it!

-chrilley