As work continues on Elfsquad7, I'd like to show off one of the screens you'll be visiting throughout your Northpole adventures...the Item Shop!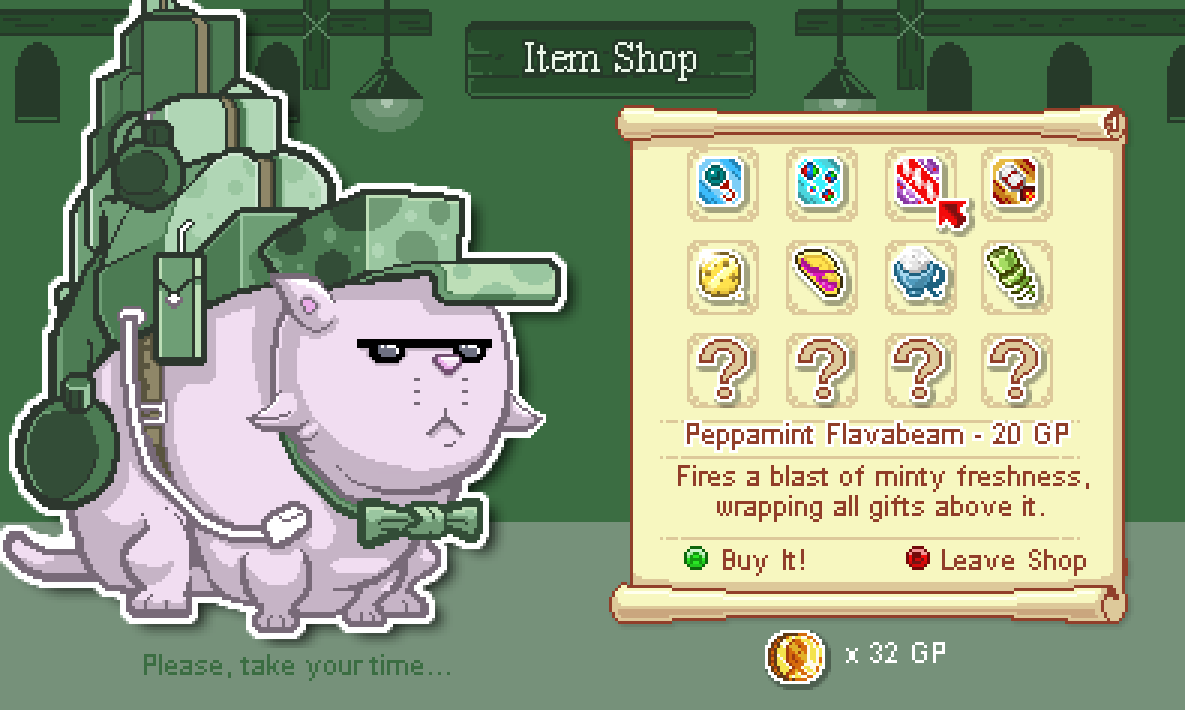 As with most games, an Item Shop a nice way to both "dangle the carrot" for players, rewarding the collection of Gold as they play, and give them interesting Choices ("Do I save up for the weapons, or get some useful items instead?")
Now, let's get a few obvious questions out of the way....
What am I even buying at this so-called "Item Shop"?!
- Weapons, items, and some special "mystery wares" (as in, I don't know what they are yet).
What would a cat need gold for?
- The currency here isn't gold, but instead golden cans of goldfish (or GP - Goldfish Points). You'll collect these during gameplay then trade them in at the shop between levels. I'm assuming the cat then eats them.
What's the difference between weapons and items?
- Weapons you only buy once, then you can equip them at any time throughout a gameplay session (hence their 'expensitivity'). Items are for one time use (still debating if item duration is for a whole level, or ends after X seconds).
Why pink? That's dumb.
- His owner dyed him pink to soften up his cold, aloof demeanor. It only pissed him off
This is all well-and-good from a design standpoint, but only really gets players excited if the available wares have some real bite to them. First, let's look at the specs on some of the weapons...



PEPPAMINT FLAVABEAM
Cost: 20 GP
Reload Time: Slowest
- Fires straight up, cutting through all toys in its path and wrapping them.


EXPLOSIVE BOOMHONKER
Cost: 25 GP
Reload Time: Slow-ish
- Fires an explosive rocket of wrapping paper. Upon detonation, all toys in the area are converted into gifts.



THE JUGGLER
Cost: 25
Reload Time: Super Fast
- Nearly instant reload is good for keeping gifts in the air, but shots only have a 25% chance of actually wrapping a falling toy.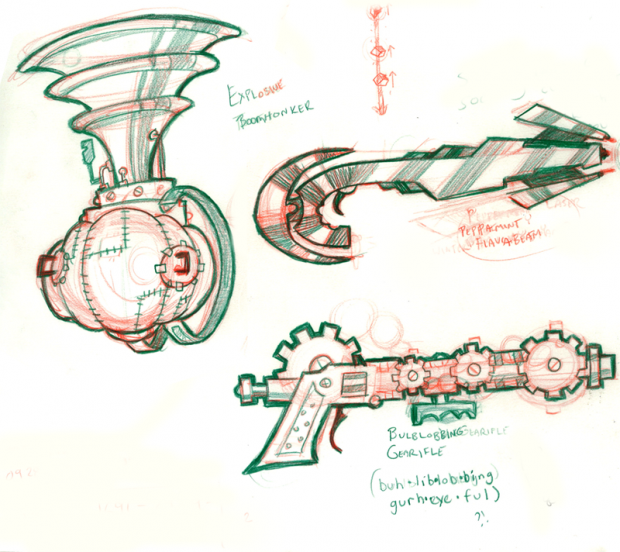 The other available weapon will either be "RAPHAEL'S CANNON", a gun that changes the color of the gift (for more control over combos), or some sort of "BUBBLE GUN" that places a bubble around gifts, giving them extra bounces when they hit the ground.
The consumable Items, of of which will be temporary in some fashion, include the following...



SPRINGROLL
Cost: 5 GP
- Gives you an extra double-jump.



HALF PIE
Cost: 7 GP
- Collected gifts are worth 1.57 gifts.



CUP FULL OF SUGAR
Cost: 4 GP
- Elves love sugar! This item gives you a temporary speed boost.



GOLDEN COOKIE
Cost: 12 GP
- TOTAL INVINCIBILITY!!!!! Plus, every toy you touch automatically wraps itself!!!!!
The shop is available to the player in-between levels, so it'll be important to collect all the GP you can to make your life easier as the stages ramp up their difficulty.
OK, enough about the game....it's time for some READER COLLABORATION!!!!!!! :D HUZZAH!!!!!
This week we need to name the shopkeeping cat. He's fat, grumpy, and pink. His owner loves her little friend, and has given him a name fitting an army-clad pink cat.
A few names to pick from....
- G.I. Jimmy Whiskerkissies
- Private Pierre Pinkerton
- Sargent Sourpuss
- Commander P.I. Armyboots
My only real desire is that it's 100% emasculating and that he would hate it as much as he hates being pink. And almost as much as he hates Cheesums.
The floor is yours!
---
Next Time: We take a look at one of my favorite levels, the "Tinsel Town Bandstand", and see how many of my favorite music-related people I can fit into the background!
Like these two...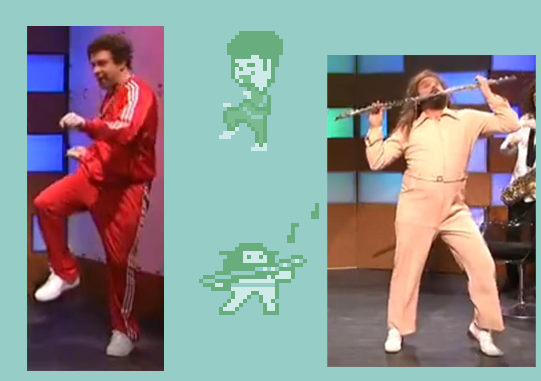 ...and everyone's favorite party guest from 2002, Peanut-butter Jelly Elf!!!!!!!!!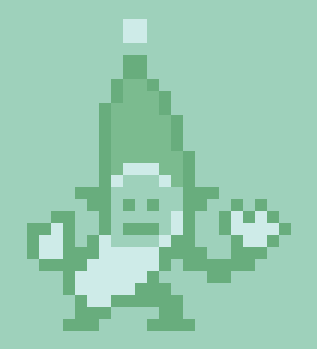 PS - I got a Elfsquad7 facebook page up and running...will probably update there more than here, if you want even MORE Elfsquad7 news and gossip - and you KNOW you do!!!