The Initial Concept
"Down" began as a simple concept: the player would begin on the roof of an office building. In order to escape, the player would need to descend each floor, with each floor representing a specific terror. The fifth floor, for example, might represent dread and would be darkly lit with ambiant sounds and strange environmental effects such as rain and snow. The fourth floor might have represented death, with the floor littered in corpses which also hang from the ceiling. It would be a FPS and the enemies would also represent the fears on each floor.
Below are two images from an early prototype for "Down", which shows the player immersed in an office environment with only a flashlight.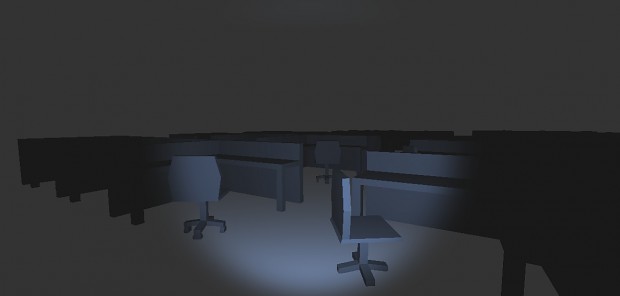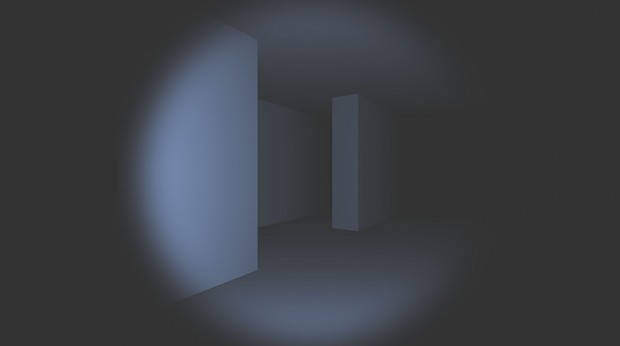 Since this initial conceptualization, "Down" has evolved into something much more dynamic. The combined writing and storytelling background of the design team led the game toward a strong narrative to give meaning to the player's journey as the protagonist. Gameplay features and mechanics grew out of the psychological tone of the game and its narrative in order to keep the players alert and involved.
The Current Concept
"Down" is now toted as a psychological thriller, retaining some of the terrifying elements of its conception and integrating them into a realistic setting: an apartment building. The designers loved the feeling of this setting because of the personal relationship that individuals have with their homes, and also saw it as an opportunity to twist the meaning of comfort and safety in relation to the home.
Players will physically begin on the roof and move down the floors of an apartment building in order to solve the mysteries that drives the narrative: how did they end up on the roof? Who was that mysterious girl? Why did she kill herself? In order to find those answers, the player will need to explore the many rooms in the apartment building to search for clues. But even then, not everything in the building is as it seems. Monsters will attack you, objects will move on their own, and the world will twist and distort into familiar yet disturbing scenes.
"Down" therefore represents the literal journey that stems all the way back to the original concept, but will do so in a more traumatic and personal way by focusing on the tragedy surrounding the main characters.
Stay tuned for our next diary entry, in which you will get your first glimpse of the apartment environment where the story takes place!