We are pleased to announce that after almost 12 months of hard work, sleepless nights and of course lots of fun, Cubemen has reached beta stage!
Cubemen is now feature locked and life is now all about squishing those final pesky bugs and then its full release time.
Cubemen has way more content in it than I ever planned for a v1.0 release, but I'm all about value for money and pleasing my customers, so I went the extra mile and now the shipping version of Cubemen now has:
20 Defense Levels
10 Skimish Levels (AI & Online Multiplayer)
5 Defense Gameplay modes
5 Cubemen colour choices
Individual score ladders for all Defense levels
Comprehensive game and rank tracking for Skirmish levels
27 Achievements to earn in game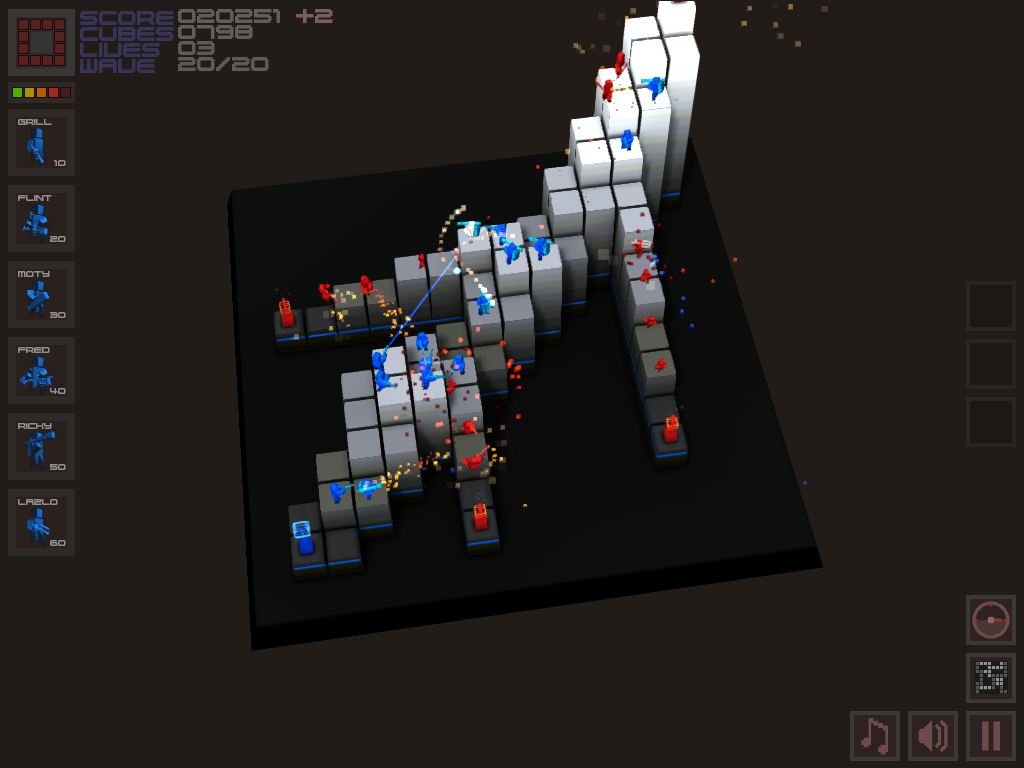 The image above is one of the latest levels called "Hard Climb" and shows some CRAZY last wave action with Lasers, Rockets, Flame Throwers and a never ending onslaught of enemy troops! Just the way we love it!
While Cubemen is in Beta, we are discounting it here for 25% off. Once Cubemen goes Gold, the discount is going away, so get in while you can to save on your purchase price.
[ppbranchg16545button]
For those that are interested, here is the change list from Alpha 0.93 to Beta 1...
Added "Cancel" button for when joining online games
Added "Cancel" button for when no online games are available
Added Skirmish Stats/Ranks to menu
Added Skirmish game stats auto saving
Added more Sound Effects
Added FullScreen mode in Options screen
Added iOS features for iPad2 Platform
Added new B-TRIANGLE Defense Level
Added new HARD CLIMB Defense Level
Added new TOUGH GOING Defense Level
Added new SWIRLY Defense Level
Added new VALLEY Defense Level
Added new COLOSSEUM Skirmish level
Added new NODES Skirmish level
Added new ZIPPER Skirmish level
Added new THE GRID Skirmish level
Added new PILLARS Skirmish level
Added new PLATFORMS Skirmish level
Improved Flamer rate of fire and radius
Improved Game Options screen
Improved Updated all Wave data for each level. All are now 20 waves
Improved Increased save score timeout
Improved Bonus Packages now can't be collected by enemies
Removed Time Scale button from Network Games
Removed First Play help from Skirmish Games
Fixed Hooked up missing Achievements
Fixed BOSS targeting bug it's when enemy target is already destroyed
Fixed Save Score message still visible on scene change
Fixed final wave count that is being sent to the scores system was 1 wave short
Fixed Last Score & Best Score showing the wrong way around on level selection screen
Fixed the Skirmish levels now showing their correct Difficulty types
Fixed Skirmish games sometimes breaking at wave 6
Fixed units sometimes using wrong colours in Skirmish games
Fixed some levels allowing unit placement on enemy spawn positions
Fixed medal award at end of game not issuing correct medals other than Platinum
Fixed some achievements that were not being awarded
Fixed ability to incorrectly select non selectable units
Fixed some Cubemen has wrong selected icons and incorrect colours

Fixed 4 Enemy Spawn levels crashing on level start