Weapon Upgrades!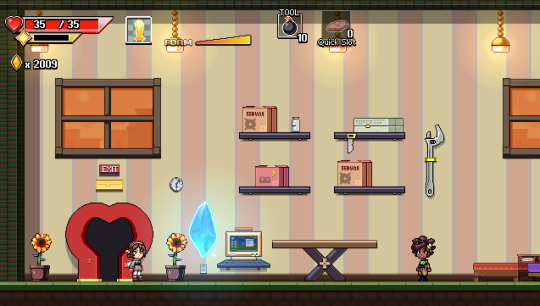 When you get to Celosia Town, upstairs in the laboratory is Blaze's younger sister.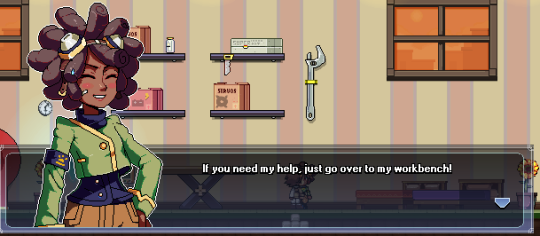 Her name is Jasmine. She's a shy young trainee who decided to make some of her own money. You can help her train by getting her to work on your equipment!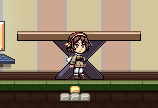 After speaking with her, you can go over to her table and go over plans to upgrade 4 pieces of equipment you own.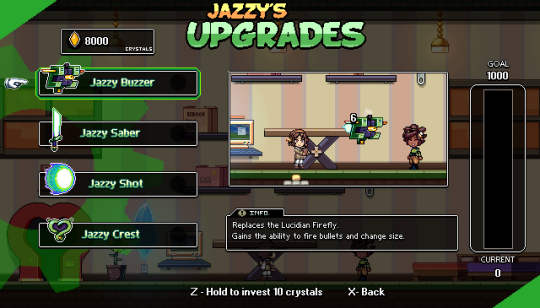 Here's the upgrade screen! You simply hold the jump button to pay in multiples of 10. The goal meter on the right displays your progress. Here's what you can get if you upgrade your equipment:
Replacing the Lucidian Firefly; the remote control bomb you acquire in the first dungeon comes the Jazzy Buzzer.
This piece of equipment functions the same as the Firefly, but you get the option of doing two more things. It has the ability to fire bullets using its automatic gun.

It also has the ability to shrink!

Next, we have the Jazzy Saber. Other than sporting a cool new green color, it has massively extended range, 8-way slashing capabilities (as opposed to the old 2-way) and it deals 4 points of damage instead of 2.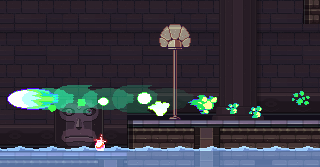 Next up we have the Jazzy Shot. This replaces the basic charge move with with a twice-as-powerful blast of energy. Instead of dealing 5 points of damage, the charge shot now deals 10.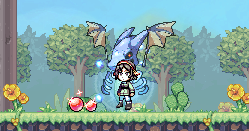 Next up is the Jazzy Crest. There isn't much to say about this one. It increases the rewards you get from Form Orbs by double the regular amount, making it possible to maintain forms much easier.


That's all for now! Thanks for reading!