Now's the time! The Combat Core Kickstarter and Alpha Demo are LIVE, NOW! Visit the Kickstarter page for more info: Kickstarter.com
The first public demo is done and released! The demo includes 4 characters and 1 stage. Youtube/Twitch videos and streaming IS OK and ENCOURAGED! If you make a video, contact me at micah@mabmanz.com or on twitter @mabmanz so I can see it and share it!



The 4-button control scheme allows the game to be easy to pick-up and play, and the mechanics are tuned to reward both strategy and aggressive play by tying the energy meter to both offense and defense.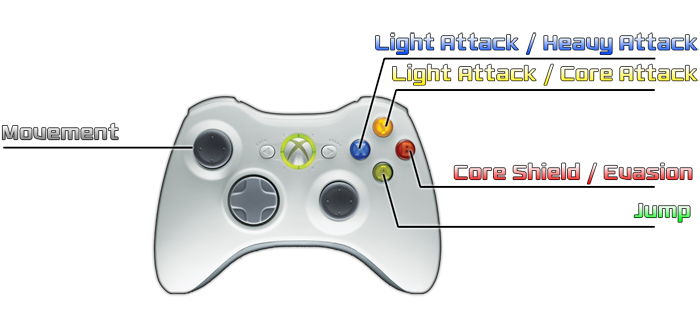 Attacks are executed by tapping or long pressing (hold for .5 seconds and release) the attack buttons (default X and Y). Core attacks are executed by long pressing Y. Guard/shield is activated by holding B, and tap B to dive/evade. A is the jump button. Weapons can be picked up by tapping X when nearby.
Once the battle starts, players must attack each other until their health expires. Players each have 3 lives per battle, and when they have fallen 3 times they are eliminated from the fight. The last man/team standing wins!
Your energy meter is indicated by the colored circle at your character's feet. This meter is used to execute core attacks and other special abilties, but is also depleted if used for guard/shield. The damage blocked will be subtracted from the player's energy, and if your energy reaches zero, your shield will break. Characters have passive energy regeneration based on their "recover" rating, but the large pool area in the center of the stage provides an accelerated energy regeneration rate. If the timer reaches zero, the death lazers will spawn and slowly force players to move to the center of the stage, or die instantly!
Thanks so much for your support! I hope I can continue making Combat Core more awesome in the future!