So, another "Futuristic Sim Sci-Fi" game project is in development. What's new ?
Well, "Citizen Guy" is a (risky) experiment based on this simple concept: an finite environment is fully simulated, its functional infrastructures, logistic, even the population, etc.. The player is part of this population, no privilege, no special status, he has tasks to do (a job). Then "events", "plots" and "extensions" are injected into this simulation to which the player may decide to react or not (but most of the time he won't have much choice, albeit numerous "events", "plots" and "extensions" can be injected at the same time).
This is not a shoot them all game nor an exploration game or a sandbox per say so we understand we take a big risk here, most players used to "Futuristic Sim Sci-Fi" games will certainly be disappointed at first, and we expect that, at least until the player realize the openness and power behind this simple concept.
Depending on the "events", "plots" and "extensions" that will be created and injected into the simulation, the game can turn into different types of games or genres, even at the same time. You may have to shoot escaped prisoners for your own survival, you may chase or be chased by an alien creature into some dark areas of the station, you may be involved in an investigation about something that is missing, that mysteriously disappeared or a murder, you may even be confronted to all these situations at the same time. You may take part of a sport game match, try to save someone or why not the all station from a catastrophic event, sneak into a spaceship to place a tracker to gain more money, use some tools and apparels to build machines and why not pods or spaceships at some point and what not.
In fact, the actual "genre" of the game itself is morphable.
And of course the idea is to push the principle so at some point the game will be *modable* by the players who will be able to create their own *events*, "plots* and *extensions* to be injected in any game.
This is the all challenge of this project, something we believe not seen before (but correct me if I'm wrong).
We believe that having a finite world thoroughly simulated and interactive may be much more enjoyable that infinite worlds with very low value at each square meter of the environment.
The first challenge is then to create that simulated environment and in "Citizen Guy" we start with a all space station ~2km long and large we call Agromega: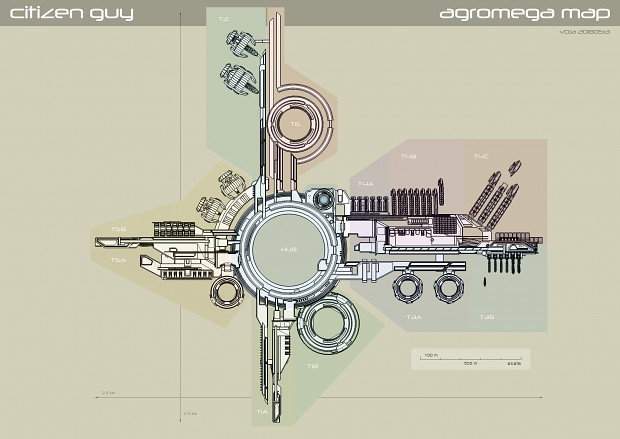 The first stage of the development is of course to create a playable prototype from which we will decide to release the game with the full station ready, or still in construction (and the player will contribute to its construction). This will depend of the resources we will be able to gather.
As we have very little resources at the moment, our goal is to first go as far as possible in creating this prototype so the players can have a pretty good idea of what this is all about.
Then of course, the players will decide about the fate of this project, as it will be only possible to finish it with the help of the community and fans.
But we are not there yet, a prototype must be done first and we expect to have it ready by the end of this year, hopefully around December, 2018.
So I'm going back to work ; )
Signing Off,
Guy Rabiller.