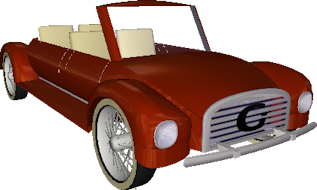 Preface: This update has been cooking for a long time, albeit on a very low flame due to the usual budget and time constraints. What came out is an update that fixes many bugs, brings in certain player wishes (who said cylinders?), delivers an overhaul of the science screens and in an attempt to get more exposure for the game adds in a first sharing tool for social media. There will be more in the future to allow you to share your successes and later entire games with your friends.
Now for the features and changes in v0.32, which makes my "to do"-list for the remainder of v0.3x a bit shorter. It still contains roughly 50 items, so we will see several more versions 0.3x before moving on towards v0.40... ;-) Here are the current changes:
New Features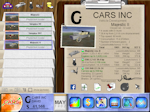 The most obvious change is the rearrangement and optimization of the science or part development screens, most notably on the car setup screen which contains by far the most information. The drop down boxes for selecting parts have been hidden behind the better looking category buttons which will bring the selection back up.
The data segments for the contained parts have also been set up to be more structured and easier to read and the signature button to build the prototype has been moved to a more logical position.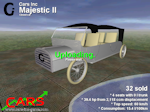 The new facebook button on the lower left side of the previous screenshot will generate an image like this, upload it to cars-inc-game.com and share it on your Facebook timeline from there, so you can show your friends how awesome the cars are that you are making. This of course requires you to permit Cars Incorporated as an app on Facebook when you first do that and I hope you will do it often as it can help spread the word about the game. And it looks kind of cool in your timeline.
If you do not want to share your cars or anything else on Facebook, just ignore this option. It is not required to use it, but keep in mind that you are helping the game grow if you do decide to use it.
The other science screens have also been modified to look more in line with each other and added the quality option to all of them. Higher quality parts will require more research time and will make the parts more expensive to build, however they will also help you raise the image of your car and your company.
The engine and chassis screens have also received larger versions of the part symbols to make these screens look less dull and in the case of the engines the much asked for cylinders have also found their way onto this screen. Setups with more cylinders will give some bonuses to the engines' technical data and make them run smoother, resulting in luxury points which will again help raise the sales of your cars. Just keep in mind that more complex constructions are also more expensive to build.
Other changes
Two new, original pieces of music from Martin Herrmann have been added
Setting the amount of forward gears for vehicles is now possible
The amount of gears limits a car's top speed (along with the tires on the body)
Setting the amount of cylinders for engines is now possible
Cylinders have an impact on the performance, consumption, cost and weight of engines and can generate luxury points
Displacement is now limited by cylinder as well as total size. For instance you can not build 1-cylinder engines with 8l displacement
Higher gear and cylinders counts need to be researched on the components screen first, they will become available over the course of the gametime
Engines from older savegames will show 0 cylinders and will not have any bonuses from cylinders unless you develop a new or upgraded engine
The tech levels for engines and chassis have been removed, instead you can improve engines and chassis to maximum values that change gradually each year
The tech levels for bodies have been replaced by body generations which will need to be researched as components
The research time for improved engines and chassis from prototypes or production models is now half of that of a new one
All new tech level messages have been removed
A revamped speed calculation prevents heavier cars from loosing so much speed. Cars with larger, more powerful engines should no longer end up being slower than weaker cars
Quality in factory production is now the result of the quality set for the production and the design quality of the part (set
in development)
The sales calculation now includes safety and luxury points from engines and chassis
The component integrated headlight has been added and is available for third generation bodies with advanced wheelhouses upon research
The vehicle development screen will now show the total amount of cars sold for production models instead of the word production model
A backdrop has been added to the body editor and other views of the cars
The quality of parts in the storage area is now visible as a tooltip only, to prevent overlapping text
Input fields for names do not accept empty values any longer, as this causes problems
Empty savegame names will now be filled with the date and the time
Input fields do not accept the symbol ; anymore, as this causes problems
Removed remnants of the previous Indiegogo campaign
Adapted the copyright string to reflect the new year
The Tutorial has been adapted to v0.3x and re-enabled. You can find it on the Start New Game screen now.
Fixed bugs
Fixed a problem where empty company/CEO/shortnames would cause several problems after saving and loading
Fixed a problem that caused false quality ratings and caused the game to crash when a game started in a later game year and the player added a chassis before the AI
Luxury and safety values are displayed correctly and are no longer switched on the vehicle development screen
Fixed a problem that could cause the competition to build cars with a consumption of 0
Fixed a problem that could cause the rear seats to appear outside of the car ("mother-in-law seats")
Fixed a "shadow", running over the body of some 2-seated cars
Fixed a problem that caused the rear end of the regular wheelhouses to be cut off for 3rd generation bodies
Fixed some small display problems on engine hoods of 3rd generation bodies
1st generation cars with wire spoked wheels no longer show steel spoked wheels on the rear axis
Production costs for prototypes are now displayed correctly when hovering over the signature button
Older savegames will now add components that have been added in updates as researched if their startdate is earlier than the savegame's gamedate. If they are still in the future of the savegame they can be researched regularly
The game recalculates engine values upon loading to readd missing luxury values
Script / Modding
Components can now require other components to be present with the property requires and will be reverted to the component specified by revertto in case the required component is removed
The new variable ScriptVar can be used by page scripts at will (integer value)
As usual this version is already available for download. Please be aware that savegames from versions older than v0.30 cannot be loaded any longer.