I know you've been waiting for a while - here are the last two cards of Cardheart!
THUNDER
Ground: Charge Dash; Air: Critical Dive
The fastest ability in the game, but also the hardest to master. By holding down the attack button on the ground, you can charge up your speed, and by pressing the attack button right after an attack you can keep your previous charge. Critical Dive will deal great damage to any enemy it hits, but if it misses it'll automatically convert into a Charge Dash.
EARTH
Ground: Ancient Impact; Air: Palm Claw
And now the slowest ability in the game, but each attack packs a big punch (literally)! Ancient Impact is a powerful combo finisher, while Palm Claw is a nice combo starter because of its launching properties. Watch out about throwing these out recklessly, though - they are pretty sluggish.
Some changes were also made to the other two cards:
FIRE
Ground: Hot Shot; Air: Triple Volley
Fireballs will now start slow and speed up as they travel further. You can also aim them upwards for combo extensions.
WATER
Ground: Vortex Slice; Air: Pressure Jet
The grounded water attack was changed to be more offensive, seeing as how Thunder fills the movement niche quite well. It's now a great enemy-trapping tool, useful for bigger groups.
Here's an example of a combo using them all together:
Of course, you won't be able to just juggle the enemy using one attack - a combo break system is in place that favors variety of card use, so you'll have to get creative.
Do the environments look barren? Don't worry - with combat (mostly) done, making the city spicy comes next!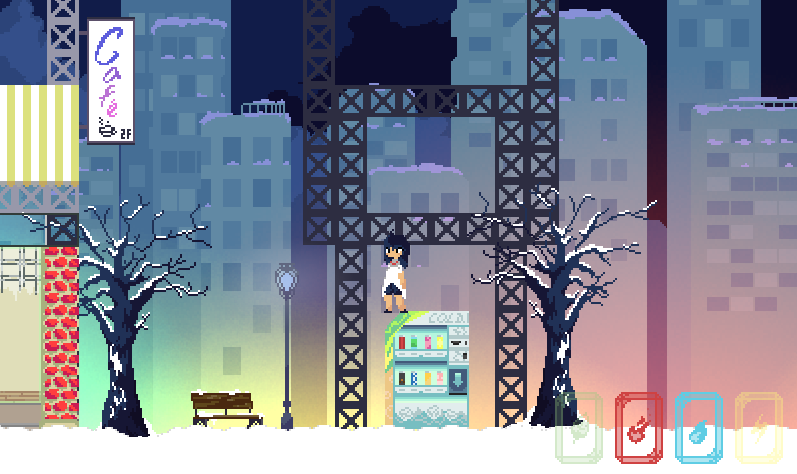 Til next time,
- johzu