This post started as a continuation of the player characters for the game, but since I'll be delving into the species and lore for Arelite Core, I felt important to establish those first hand. Although I crafted the story to emphasize the characters, I wanted to provide a rich backdrop for those characters to evolve in. I didn't necessarily want a harsh political plotline, but rather to show that to the rulers, there is a bit more to consider than a simple "save the world" scenario.
One thing I wanted to ensure with the species is that they would appear as regular enemies the players will need to confront. I wanted every species to have an opportunity to display a good side as well as a bad side, which I felt would had a sense of death to them. This is just one of the many elements I took into consideration as far as how I would employ each species and ensure that the world feels cohesive rather than simply being human centric with a village here and there for other species.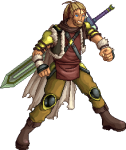 That being said, I did start by determining what I wanted to do with the humans since they were important early on. I quickly determined that I wanted two main continents, the north ruled by humans where the player would begin his journey, which would have a sense of conflict with the south led by the holarii and which incorporated more of the species. What I didn't want is to simply say "humans are good, holarii are bad", nor the opposite. Instead, I tried to establish a world where everyone has their opinion, conflict and politics, and each is so inflexible that they really are both wrong.
Since the humans were getting an entire continent to themselves, I established a relationship between each village and the king. They end up each having a different opinion, again avoiding the simple black and whites. I invested a bit of time into creating some sense of culture within each village, a kind of purpose which would drive them in the background.
Since I wanted to integrate other species a bit gradually, the first new one encountered is a spacii, which is the most similar to humans. Since I've already spent some time exposing Lleana in the previous post, I don't want to be redundant, but suffice to say that since they are nomads and solitary by trade, they end up not having much of a culture of their own. Instead, they appear all over the world, a kind of neutral party accepted by all. They end up being a backdrop during the whole game without having a true investment as a community. Instead, I crafted some spacii characters who will be meaningful on their own.
Next come the holarii, who are the leaders of the southern continent. A species of bird people, the holarii ended up being very "high and mighty", a bit above the needs of the non-holarii. As such, they become overseeers of the southern continent, with soldiers a bit everywhere, a lick of segregation and so forth. For the rulers, I established the council of elders, to contrast with the single king of the humans. The elders end up being very detached from the situation, a bit careless and a great opportunity for conflict.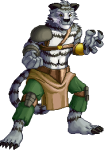 I wanted to have a set piece in the jungle and for the player to encounter a more tribal group. I toyed with the idea of wolf people, but felt it had already been over done and so I decided to go with tigers. The goal was to have a species which could be quick and fierce, so the felines would fit the bill perfectly. Although it was the inpetus for the group, I still decided to spread them around the southern continent in a mix between tribal and civilized, to add color to this whole new world.
Although the khane do have a big event related to them, I arguably did not end up using them to their full extent, partially because game was already very long so having them be a major element among all the others would add a lot of development time. I don't think it's a problem however, since part of my goal was to create a rich environment which extended beyond the Karden's story, and I actually did end up writing a lot of purpose for the khane which the player doesn't interact directly with, but which I can sprinkle all across to add flavor.
I like minotaurs, so I knew from the start that a minotaur like race was a must. Again however, I wanted to avoid traditional conventions and so I crafted them as a very peaceful group. Like the other animalistic species, they are spread out across the southern continent. I did end up doing a lot less with the madox than I could have, they don't end up having major plotlines tied to them as a species, but I did create a very important playable character who ended up becoming among my favorite characters. I look forward to presenting him in the next post.
To conclude, I think if I've learned anything, it's that it's difficult to integrate so many species in a meaningful manner, especially when ressources are limited. I'm definitely not disappointed to have so much variety to draw from, I think it can only improve upon the flavor of the game, but admittingly if I had to add a few hours of gameplay, I might try to add some plot devices between the khane and the madox. As it is however, I tried to make my story as streamlined as possible, which resulted in what I hope to be a 12 hour experience, so appending to it might feel patchy rather than meaningful. In the end, it's not enough to have interesting assets, you also have to integrate them properly.