As usual, most of the development time is being devoted to the Second Macedonian War. I decided against a partial release as it makes little sense to interrupt a game with permadeath in the middle of a campaign. I'm sorry I can't give you a date yet, but progress has been good and it shouldn't be a long wait.
That said, I've found time for a small update that adds some useful features and fixes other things. Let's look at some of them.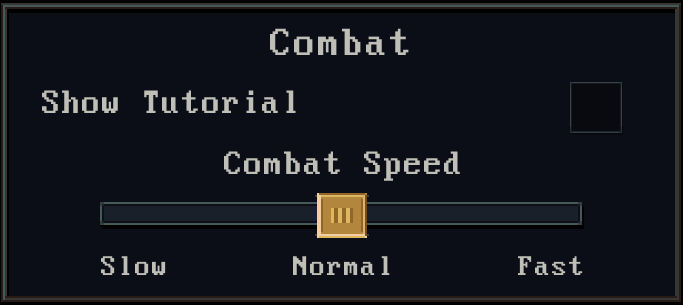 With this new option, you can make combat go 50% faster than normal, or you can slow it down to 75% of the normal speed.
---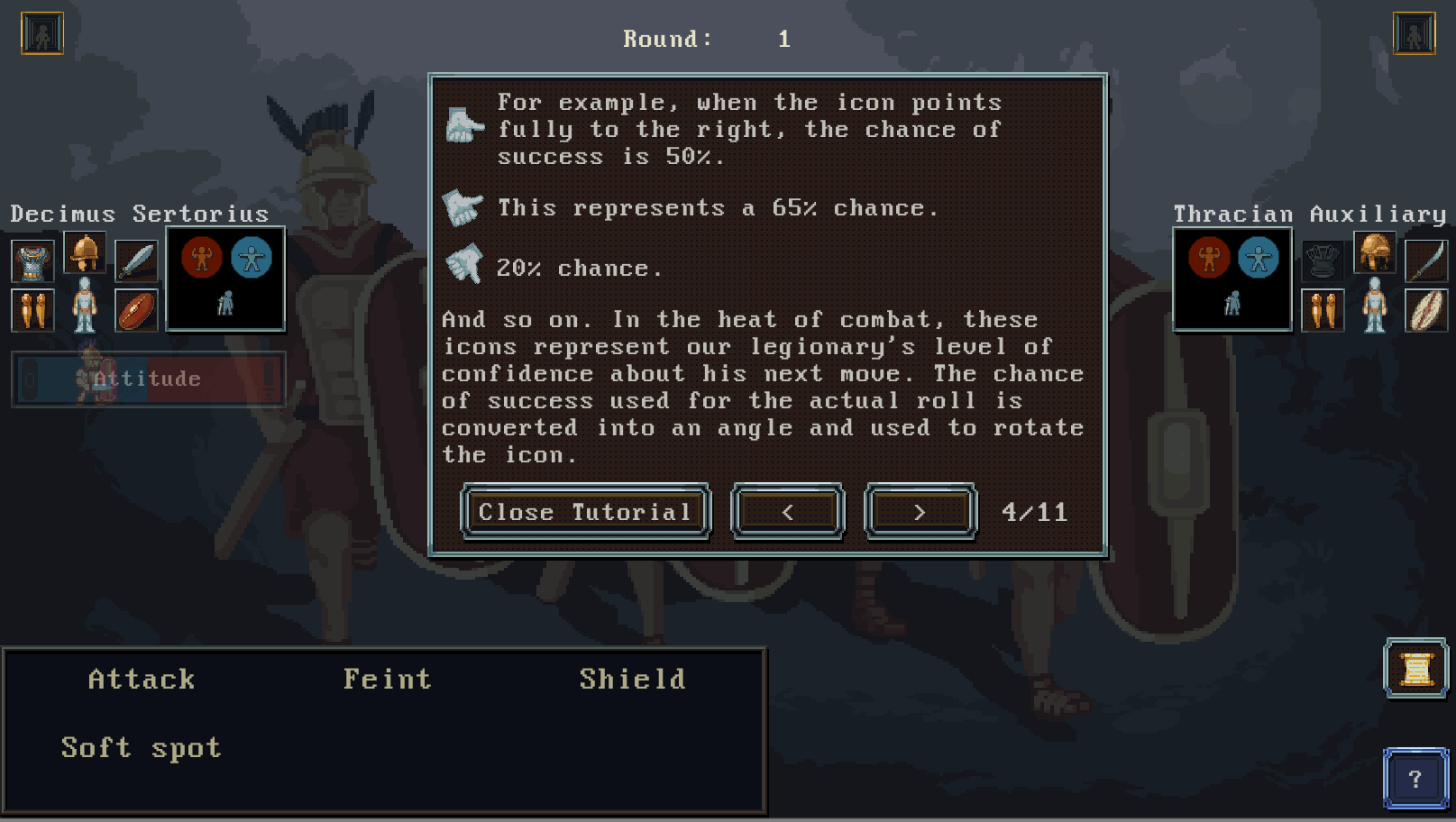 The tutorial part about the "thumbs up/down" has been expanded a little to provide an explanation. Unfortunately, in the tutorial I have to be as concise as possible or players would get bored and skip it, missing important information.
As I explained elsewhere: "The first prototypes had plain percentages, but they seemed too cold and out of place in a game like this. A visual feedback that relied on the player's intuition felt closer to what I wanted to achieve. In the heat of combat, our legionary should have a general idea of how confident he is about his next move, but it seems wrong to tell him that he has a 38.1% chance of hitting his opponent's head. Well, not exactly wrong, but more suited to a science fiction game. At first I wanted to use colors, with different tones of green representing a good chance of success and different tones of red representing a low chance, but I realized this would have caused problems to color blind people and that's how the hand with a thumb icon was born".

---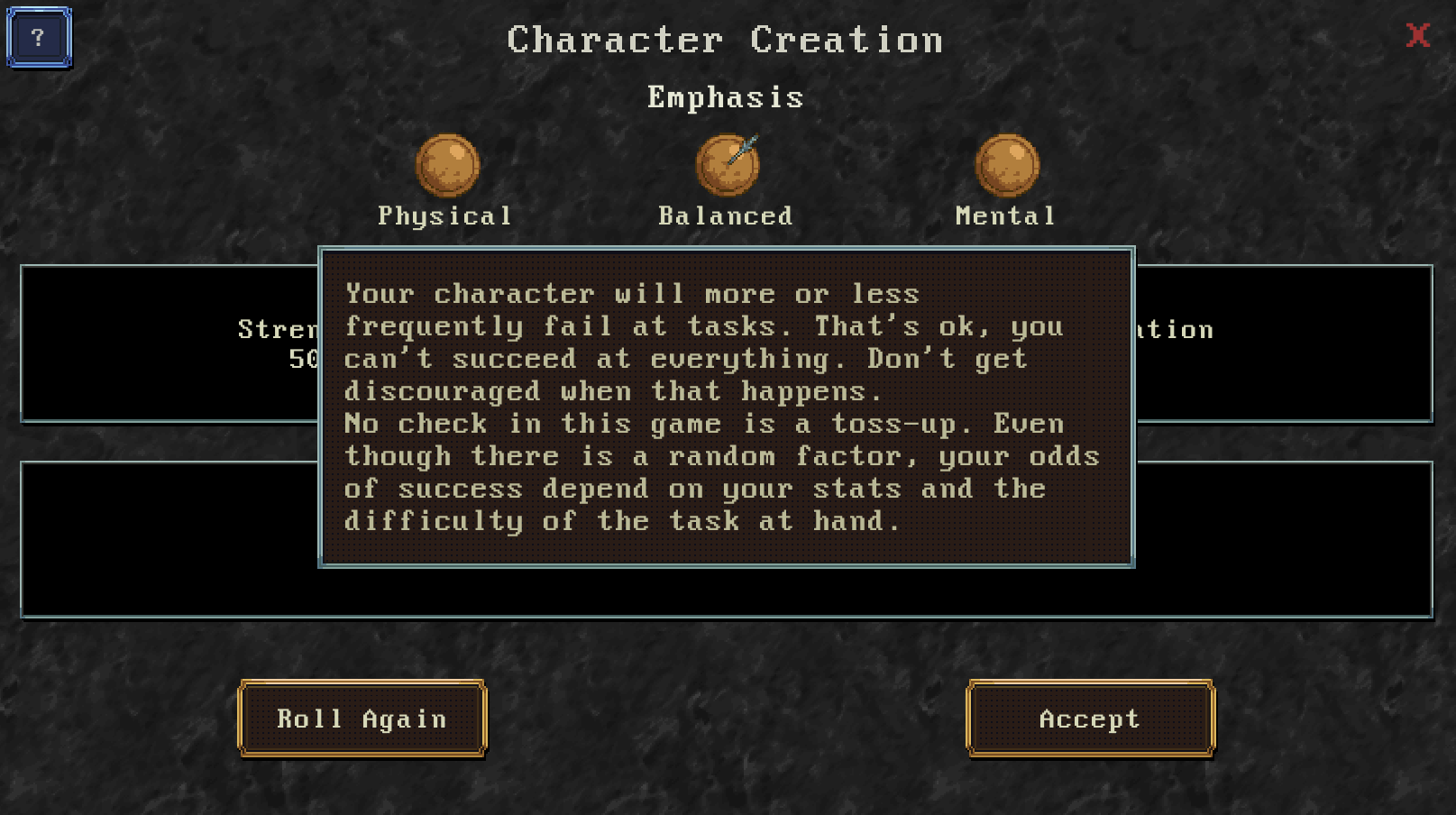 I've also written a little introductory note for new players, so that they can get a better idea of what to expect.
---

The Awareness penalty of Etrusco-Corinthian helmets has been reduced from 5 to 4.
Now there's a single point of difference between this and the Celtic (or Montefortino, as it's actually called nowadays) helmet and the first helmet has a slightly higher Head Cover: 80 vs 75. It should make the choice more interesting, especially if you consider that high levels of weapon skill and soft spot attacks reduce the armor cover.

---

The base damage of spears has been reduced from 5-16 to 4-15. It didn't make much sense that a spear could do more damage than the average gladius.
---
Besides the above, there are other minor additions and fixes. The full changelog is here