Hello everyone.
I want to present you PreCiv (working title) which is a pandemic simulator. There is also an IndeDB page.
May you heard from games like Pandemic or Plague Inc. which simulate the distribution of a virus over the whole planet and you have two destroy human being.
We want to bring this concept a bit furhter and do also allow the player to rescue earth by playing "global research" as well as providing more stunning graphics and tools.
The game will be published on Steam and it should be playable on both PC and Mac and is powered by the Unity 4 engine. In Fall this year we also plan a crowdfunding campaing to raise a bit of money. As a supporter you would then be able to play the alpha already this year.
Facts
High quality 3D globe
135 Countries and regions
Several gameplay modes
Multiplayer in consideration
There are two sides which compete against: Research and Pandemic.
Both parties aim to destroy each other, let's start with the pandemic gameplay.
Pandemic simulation
The game always starts with one person in a country you choose beeing infected with a virus. It's distribution from human to human is an automatic process, but it is based on a lot of parameters which you can manipulate and skill up. Firstly, the country of the infected one will grow the number of infected persons step by step. In some time the infection will spread to bordering countries.
Types of spread:
You need to develop the virus to be able to reach and survive in any country, here are facts for each country:
Economic development
Medical supply
Climate
Airports and Harbours
If you start in a warm region for example then you need to adapt your virus to cooler regions. To entrench in higher developed countries your virus needs to be more resistant for drugs and so on.
But the game has more challenges for you, there is an enemy - the global research.
It will try to produce an anti-virus to destroy you. But first, here are the major parameters of your virus:
Ability to distribute
Visibility
Persistency
Deadliness
Those major parameters are affected by all the little updates you put on your virus. If you for instance develop the ability to distribute by birds (avian flu) then your distribution ability rises and you increase your range and chance to infect another country.
But if you for instance develop a symptom like cough, then you increase distribution, but also visibility and a bit of deadliness.
Those last two values now make it more likely for your virus to be spotted by global research (if people go to doctors or simply die). Then you need to be fast.
There are then several ways to succeed.
You can produce a very insidious type of virus, changing DNA (antigenic shift) to interrupt research and increase drug resistance. Also you are very dangerous and have a high persistency, which means an already infected person might not be cured.
Another possible way would be a quiet type of play. You will try to infect as many people as possible without beeing spotted. Once you infected a lot or every peorson on the planet, you can start to be dangerous.
Global research
On the opposition there is humanity. In that gameplay mode you will select a country which you can controll since then. One part of this gameplay is similar to the pandemic type, but you have to develop an anti-virus instead. This also has to survive on any climate regions and should not be vulnerable to medical standards.
You have the ability to analyse the virus to spot it's current parameters, symptomps and such. Based on that data you can form your strategy.
Beside of genetic development there are more possible actions, you also have political influence. You can send airplanes with the anti-virus to a specific country to prevent further infection.
Also you can force other countries to enable precaution like closing airports and harbours. So any country will have it's own values of protection status.
But you will spot egoism. If the threat isn't high enought, your suggestion won't be accepted by the country, but such actions are rare.
Here are a bit of actions:
Close airports or harbours
Close frontier
Kill/put in quarantine types of animals
Spread protectives like masks
Quarantine (infected only or whole country)
Military actions on infected people
You have to deal with ethical questions here: Do you want to help everybody or do you sacrifice others to prevent further infections?
One example is the ability to put a country into full quarantine. Another way is an agressive anti-virus which can even kill the infected persons. Both actions prevent furhter infections, but for a high price.
What will you choose?
The game will be even more clear since we are able to show preview videos. Just keep updated.
May you visit our community site.
Thanks for reading,
Kevin Scheitler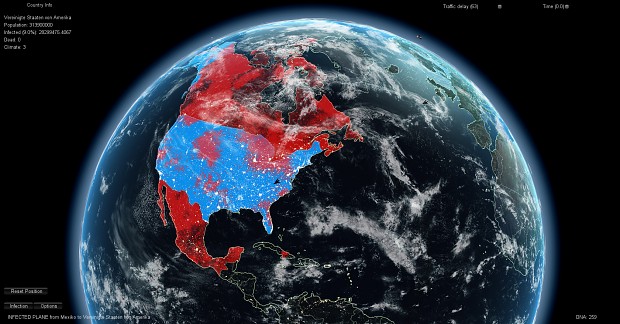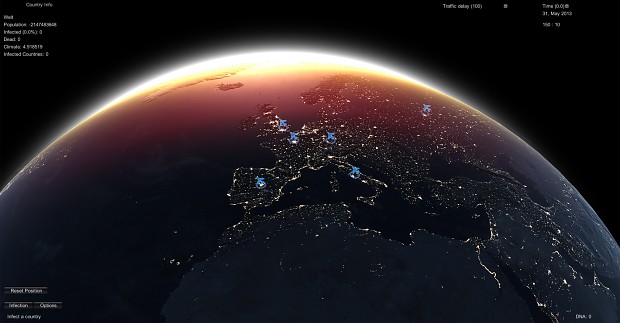 Early thermal data

Early simulation test (Pandemic vs. Anti-Virus)

Edited by: McDev02