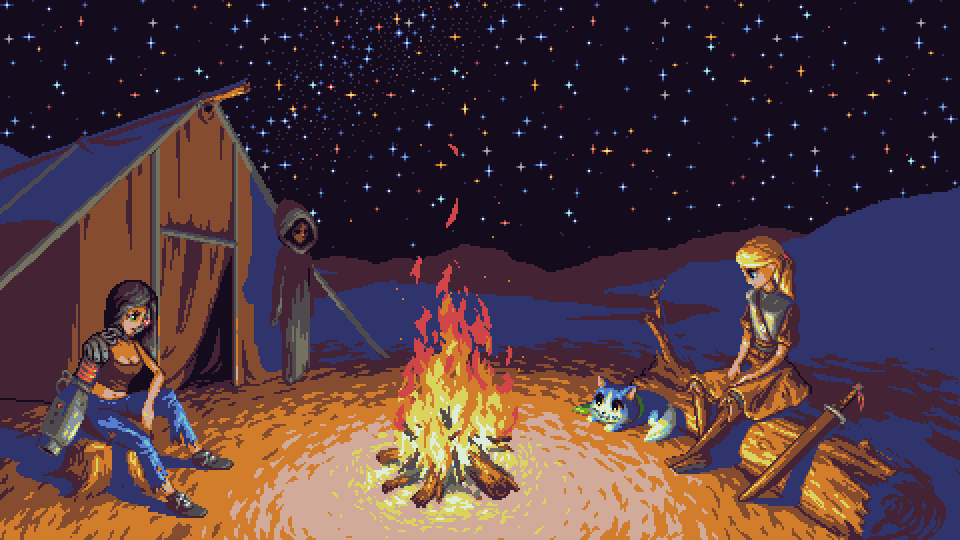 Reposted from www.connorlinning.com
I spent an average of 10 hours a day, 7 days a week for a year and a half working on my first commercial game Towards The Pantheon, which is a 2D RPG with adventure and horror elements. During that time I read as much information and stories about game development that I could get my hands on and found a lot of useful insight. In this blog post I'm going to write about some key points I learned from Towards The Pantheon's intense development cycle.
Pick your genre carefully
I love RPGs. If I were to list my top 20 favorite games, I imagine RPGs might be the most represented genre on that list. There's an important distinction to be made here though - Chrono Trigger, Golden Sun, and Paper Mario are the types of games I'd like to play once every year or two, not everyday. When you're developing a game, you're going to be staring at it, thinking about it, and playtesting it every day for hours on end. It may be wise to choose to work on a game that is in a genre that you love and can play everyday.
I love Starcraft and could play it everyday. I love Harvest Moon and could play it everyday. I love Golden Sun, but it's not the type of game I could play everyday. I'm currently planning out a rough outline for my next game, and it's going to be the type of game I would want to play everyday. I think that if I can play the game I'm working on everyday and be excited about it all the way until release, it'll mean that I have a gem on my hands. While I'm very proud of Towards The Pantheon, the excitement of playing it was exhausted early in development, and since I did all of the design and programming I knew how all of the battle mechanics worked and the position of every hidden chest and item.
Make your game with heart
One of the things that got me through the brutal development cycle was that Towards The Pantheon was a game I believed in. The themes of the game, the characters and their stories, and the overall world was something I really wanted to express, so giving up never crossed my mind even during the lowest moments.
Since completing Towards The Pantheon I have tried to start up two smaller games and have put both aside already because my heart just wasn't in them. If there's something about your game that you truly believe in, it can guide you through anything that the development cycle can throw at you. It's much easier for a salesman to sell their product if they truly believe the world would be a better place if others owned it. They are truly passionate about it and that passion will be seen in both the product and their pitch. That passion will drive them forward through all the rejection that salesmen see every day.
Reuse material when possible
Leitmotifs and reprises are fantastic when it comes to soundtrack development. It helps unite different parts of the soundtrack and make it feel more cohesive while also decreasing the workload and pressure on the composer to write more original music. It's a win-win unless for some reason the game should not have leitmotifs and reprises. Towards The Pantheon's soundtrack is over 2.6 hours long and used leitmotifs whenever I felt it was appropriate.
This same principle can be applied to artwork, code, and design. The more win-win situations you can find where you can reuse or re-appropriate material, the better. The more you can design your game around this principle, the smoother the development cycle will be. You don't want to have quality suffer by making your game feel cheap through abuse of asset reuse, but the time you save here is better spent playtesting and perfecting your game.
Focus on what matters
The original Super Mario Bros on NES would still be a great game without the flagpole slide and fireworks at the end of various levels. The game would suffer immensely if the jumping or fire flower mechanics was taken out. The fireworks are fluff that look pretty, while the jumping is mandatory. It's important to put fluff in your game whenever time and resources allow - this makes the game feel like something made with passion, love, and obsession. But if the core mechanics suffer because too much attention was spent on fluff, the game simply won't work. No amount of fluff will ever make up for a game that isn't fun to play, that constantly crashes, and has no vision. Focus on what matters, but put that extra level of passion and fluff in whenever possible.
Never stop learning
Although you may want to mostly focus on one area of game development (programmer, soundtrack composer, artist, etc), it may be very beneficial for you to learn at least the basics about as many other fields as possible - marketing, promotion, sales, business and project management, art, music, code, etc. This enables you to provide even more value to the project and your team. While you shouldn't let your main focus suffer while branching off into other areas, learning as much as possible whenever possible may help you in ways you could never imagine. Understanding basic technical terms, basic workflow processes, and basic mindsets of different fields will enable you to communicate deeper with team mates working in those fields. I personally like to listen to audiobooks while driving, going for walks, and weight lifting. I can learn about business concepts, industry history, and project management techniques during time I would have otherwise mindlessly wasted, and even that extra knowledge enables me to contribute more to the projects I work on.
Make your first level last
John Romero created the first level of Doom at the very end of the game's level design cycle so that the first level would be as impactful and fun as possible. By that point, he had made tons of levels and knew the level development process inside and out, enabling him to put it all together and create a killer level to open the game. I've read a few reviews of Towards The Pantheon which say that the first part of the game is the least interesting, so I should have taken this development mindset to heart. You want to suck the player into the world of your game as early as possible, and this is a great way to do it if applicable to your game.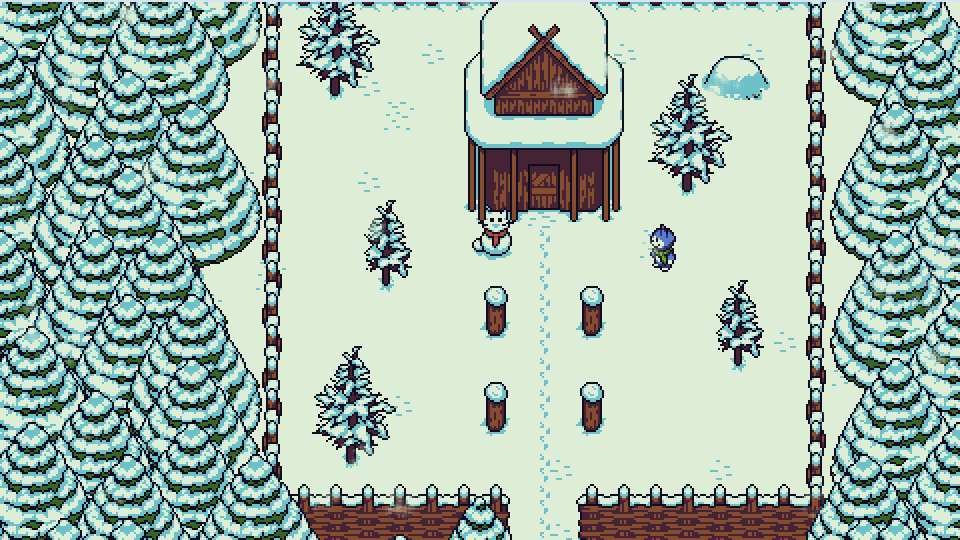 Tell your story
There are tons of games in development and tons of games being released every year. While you want to tell the world about what your game has to offer, you also have to tell the world what you and your team have to offer. What have you gone through? Why do you want to share this game with the world?
Part of what lead me to buy Stardew Valley on release day wasn't just the fact that I was dying for a game similar to the original Harvest Moon on SNES, but that solo developer Eric Barone shared his story and updated his supporters regularly. Stardew Valley becomes even more endearing when you know it was made by a guy who graduated with a computer science degree, failed every job interview afterwards, and then worked part time as a movie theater usher for 4 years while working full time on his game because he believed in it so much. If he believed in his game that much, there's probably something special there. If you can show people why you believe in your game as much as you do, you can have a better chance of growing a following and having the game be successful. This is of course assuming that you are making your game with heart, as mentioned above.
During the development of Towards The Pantheon I shared my story through blogposts, video blogs, podcasts, and social media posts, but I was afraid to show everything because I became too self-conscious. You can read more about that in my blog post 'Brick By Brick'. I plan to share as much of my story as possible during the development of my future games, and share why I believe in them enough to go through the brutal development process again. It would be easier to let it go and live a normal life. I'm already too excited about my next games to even entertain that notion.
Support the Indiedev community
In the business world it's dog eat dog. But in the indie game development world, I believe we all have more to gain by being kind and helpful to one another. After all, making games is difficult enough without having to compete with both massive AAA companies and other indies at the same time. There will always be competition between indies which is great for the customer. But during my time working on Towards The Pantheon, I made friends with a lot of other indie game developers. You can be there to pick them up and knock some sense into them if they think about quitting, and they'll be there to cheer you on when you need it most. You can also give back by sharing code, creating tutorials, livestreaming your development process for others to see, and even donating to projects you believe in. I see a lot of upsides to the indie community supporting each other, and very few downsides.
Be healthy
Exercise. Eat well. Sleep as much as is needed. See friends and family. Do what you have to do to keep sane, to be able to work your ass off, and give it all you got. I try to spend just as much time with friends and family as needed to keep myself sane and connected, go to the gym almost daily for some alone time with an audiobook, and avoid all junk food and soda so that I'm able to optimize myself to work as efficiently and effectively as possible. I find that when I find the perfect balance it inspires me to work even harder, and this has a snowball effect.
Challenges are opportunities, not problems
During development of Towards The Pantheon it was announced that GameMaker Studio 1 would be left behind in favor of the new GameMaker Studio 2 engine. I took a look at GameMaker Studio 2 and was much more impressed by it, but there were numerous problems. The main one was that the look of the IDE and the general workflow had changed. I was still working on levels and programming big parts of the game, and saw this change as a problem instead of an opportunity. The lightbulb went off when I thought "What if I spent a month making a small prequel game from scratch, allowing me to become comfortable with GameMaker Studio 2 so that I can then switch over effortlessly?" The result was Towards The Pantheon: Escaping Eternity, which I released for free.
Not only did I throw myself into learning GameMaker Studio 2 (which is much better than GameMaker Studio 1 in just about every way), but I also created a prequel game that generated further interest in the full game. What had seemed like a problem was actually an opportunity. I try and look at all problems in life this way, and it's impressive how much your life can improve when you put the pity parties behind you and instead take responsibility and push through anything that is difficult.
That's it for this blog post - I hope it helps out some fellow game developers! If you enjoyed this blog post, check out my music and games, follow me on social media (links are above on the right hand sidebar), subscribe to the mailing list for updates, leave comment or tell me what you thought on social media, and share this blog post with your friends!
- Connor O.R.T. Linning