Greetings dear viewers! Welcome to our wonderful page. I am Henry Stauf, and I will be your host for the evening.
To those of you who are returning fans, welcome back! We've missed you so very much.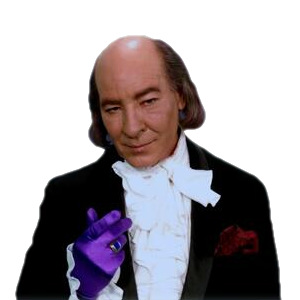 We actively welcome new guests of our humbled abode.
In 1993, my beloved mansion was the centrepiece of an extravagant collection of puzzles. In The 7th Guest and The 11th Hour, my guests would solve such deviously tricky puzzles within my abode. I've returned to continue my legacy, and open my Mansion once again, to all puzzlers who wish for a deathly challenge.

Many summers ago, I opened my first toy shop. I sold trinkets and toys, for both the girls, and the boys. All of my toys were completely unique, and beloved by those from far and wide. From the wealthiest of nobles, to the poorest of children. I never turned away a single child who walked into my shop.
Through the shop, I was finally able to build the Mansion of my dreams. An ode to all puzzling souls who had lost their way, filled with puzzles, riddles and many more fascinations. It was iconic, not just of my passion for puzzles, but of the town as a whole.
I had whittled each and every one of my toys with my own, two hands. Nothing less than a labour of love. Alas, I have had to take quite a sizeable break. I was rather flustered with the work I had recieved.
But woe! When I had returned, I was greeted by ashes! My Mansion, burned to the ground!
I was so very shocked! In such despair!


I was confined to my cold, damp crypt, for what has felt like half a century. But, I have decided, no more!
My beloved fans brought me up from dirt and despair, and I wish for your help now, more than ever, to rebuild my empire once again.

I have planned a grand reconstruction project for my Mansion, and will be opening the doors to each and every one of you once again.
Alas, my fortune has been depleted quite fully, and I have but a tuppence left to spare. I need help!
That is where, my friends, you can help become our salvation. We're running a Kickstarter, so that my House may live once more! With your help, my Mansion can rise from the ashes, and I may open the House, where you will be welcomed. Forever.
So please, spare what you can. A dollar or two, or much, much more!

I will even return the generosity with some very special trinkets, if you think the price to be right. Perhaps you would like a Maze puzzle? a Painting or Bust? Or maybe a Sphinx board will satisfy?
What about a House of your own, though shrunken in size? Or maybe your name, as credit, in the halls of my mansion for all to see! I am sure you will enjoy any one of these trinkets. A Stauf toy is a toy for life! And while no two are identical, not a single one will be deplorable!
So please, do come back, and help out a poor, old toymaker. I need the House to live, and you need the House to play! And I know the House wants you, so very, very much.

I thank you for your time, dear viewers. I shall be seeing you around!