After 2009, 2010 and 2011, we were once again subject of a press report by the German "PC Action" gaming magazine (range: 0.45 mill. readers). This is our translation of the article: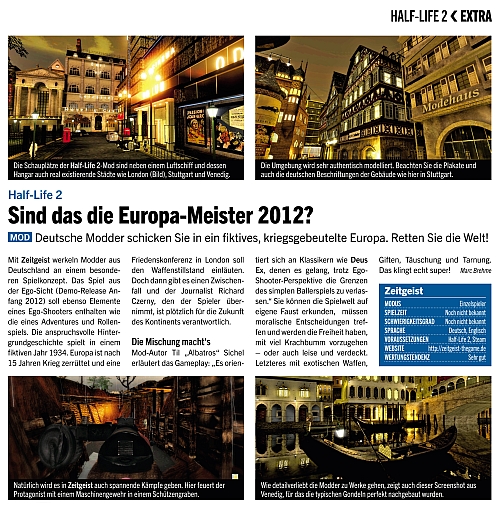 "Are these the European Champions of 2012?
German mod makers send you into a fictional, war-ravaged Europe. Save the world!
With Zeitgeist, modders from Germany are working on a special concept. The game which is played in the first-person-perspective (demo release in 2012) will contain elements of an first-person-shooter as well as adventure and role play aspects. The sophisticated background story is set in a fictional 1934. Europe has been shattered by 15 years of war, and a peace congregation in London is expected to herald a global armistice. Then there is a terrible incident, and the journalist Richard Czerny, directed by the player, is all of a sudden responsible for the future of the continent.
A spicy Micture
Mod-author Til 'Albatros' Sichel explains the gameplay: "It's following the guidelines of classics like Deus Ex, games which accomplished leaving the boundaries of the simple shooting game behind them in spite of using the first-person-perspective." You can explore the environment on your own initiative, make your own decisions and choose whether to advance in a hell-for-leather manner, or covert and silent using exotic weapons, poison, deception and camouflage. This sounds exciting!"
Our grattitude goes to Marc Brehme for the encouraging article.