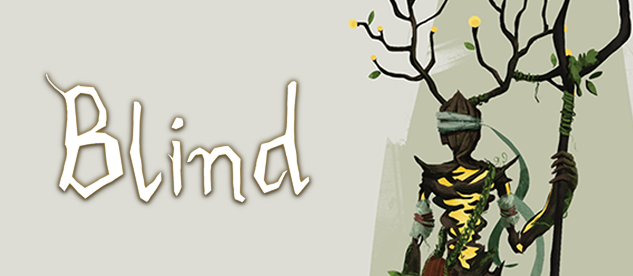 Blind is this character who can't see but is more advanced in sense of hearing. He is mostly focused on sounds. Even if he was born in the village he decided to live in hermitage where he can peacefully listen to sounds of environment and play music. Blind is stoic and calm. He has a band around his head and wooden stuff in his hand which helps him to recognize the surroundings.
Skills
Vision of Blind

The vision of the Blind is limited to what he can hear or touch. His vision is mostly focused on hearing sensations. It's an empty dark space in which appears light areas of recognizing the environment. One of the areas shows Blind and his surroundings. Every distinctive sound he hears show the space around. It's radius depends on sounds amplitude. Also, Deaf as a sound source is making a recognizing area around. His perspective is wider than Deaf's. Every sound of environment is heard by him.
Echolocation

It's the special ability of Blind. He can expand the radius of his area of recognizing environment when arousing the sound wave by hitting his stuff on the ground. Area of echolocation stays in exact place even if Blind starts to move. It allows recognizing objects which are far away, under the ground or behind the obstacle. After some time area of echolocation starts to shrink until it disappear.
Musical instruments

Blind can use action on musical instruments and play them. He is always compatible with beats and bars of diegetic and non diegetic music. Playing musical instruments is kind of collectible. All played instruments are shown in menu so the player can see and hear them once again.
Pushing objects
Only the Blind is strong enough to push things. When Blind is near the object he can use action to grab one of its sides and then move with it. Some objects can be grabbed from every side, some have limited sides, some can be pushed to every direction, for some also the directions are limited -it depends on type of object.