Low on Life?
When you try out different builds you will sooner or later notice how well ninja-style builds can do in battle (builds that concentrate on Speed and Dexterity). Many of those builds neglect Endurance though, which means they are very low on life, even when reaching Level 30 or higher. Luckily, there are items that make up for this, like the Garments of the Kage: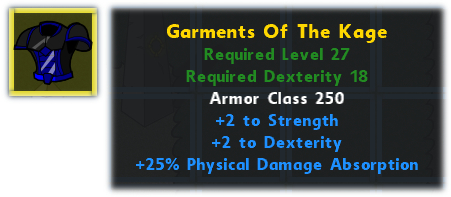 This armor gives your character a 20% damage boost, a very nice Dexterity bonus, and absorbs 1/4 of the physical damage you get. Go get it!
Where is my Garments?
Look for golden treasures in Realm 3, or go through the third and fourth challenge a few times (well, if you can easily sweep through the fourth challenge, you probably don't need the Garments anyways).