Arcade Tycoon Releases 12th Thursday.
Arcade Tycoon is a Management Strategy Sim, purchase from hundreds of machines to help relieve customers of their hard-earned cash, customize to keep guests happy and hire Mafia to stop crime!

FEATURES
Content and Customization
Delight your guests with a huge variety of entertainment including consoles, pinball, crazy golf, retro, modern day, shooters, pool, ice hockey, virtual reality and more. Create awesome-looking themed areas by purchasing unique attractions and decorating all aspects: floors, walls, pictures, and all the required and very handy facilities.






Real World Environment
Your games centre is surrounded by a real-world environment. Guests that come into your arcade have individual needs and desires. They can shop, watch ducks, and eat and drink in the dynamic world outside your arcade.

Employee and Guests
Customers will drop litter, be sick, steal, poo themselves, crave specific machines, and need access to food and drinks. Select from a range of staff, whose wages depend on their skill levels. Security, cleaners, technician and entertainers are waiting to help with the guests' needs. Keep customers happy and don't Overcrowd your Arcade!

Sandbox Mode
Get creative with the Arcade Tycoon sandbox. If the pressures of a campaign aren't your thing, you can have a casual game with the sandbox mode, and still experience expansion and growth.

Power Management
Make sure you have enough juice for your machines otherwise you could end up with a chain of cataclysmic explosions.

Humour
Watch guests interact with comical machines and fellow guests in amusing ways. Your guest will show signs of their mood, such as sadness, anger, sickness and happiness.

Finance Pages
Detailed finance panel allows you to check all your profits or losses, with monthly statements, graphs, marketing and loans available at Donald Corp.

Below To Be Implemented - Keep up to date visit annoucements for details.

12 Campaign Levels and Challenge Levels
Experience the campaign mode to build and manage arcades at such diverse locations as the ghetto, wacky museums, theme parks, pirate ship, shopping malls and haunted hotels.





Tech Tree
Open up the newest catalogue of unlockables, upgrade machines, hot Tech and see Vinnie Blue Eyes' Best Buys to help your arcade run more smoothly or to do research so you can continue to make your arcade more amazing and entertaining

Difficulty
With multiple levels of difficulty, whether you're a hardcore tycooner or a complete novice, you can find a level that's challenging without being intimidating.

Crime Wave
Keep your eyes peeled as there are many varieties of criminal activity: gangs causing destruction, penny-pinching thieves, non-paying giant bugs. Should you hire the Mafia? Or would it be better to unlock new tech to catch these pests?

Want to help? Be brave enough to support our Early Access release! Support the Arcade Tycoon community on Discord take part in the chat!
Inspired by Two Point Hospital, Planet Coaster and Game Dev Tycoon.
Add us to your WISHLIST on Steam! Tweet about us, or to us, or just talk about us!
Set to be a big hit as we have over 30,000 on wishlist and social media. We had over 4,000 requests from keymailer and other sites.
Please show your support and add on Wishlist it here Store.steampowered.com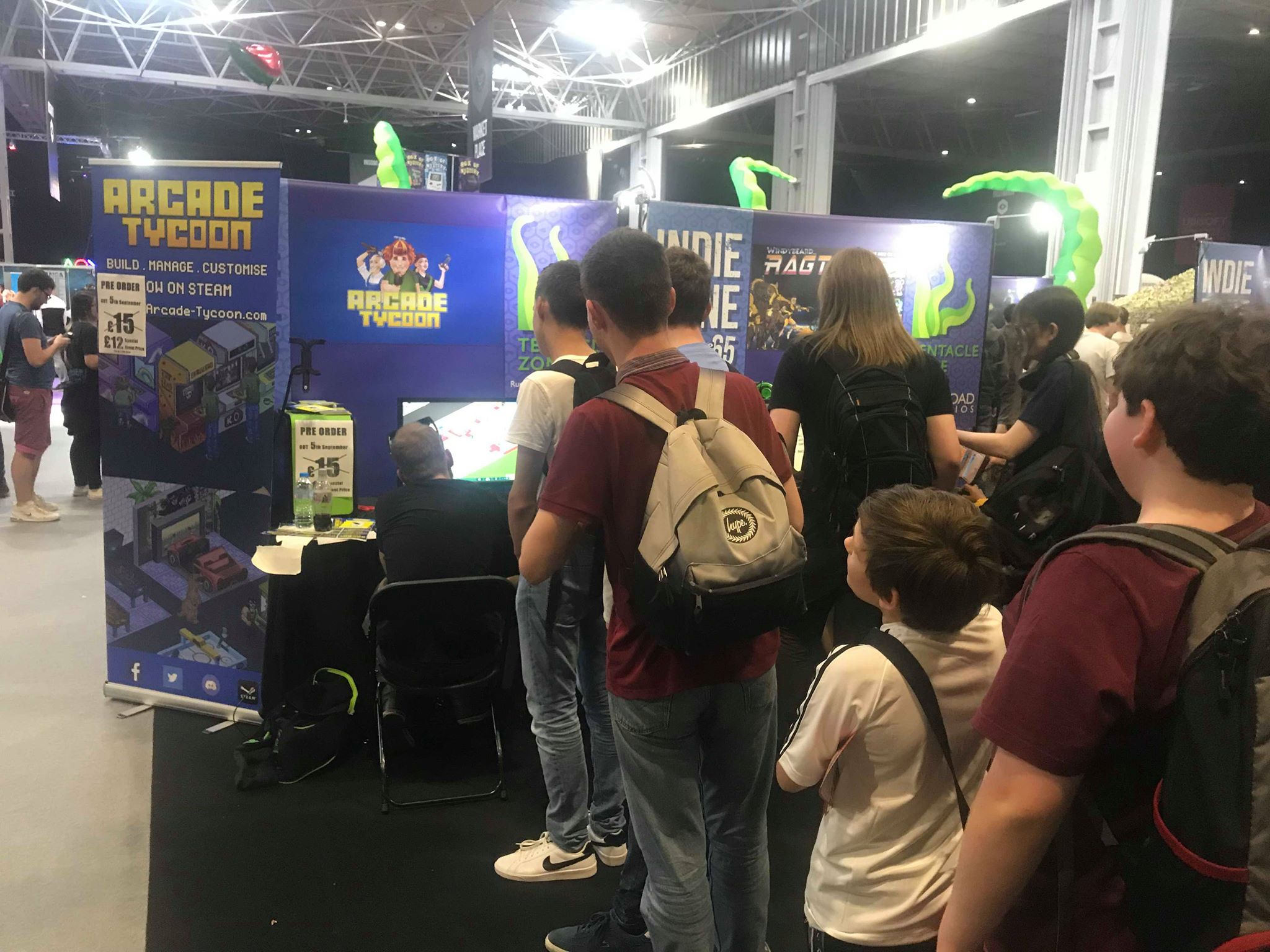 Arcade Tycoon as a big hit at Insomnia UK Gaming Festival.