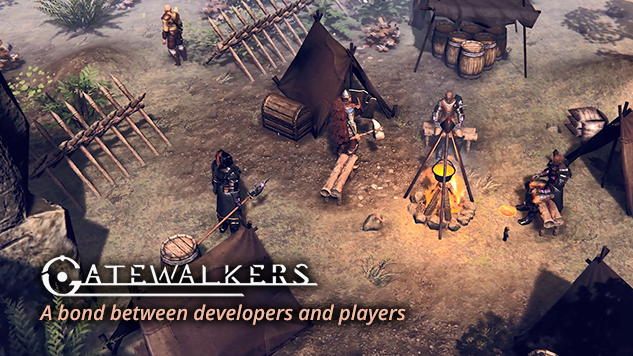 Games are made to be played. They do not exist without players. Without games - players aren't players. Those statements are not a big surprise, however most don't really pay attention to the fact how important they are. When developing a game, creators must be aware that the player will eventually tie up with it and its characters, so it's crucial to make sure that this bond will grow to even larger relationship, which both sides will care about.

Creating additional scenarios, imaging potential fate of the character played or giving away ideas for future events - these are only few of the possible ways of how players get involved in expanding an in-game world. When creating one, we have to deal with the fact that it will start to live its own life, at some point. There's nothing we can really do about it. It's all because of players' engagement, which is extremely valuable. They will have some unique ideas and concepts to share and all of them should be taken into consideration. This way it will attract more and more people and ones who already enjoy it, will stay for longer. Also - the players themselves will feel very important, since they're listened too and their commitment has visible impact on the game.

Players do like to feel responsible for what's happening within the game and it's relevant to inform them about most of the progresses. Not only the ones that are going to happen for sure, but also those who are only considered to be implemented. They are looking at the game from way different perspective than the developers do and know which features would work the best within the game world. They know what's needed and what doesn't fit the setting they enjoy - their voice is crucial, since the game is being developed mainly to satisfy them. It's necessary to understand that players' ideas give developers additional opportunities. Their thinking is way outside the box, thanks to that the game can take a whole new path, which will make it even more interesting than originally intended.

Having trusting in community is a way of creating a successful game. The ones who play give away part of themselves in exchange for being part of something bigger. They have a chance to play a visible part in improving something they like and enjoy. On the other hand - thanks to that collaboration, the creators are making sure that their title is growing properly, satisfying those to whom it is addressed. Giving players a chance to participate even more directly is a great way of showing your gratitude for their commitment. Learning your mistakes from critique is good, but making something together is even better, as because you know, in advance, what reactions you can expect.
The opinion of players is crucial to us, that's why we've invited some of them to try out alpha version of the game. We've spent two weekends together and their feedback helped us a lot. That's why we've already scheduled another test - from June 25th to 29th, players will be able to see how much we have improved, since the last time and check out some new features.
It's important to keep in touch with players, since they're not only customers of our product. They're part of the team. They know how to improve what's around them, because they spend hours there. Proper communication and teamwork between players and developers is important. It serves a purpose of creating a space where everyone feels welcome and will be enjoyable for both: to create it and play it.