By Ozzie Mejja, from the Indie Games Channel. Read the original article here: Indiegameschannel.com
Prepare to set sail! Zatobo Games wants to take players on a fantastic voyage of following the adventurous journey of the famous Viking, Leif Erikson. Vikings have long fascinated these developers, so it's no surprise that their first game delves into the journeys of the Vikings.
To learn more about the world of Vinland: Arctic Assault, I reached out to one of the minds behind Vinland, Gareth "Mordred" Kay.
Zatobo consists of three members — Dean, the business guru; Marc, artist and programmer; and Gareth, lead designer. Shortly after his university studies, Kay began work on his first novel, Vinland: Revelations, which would follow the historical exploits of Leif Erikson and the Vikings. Work would continue through Kay's time as a member of the Prophesy of Pendor modding team for Mount and Blade. Seeing the potential of "mixed media writing," Kay looked into making the Vinland universe into a game. After his old friend, Dean, agreed to run the business side of development, Kay recruited Marc, who agreed to do art for the game. The three men then formally founded Zatobo Games.
Vinland: Arctic Assault went through a series of conceptual renovations. "Initially we set out to create a turn based RPG based on the world I had created," said Kay, "but after creating a very, very early prototype we realized that the scope was simply too big to act as our debut project. So, while brainstorming new ideas, the very first was 'Asteroids… with Vikings,' and surprisingly we all seized on it immediately.
"The idea of using a simple arcade formula seemed to clash with a narrative as rich as the Vikings' journey. Kay agreed, saying, "Asteroids is quite an old, and very simplistic game, so we were conscious that we would need to modernize it rather a lot. This is why we introduced things like more ship customization, and different types of icebergs.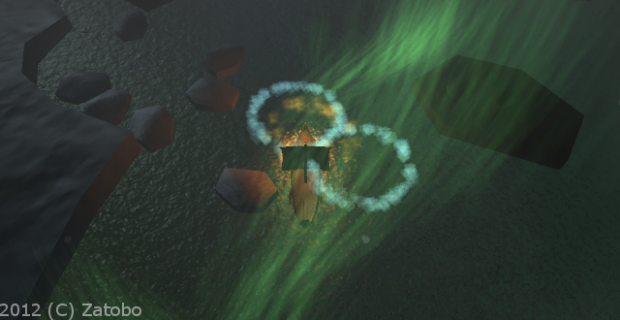 "As mentioned, ships can be customized and players can switch between three different ships between each level. Each ship fits a certain style of play. The Karvi, for example, is best suited for swifter players that would rather sail around obstacles, while the Knarr is a slow beast that can withstand severe punishment. Each ship can hold a pair of weapons, each with their own strengths and weaknesses. Players can also select the ship's navigator, who will also buff up their vessels in different ways. Kay offers players some advice in this area, noting that complementary parts will be more beneficial than attempting to balance attributes.
The team shot for historical accuracy with Vinland: Arctic Assault's story, but Kay explains that reconciling the realistic themes of the Vinland novels with Viking beliefs in the supernatural became difficult. "The storyline is as historically accurate as I could make it. I have done extensive research in the Vikings while writing the book, and this is knowledge I have drawn on as much as I could," said Kay. Fortunately, capturing the geographic locales of the Vikings' journey proved to be slightly less strenuous thanks to modern technology. "The course of the journey is also plotted as accurately as I could make them, and while personal finances have not allowed me to actually visit the locations, I have made assumptions as accurately as I could, based on scouring the area with Google Earth.
"Zatobo was originally slated to release Vinland: Arctic Assault on the PC and address other platforms later, depending on sales figures. However, developing on mobile platforms would require the paid Unity engine. Fortunately, the trio caught a break when Unity offered free use of its engine.
Kay expressed a sense of relief. "Unity have been extremely generous to many developers, and the free licenses couldn't have come at a better time. Our plan was to release the game on PC and hope to raise the money to buy the licenses to sell on Android and iOS, as the $800 hurdle was simply too big for a young start-up company like ours." Kay does note that there are still other financial expenses to be concerned with. "Amusingly, the next hurdle for us now is to actually buy the smart phones in question for ourselves so that we can actually test the game while porting it to those platforms."
The team isn't ready to commit to a release date, preferring to take the "it's done when it's done" stance. However, Kay says that the release is coming very soon, with the PC version of Arctic Assault set to release in the next couple of weeks. Android and iOS versions will release shortly thereafter. A demo for the game will also be available on various Flash portals.
Find out more at Zatobo.com
Follow us on Facebook and @Zatobo on Twitter.