Hey there, how are you today?
I've a great news: The Lost Maze BETA is out and you can play it directly in your browser by following this link.
What has changed since the official release? A lot!
The first ten levels had been reviewed, corrected and remade for some of them

Doors, Traps, Keys, it's more challenging now for find the exit

Combat system with two types of monsters : Giant Rat and Skeleton

The mini map has been removed for now

A lot of other small things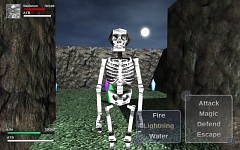 The game is splitted into two episodes, the first contains the tenth first levels with originals textures and levels (do you remember ? They are really much polished now). The episode 2 will be released later this summer, maybe in August with new features (some of them are really fun :-) ), beautiful textures, new musics and maybe new platforms...
How can I help ?
It's easy, you just need to play the beta and tell me what do you thing about it. Don't forget that it's designed to be mobile first, so the Easy mode is really easy. If you're a PC gamer I recommand you to start in normal mode.
We have achieved a lot of work since the begining and it's not yet over. I really hope that you will like it.
Don't forget to follow us on Tumblr, Google+ and Facebook for fresh news !