Remember to follow us on twitter for the latest updates and news:

thanks

Today I am going to be going over the other part of the procedural weather system that has been added to Corpses 'N Souls. The other part of the weather system rain and water effects are the topics for today. I will discussing all the cool features that have been included in this new system. As well, I will talk about how the rain and water FX tie into the procedural cloud system that has also been added. I will be going over the dynamic behaviours, water FX, performance, cloud system and rain synergy and the different storm profiles that the rain system can transition to during the randomly selected storm cycles.

* [Updated] video with commentary and complete footage, enjoy! *
*Please make sure you select : * 1440p or 4K in YouTube *
It is recommended to watch the video in YouTube's expanded [Theater Mode] or in [full screen] mode.

The new dynamic weather system allows for a none static weather and rain system. Gone are the days of repetitive patterns of sprites that shower down in a constant loop, path and behaviour. With my new dynamic procedural rain system we can have random organic rain. With a huge technical road block of performance overcome we can have 10s of thousands of random dynamic rain particles shower from the heavens.
Not only can we have a massive volumes of rain we can have random behaviours that simulate wind so that paths of the rain particles can change at run time. Size, amount, colour, spread factor, dispense factor, and various other parameters can be modified during the procedural generation. Another cool feature is the background layer of the rain is dynamically light by the moon, sun or other light sources that are part of its FX chain. One storm rain object is only needed and can be changed dynamically according to the current storm profile called in the level.
Rain mode : Sprinkle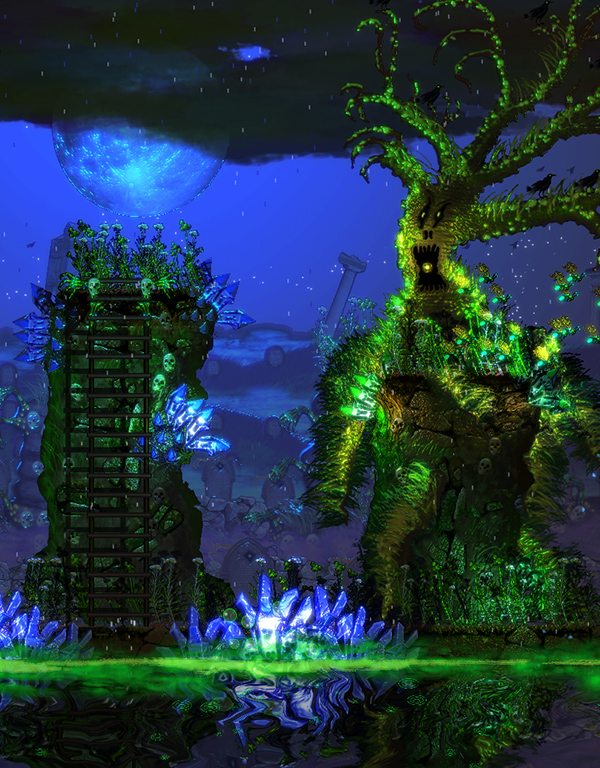 Rain mode : Ultra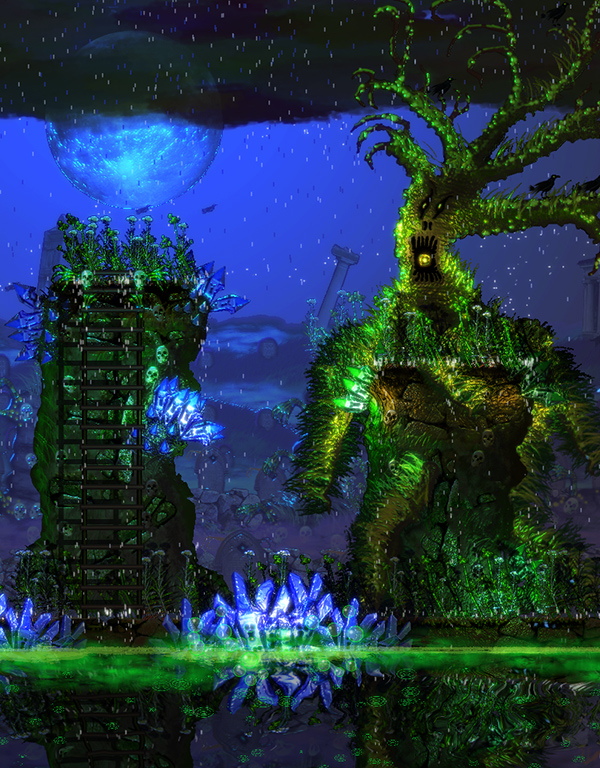 During the dynamic weather system when it rains the player will have a real cool dynamic physics particle system attached to it for rain impact and run off. As you control your player and it begins to rain so will water particles dripping off your body. When ever you do any motion the water will react and spray to the left or right depending to the X velocity that you are moving. If you drop down a ledge the water will hang heavy in the air and drop. Like wise if you jump in the air so will the water particles and fling in the air appropriately.
These added water FX while it rains adds that other layer of depth and visual fidelity that feels so good in a stormy environment. Thanks to Corpses 'N Souls's modern game engine this is now possible with out a massive performance hit. The amount of particles on the player dynamically increases or decreases due to the current rain mode profile(they are synced).
Rain mode : Sprinkle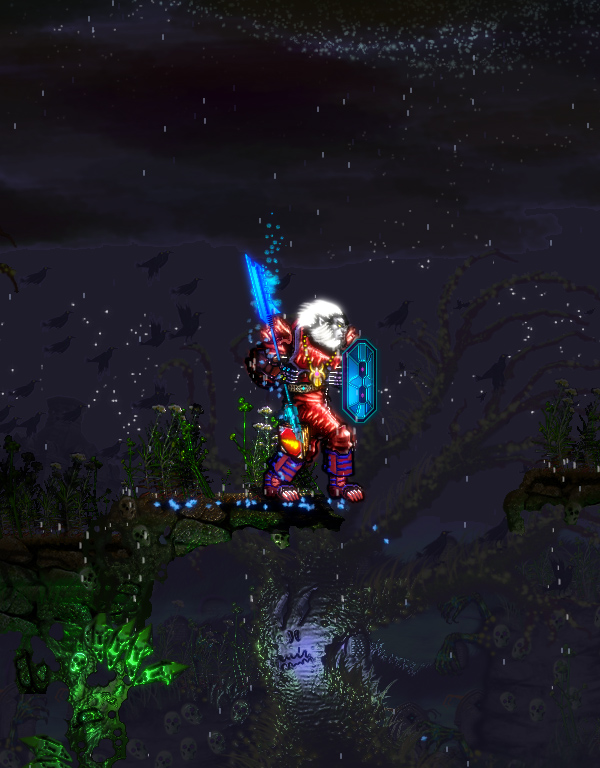 Rain mode : Ultra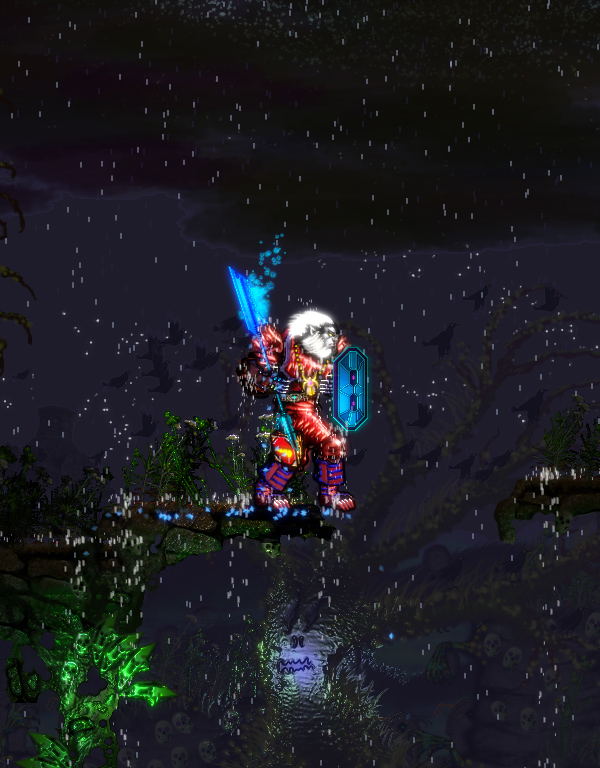 Not only does the player have particles attached to it when it rains so does a bunch of other objects. All the platforms that you can walk on gets nice procedural generated rain splashes as the rain drops hit the surface. The amount of splashes dynamically increases or decreases due to the current rain mode profile(they are synced). Also each platform has a left, right and random centre water run off that starts to pure as more rain hit the platforms. This is an awesome FX, the hight of the stream is determined dynamically according to the ground height and the height of the platform. Next we have water splashes that dynamically show up in the water much like effect when rain hits a lake surface on earth.
Rain mode : Sprinkle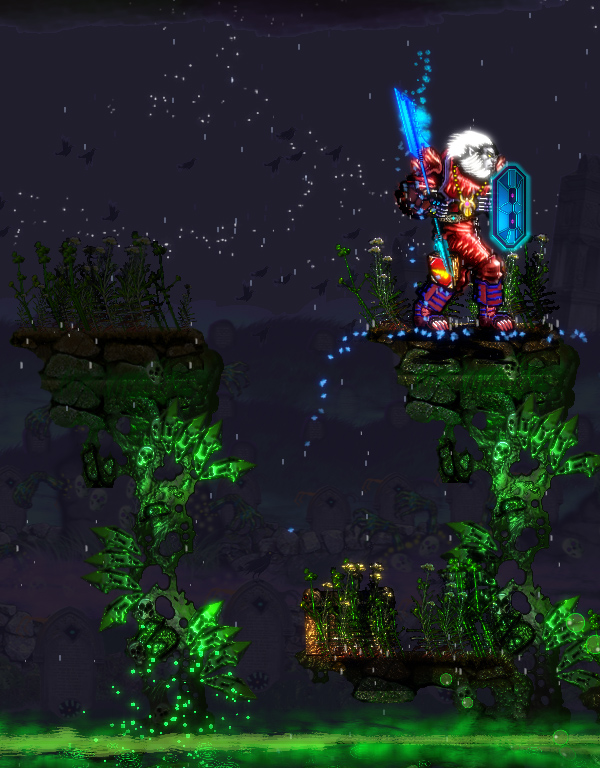 Rain mode : Ultra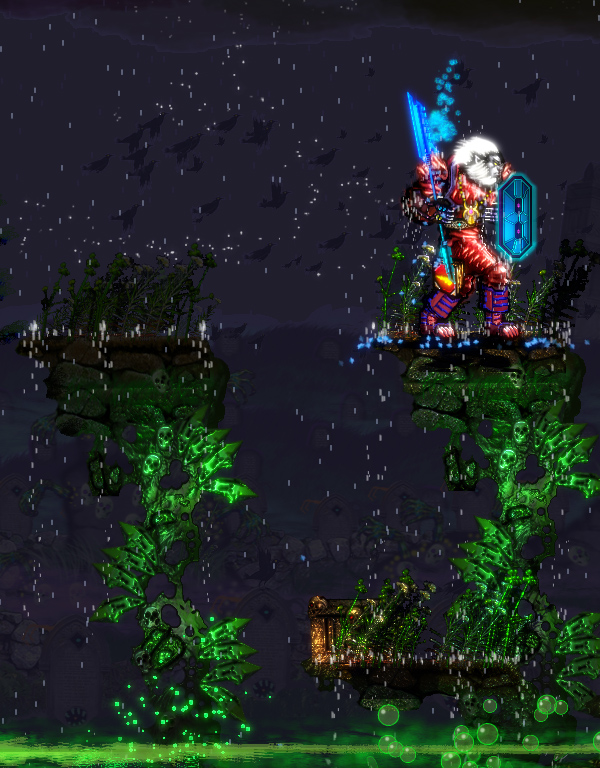 In the past the rain system and FX took a massive amount of CPU and GPU horse power and was going to be only available to high end computer systems and consoles that could handle it. After moving to X64, DX11 and OpenGL this system and FX will be available to pretty much all configurations. As you can see from the benchmarks the rain FXs which include the rain, ground impact, water rain splashes, player rain run off particles and the water run off all take about 1% of power from the CPU and GPU. The different rain FX profiles pretty much have a log N performance hit as in it is the same on low or ultra. This took a lot of hard work to achieve but as you can see it was 100% worth it.
Rain mode : Off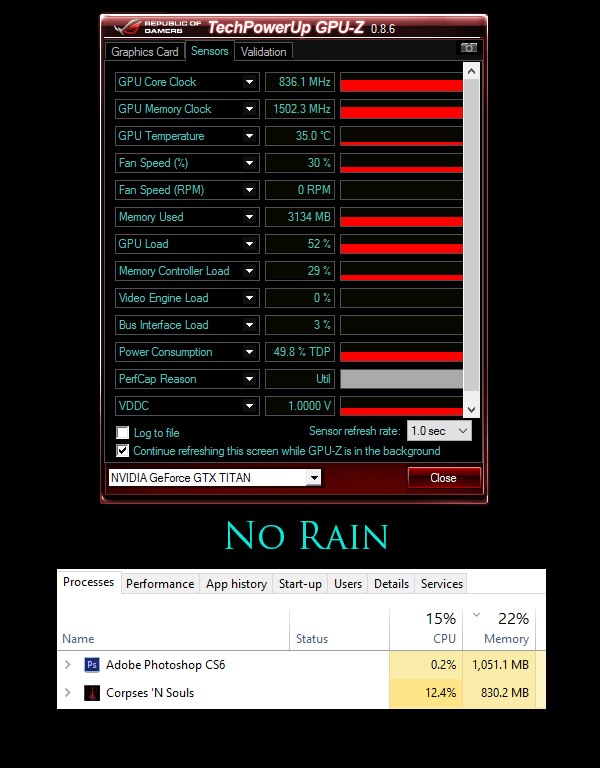 Rain mode : Sprinkle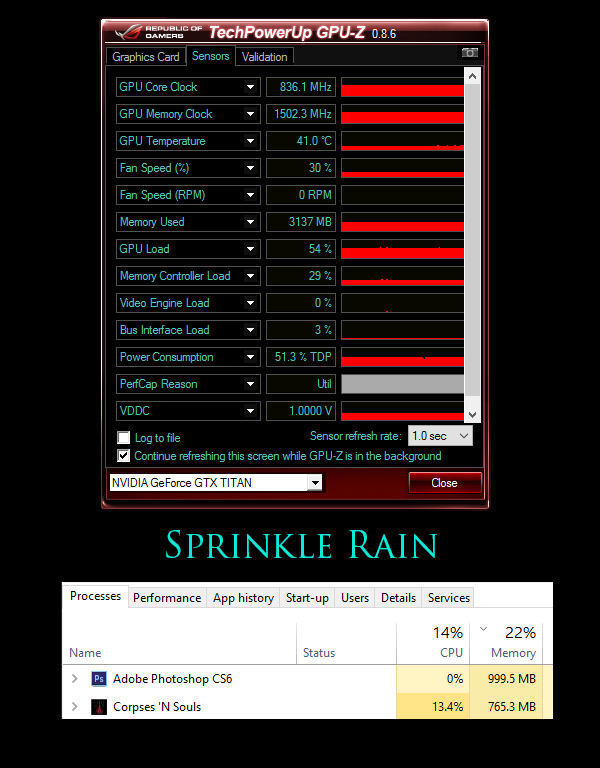 Rain mode : Ultra * 10,000 - 30,000 particles *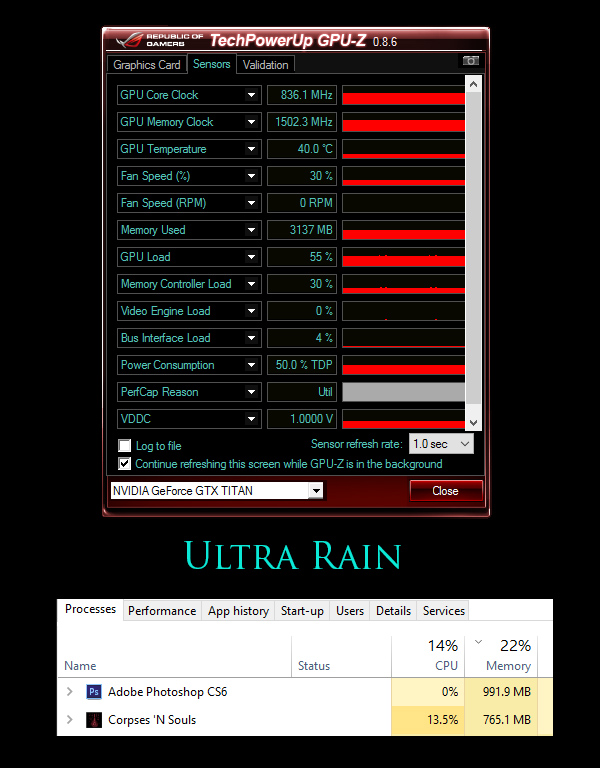 Both the cloud and rain procedural systems when combined provide a awesome FX. I have created certain cloud and rain profiles that are combined. So if you call Cloud profile 5 it will begin to rain and the rain profile will be set to 5 which is ultra. What this synergy creates is certain cloud profiles will trigger a rain storm which is very cool to randomly and dynamically to experience as you play. Many different profiles can be designed with the cloud and rain system tied together to create the ultimate FX. A common storm component is shared by both the rain and cloud objects to link the two systems together.
Synergy : Storm Clouds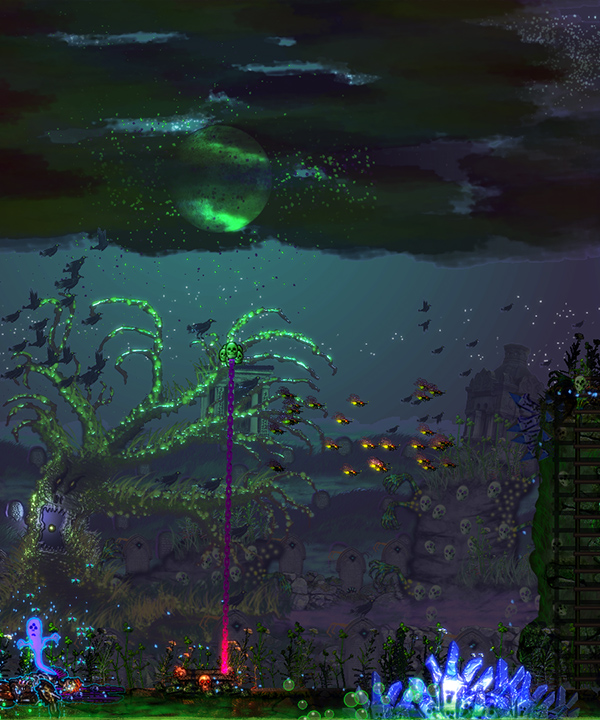 Synergy : Rain profile 5 with Cloud profile 5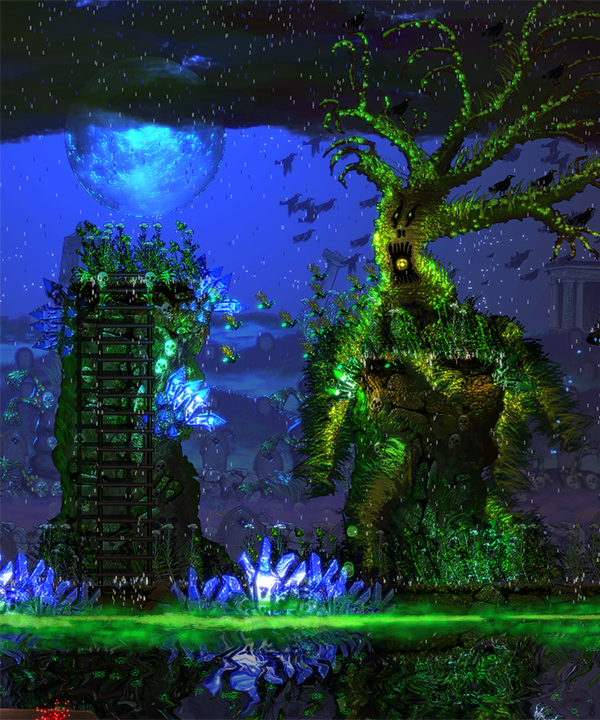 Much like the cloud system you can create rain profiles. These rain profiles have specific ranges that the procedural code will use to create a specific look and behaviour for the rain FX. In this set of rain profiles the amount of rain particles, frequency, rain impact, and run off are all dynamically increased as we go from 1 to 5. In the pictures below we can see the difference as the rain increases. Other FX like wind and timed bursts of rain can also be added to these profiles or any other behaviours. As a storm rolls in with some thick heavy clouds and than a massive shower of rain falls from above creates a really cool effect.
Rain mode : 1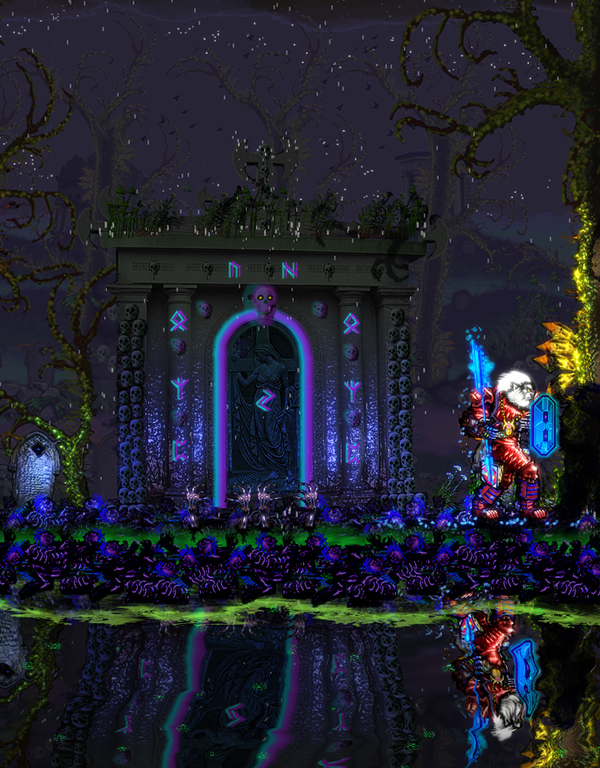 Rain mode : 2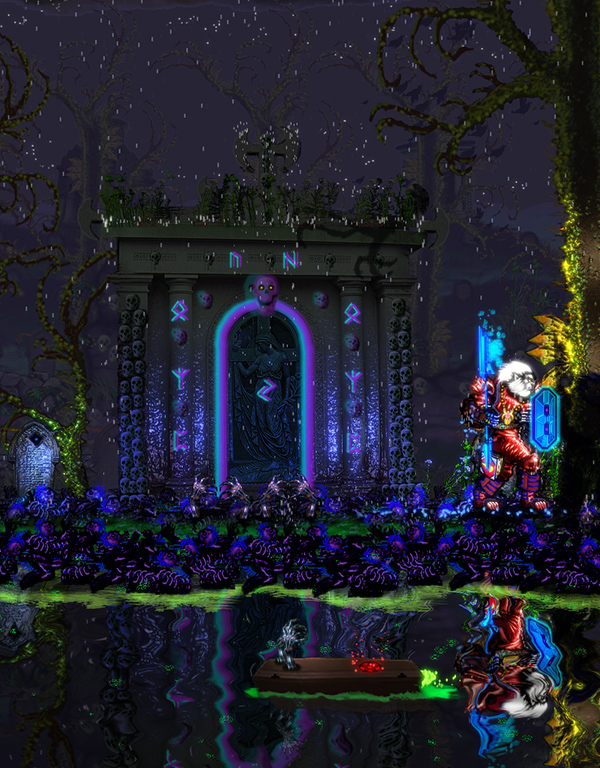 Rain mode : 3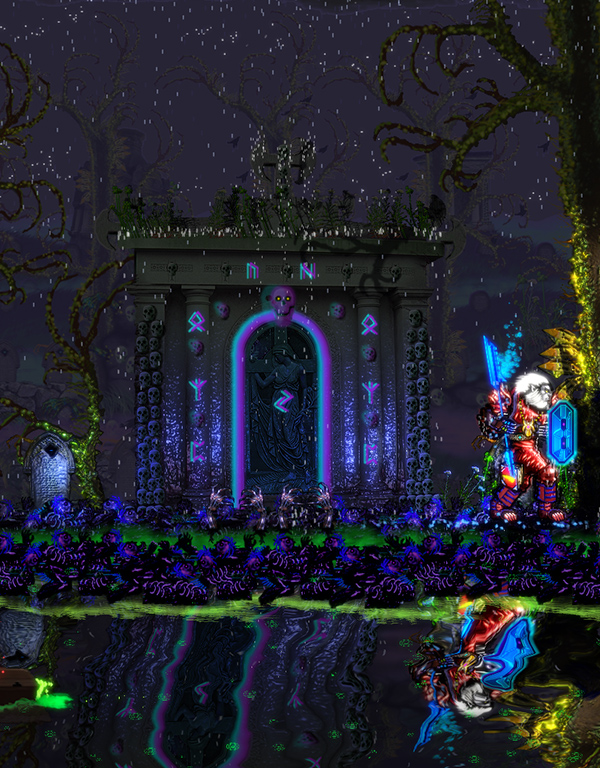 Rain mode : 4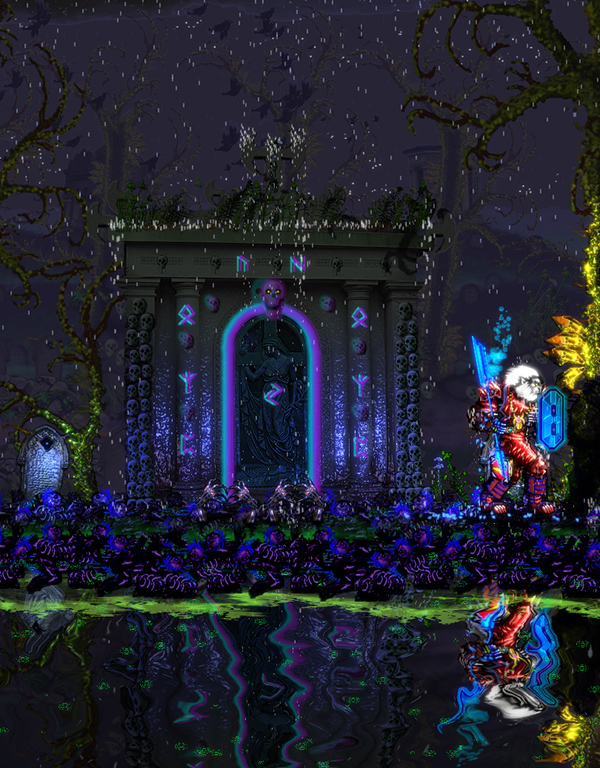 Rain mode : 5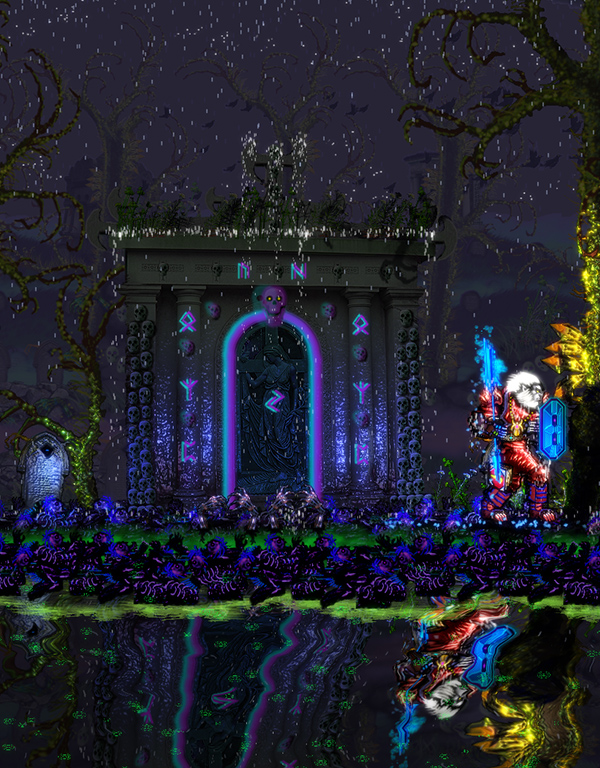 This concludes the procedural weather system on rain for Corpses 'N Souls. I hope you enjoyed the article and how we connected the dots and showed how both the cloud and rain systems together create a really impressive atmosphere and effect. Now that the performance issues from the past have been solved and are no longer a factor we can really push the creativity and realise what was once only a dream and make it a reality. Till next time.
Remember to follow us on twitter for the latest updates and news:

thanks