Remember to follow us on twitter for the latest updates and news:

thanks

Today I am going to be going over the procedural weather system that has been added to Corpses 'N Souls. Clouds is the topic for today and I will discuss all the cool features that have been included and how they tie into the procedural rain system that has also been added. I will be going over the procedural behaviours, colour variations, cloud profiles, and different states that the cloud system can transition to during the randomly selected cycles and generation.

*Please make sure you select : * 1440p or 4K in YouTube *
It is recommended to watch the video in YouTube's expanded [Theater Mode] or in [full screen] mode.

Corpses 'N Souls weather system has the new concept of generating specific clouds and weather profiles. What this entails is that you can call up programmatically certain cloud looks for a specific event or just have them on a timer and call them randomly. This gives the player a sense of dynamic weather and more realistic gaming experience that does not feel repetitive and generic.
Cloud Profile 1 : small amount of clouds spread apart and slowly moving.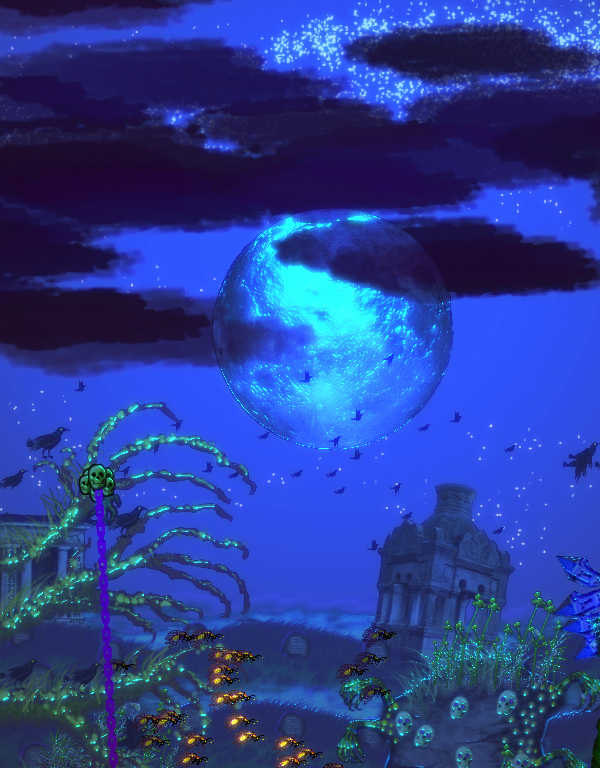 Cloud Profile 2 : medium amount of clouds spread apart and slowly moving.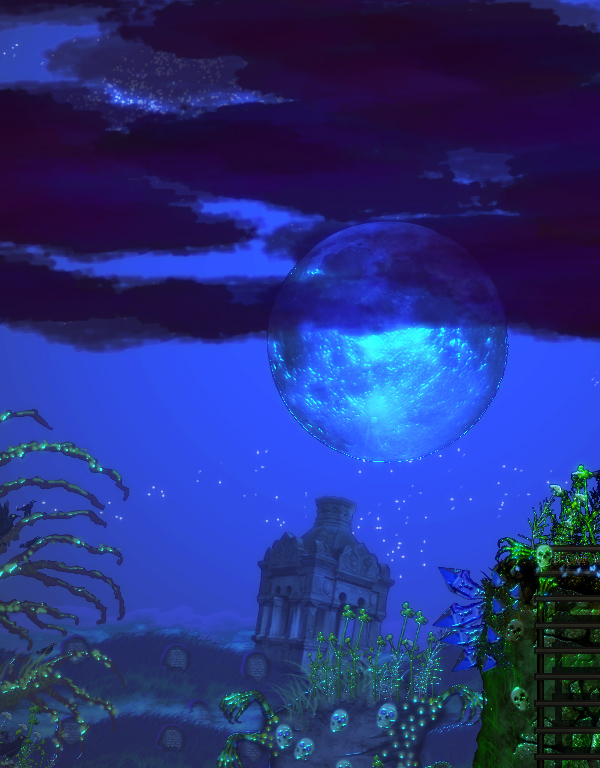 Cloud Profile 3 : high amount of clouds and fast moving to simulate a storm.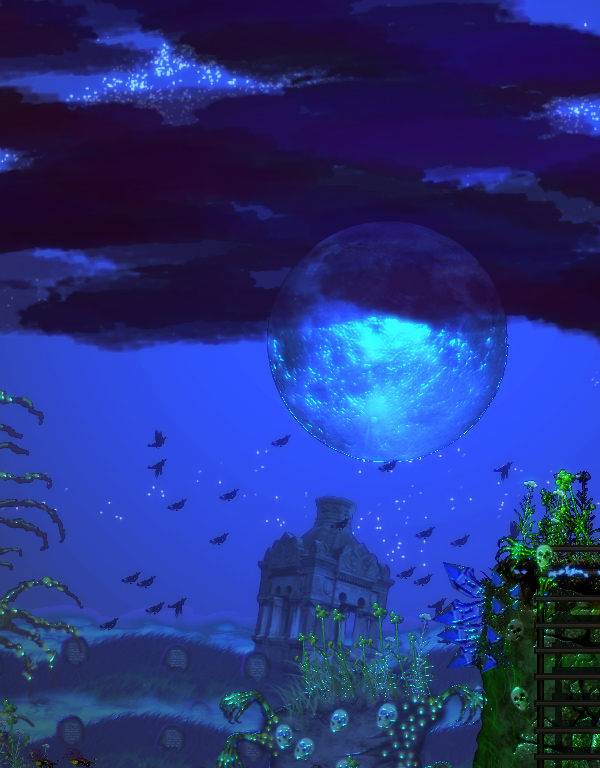 Cloud Profile 5 : large amount of clouds bunched closely and slowly moving.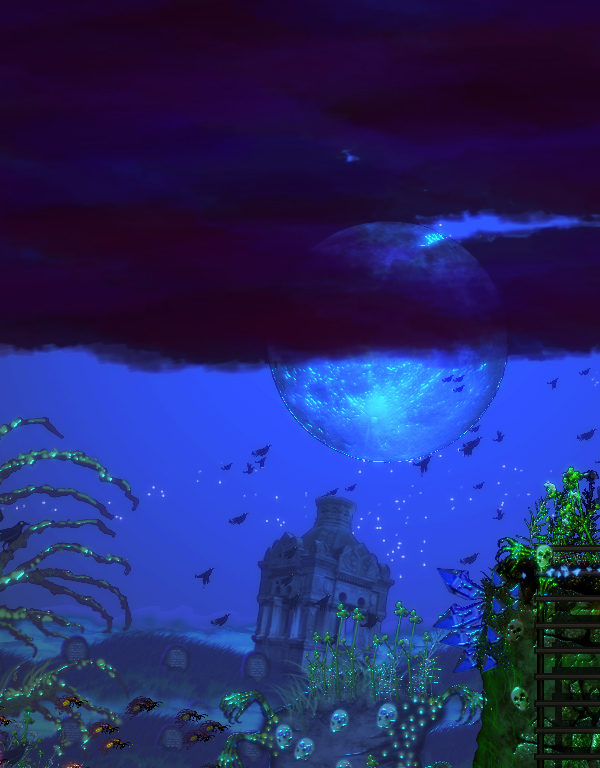 Other profiles can be set to have no clouds or different cloud speeds or any other layouts that the creator desires. The different profiles / looks add a cool atmosphere and engross the player within the gaming world and due to the dynamic weather system.

Each cloud profile can act differently to convey a sense of weather change. Depending if it is day time or night or even if the weather is changing all of the set moods and atmospheres will be driven with the procedural generated weather. Since we have predefined profiles that have been artistically tailored to fit the seen and moods the results prove to add quiet a engrossing atmosphere to Corpses 'N Souls. Thanks to the procedural generation the clouds and weather look organic and bring the game world even more so to life.
Day time 1 : clouds 3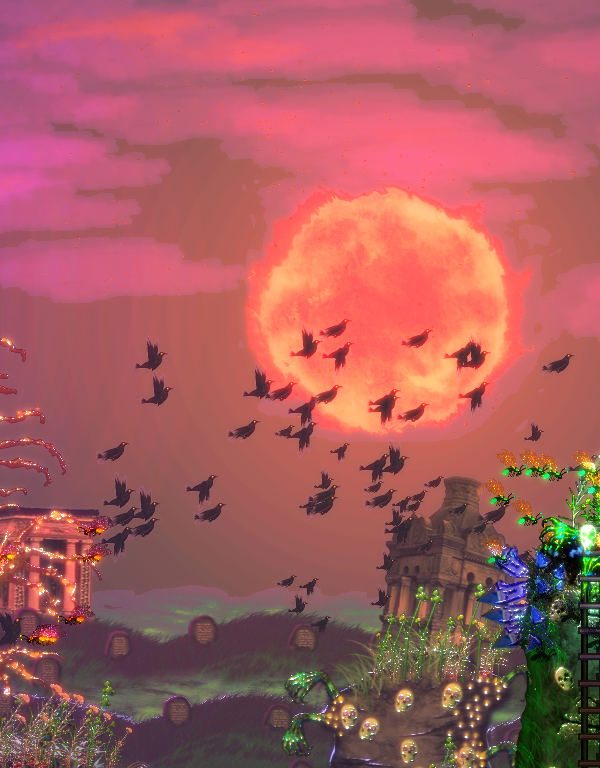 Night time 1 : clouds 2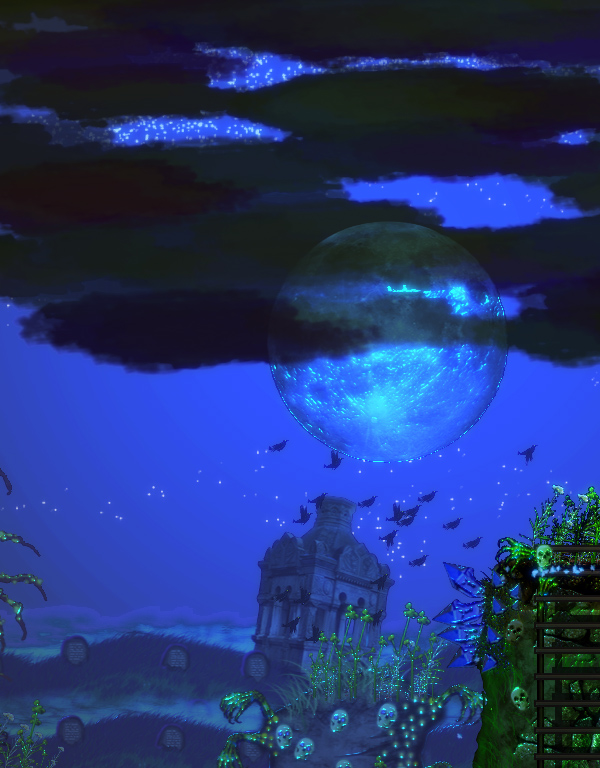 Day time 2 : clouds 4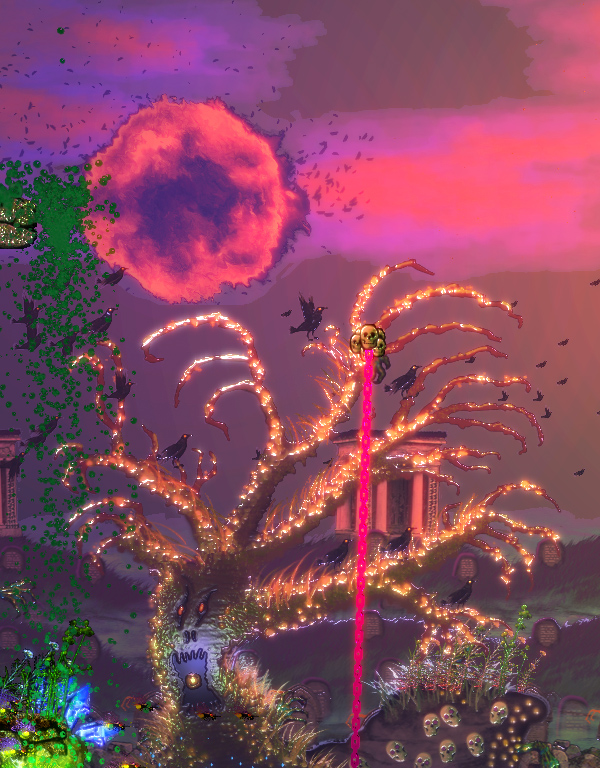 Night time 2 : clouds 2
By adding a speed variation, amount of clouds, different sizes, different amounts, cloud spread factors, random colour variations and other behaviours you can really makes some really cool environments and atmospheres.

Another feature is setting a random colour range for the clouds. Artistically I can set a specific colour range and then allow the cloud data structure to randomly pick a colour tint and range during the cloud generation. Also after the generation of the clouds you can also dynamically at run time change the colour yet again to simulate a storm coming in or any other cool FX. So in this case I change the colour to a darker range off the base colour and added some other darker accents.
Regular version of clouds with initial base colour :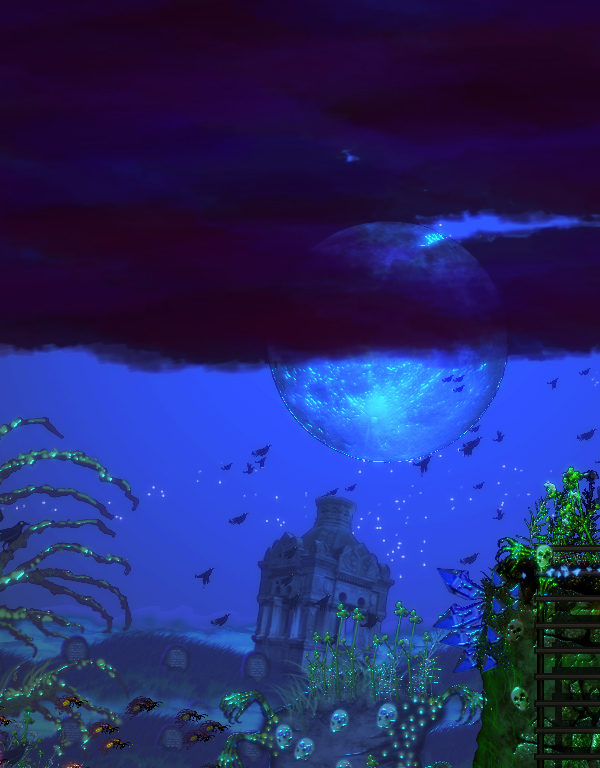 Storm version of clouds with a dynamically modified base colour at run time :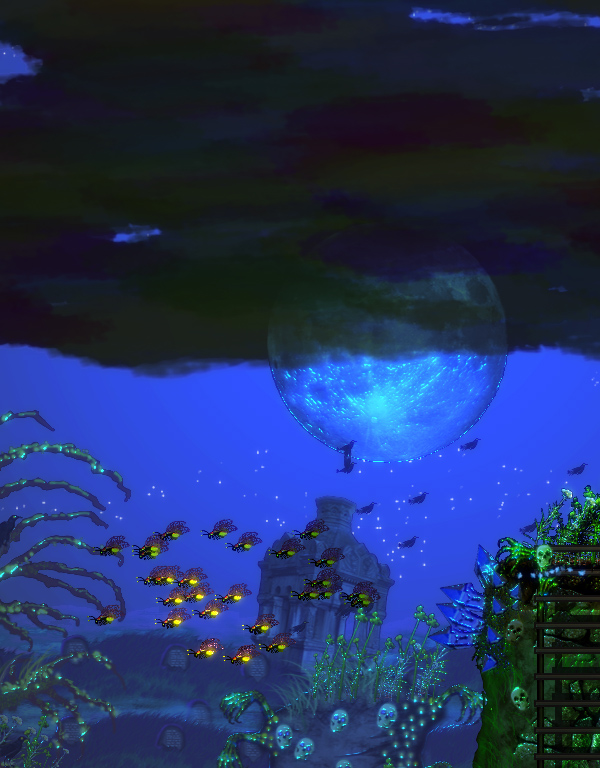 During the creation of the cloud data structure the speed variation, amount of clouds, different sizes, different amounts, cloud spread factors, random colour variations and other behaviours are all set randomly. Its up to the level designer to determine the range of those parameters so that the randomization is with in certain bounds. Of course you can also set a full range and just let those parameters be a very wide and open randomization that is not specific. With the size, amount and velocity are a few key parameters that really allow for some cool variations. An advanced feature of dynamically modifying the randomly set parameters and the initial generation time is what really brings the system to life. So for instance if you want to speed up the clouds dynamically or slow them down you can. Like wise if you want to increase the clouds or modify the sizes you can. Changing the colour is also a nice features that adds a lot of depth.
Having the ability to control the states at the initial generation stage and after the generation provides a double dose of flexibility and creativity. One thing is for sure procedural weather and clouds sure beats having to hand place each cloud and drawi hundreds and thousands of different clouds to look a certain way along with individual code behaviours.
Cloud State 12 :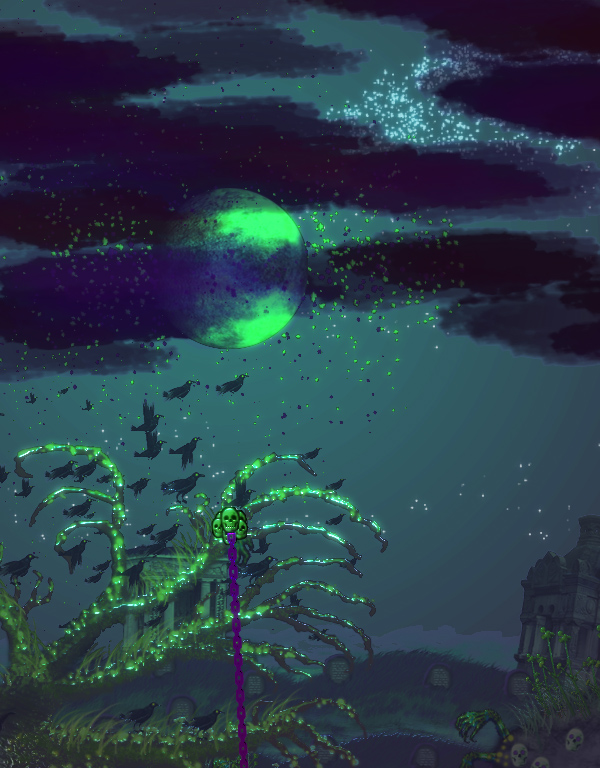 Cloud State 21 :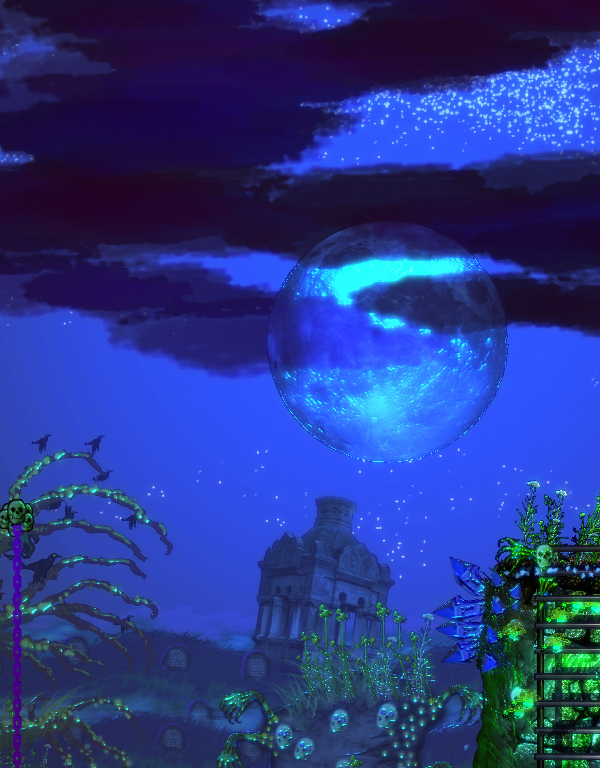 Cloud State 37 :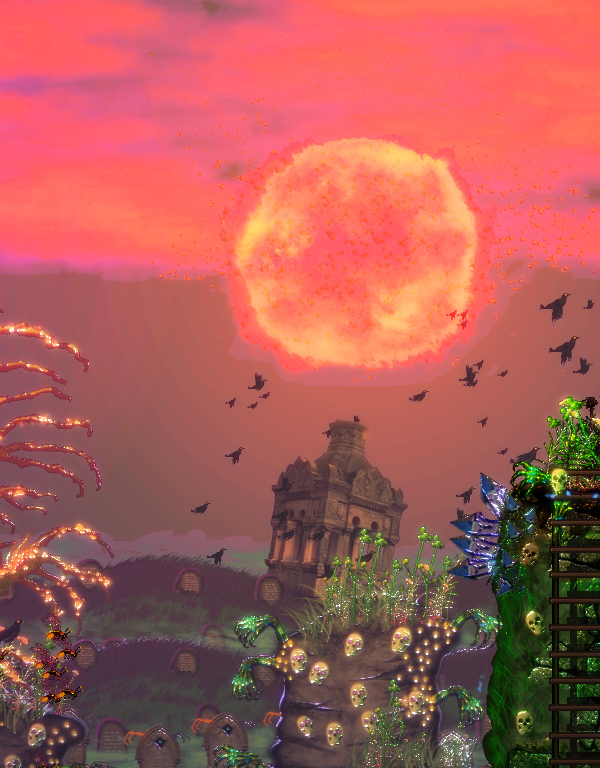 Cloud State 45 :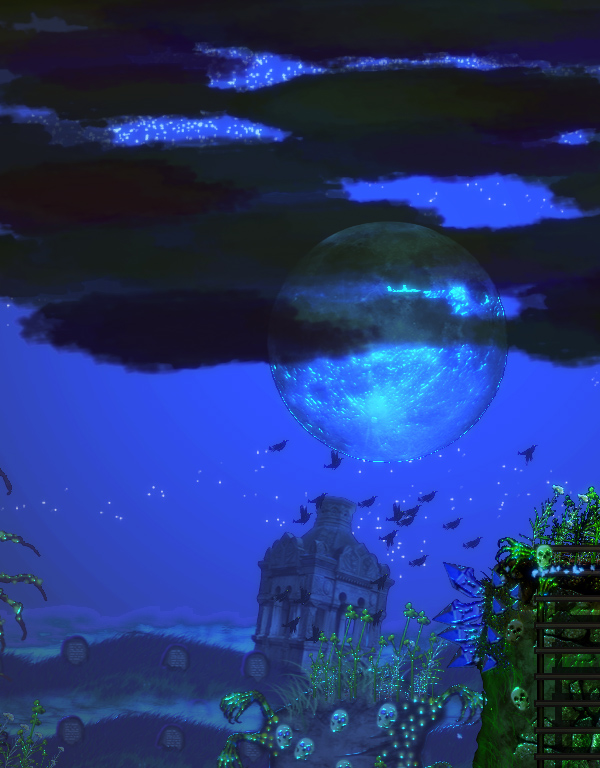 This concludes the procedural weather system article on clouds for Corpses 'N Souls. Join me next time as I show off the procedural rain system as I tie it together with the procedural cloud system for some really awesome effects. I hope you enjoy the article, a lot of hard work went into the procedural systems. With the new systems comes better performance and gamers will be able to experience better atmosphere in the world of Corpses 'N Souls. Till next time.
Remember to follow us on twitter for the latest updates and news:

thanks