This is a figure matching game that takes simple mechanics of good old Lines98 and extends it in many ways.
Basics:
You have a square gameboard divided into cells. Each turn 3 figures will spawn randomly into it. What you need to do is to match at least 5 figures of same shape into a straight line to score it.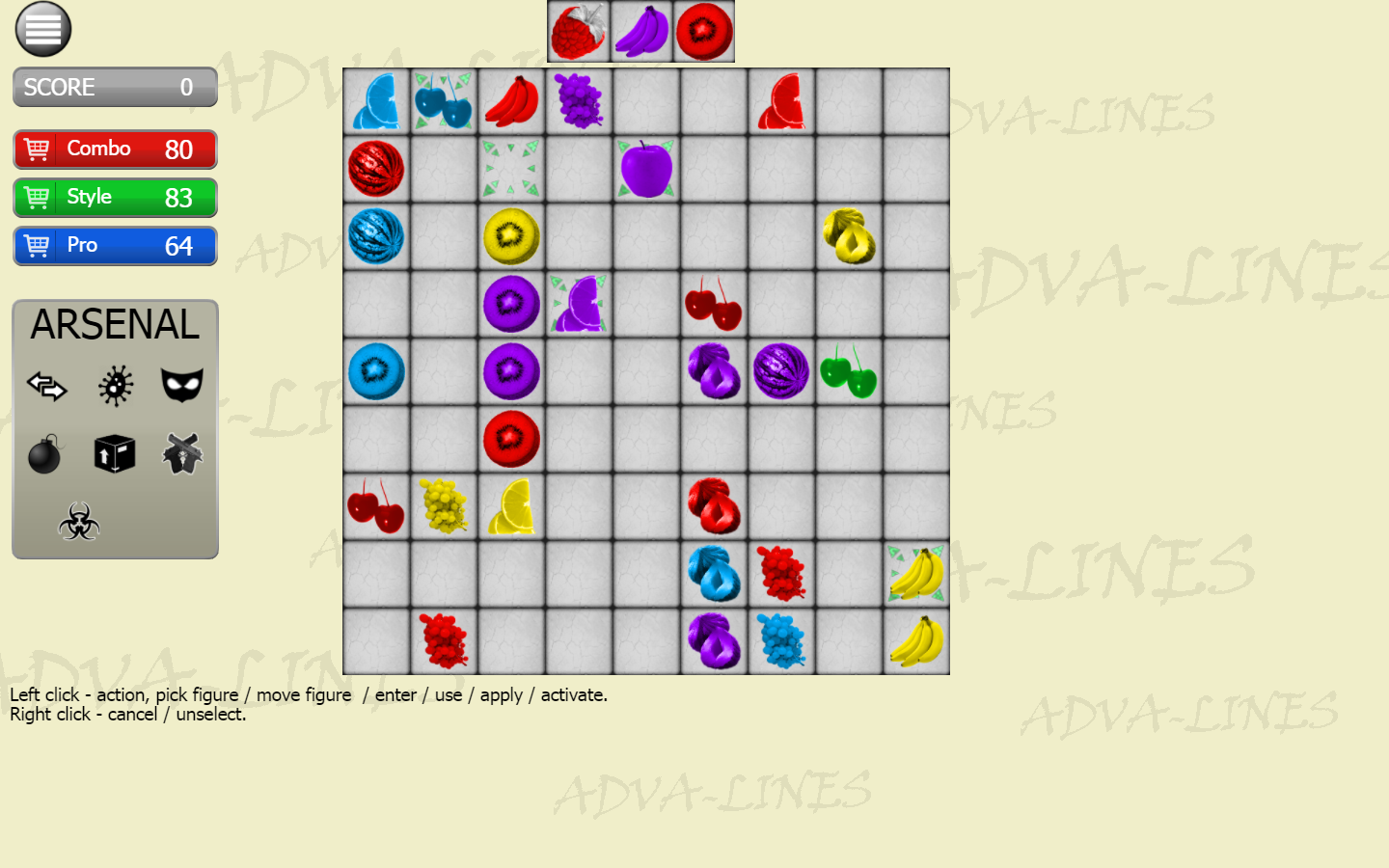 Special points:
You can gain special points be completing lines in a certain way. For example to gain «Combo» points your line needs to be more than 5 figures long, to gain «Style» points your line have to contain at least 3 figures of same color, to gain «Pro» points some figures in your line have to be positioned on special cells (marked by green spiky icon).
---
Perks:
Game have Perks system. Perks are like one-time abilities which can be applied on a figure, cell or an area on the gameboard to help you in different ways during your play. Perks can be bought with special points and are divided into 3 relevant categories: Combo, Style and Pro.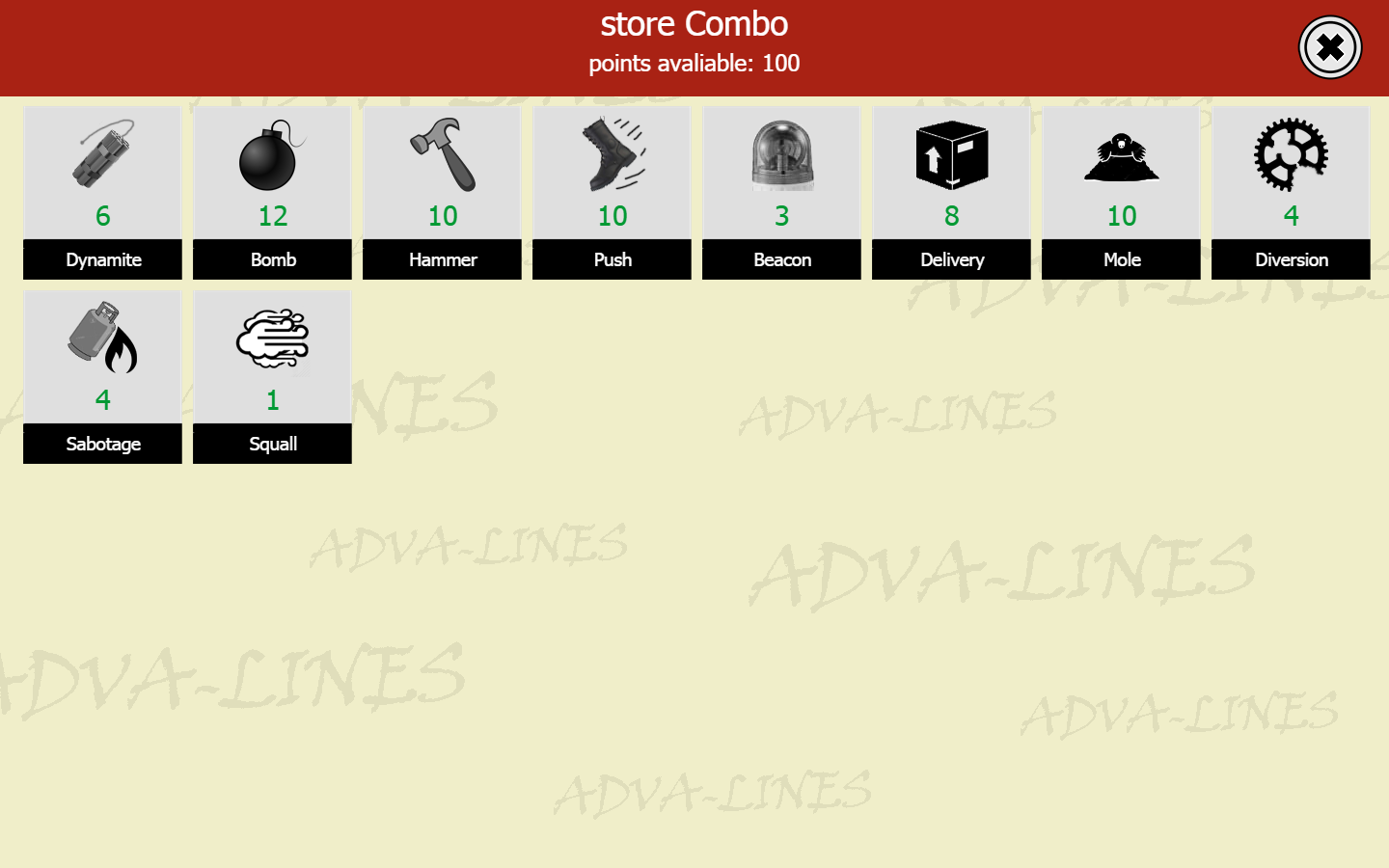 Game modes:
A game also have a few game modes.
Classic - standart mode (for 1 or 2 players) when you play untill you lose trying to make as many victory points as possible.
Awakening - singleplayer mode where you have a pool of "bad figures" called «omens» that spawn on a game board from the pool each X turns. Each omen type have it's own abilities which interfere with your gameplay in different ways. Also each of your "friendly" figure types has it's own abilities to help you in your quest. There is many other specifics but the goal is to destroy all «omens» in the pool and on the game board.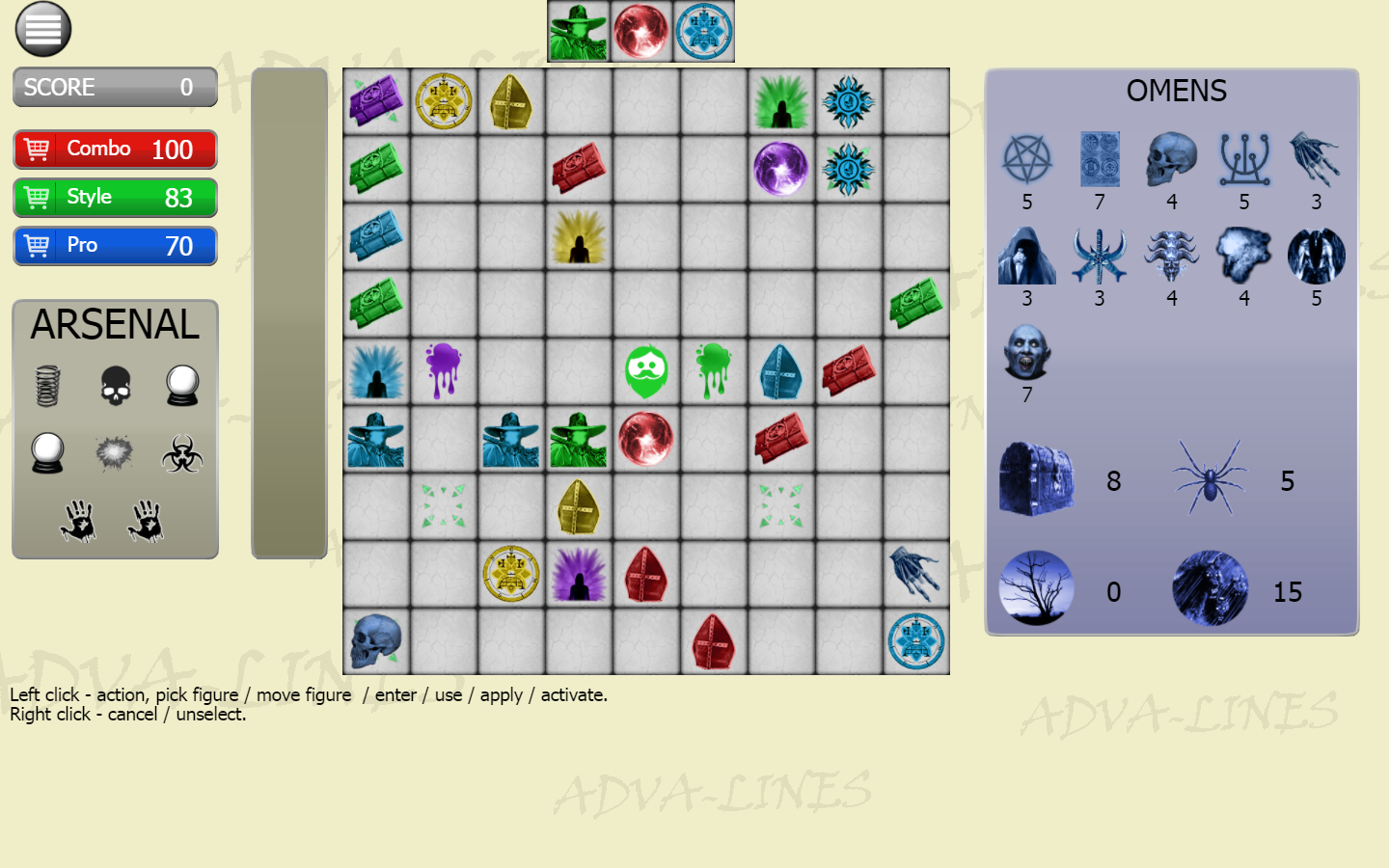 Kingdoms Brawl - 2 players pvp mode (hotseat). Each player has a basic amount of vitory points which in this mode are considered as health. The first player who lose all of his vitory points is lost. Additionally to basic lines/perks mechanics game boards of each player is divided into sectors of 9*9 cells which have integrity.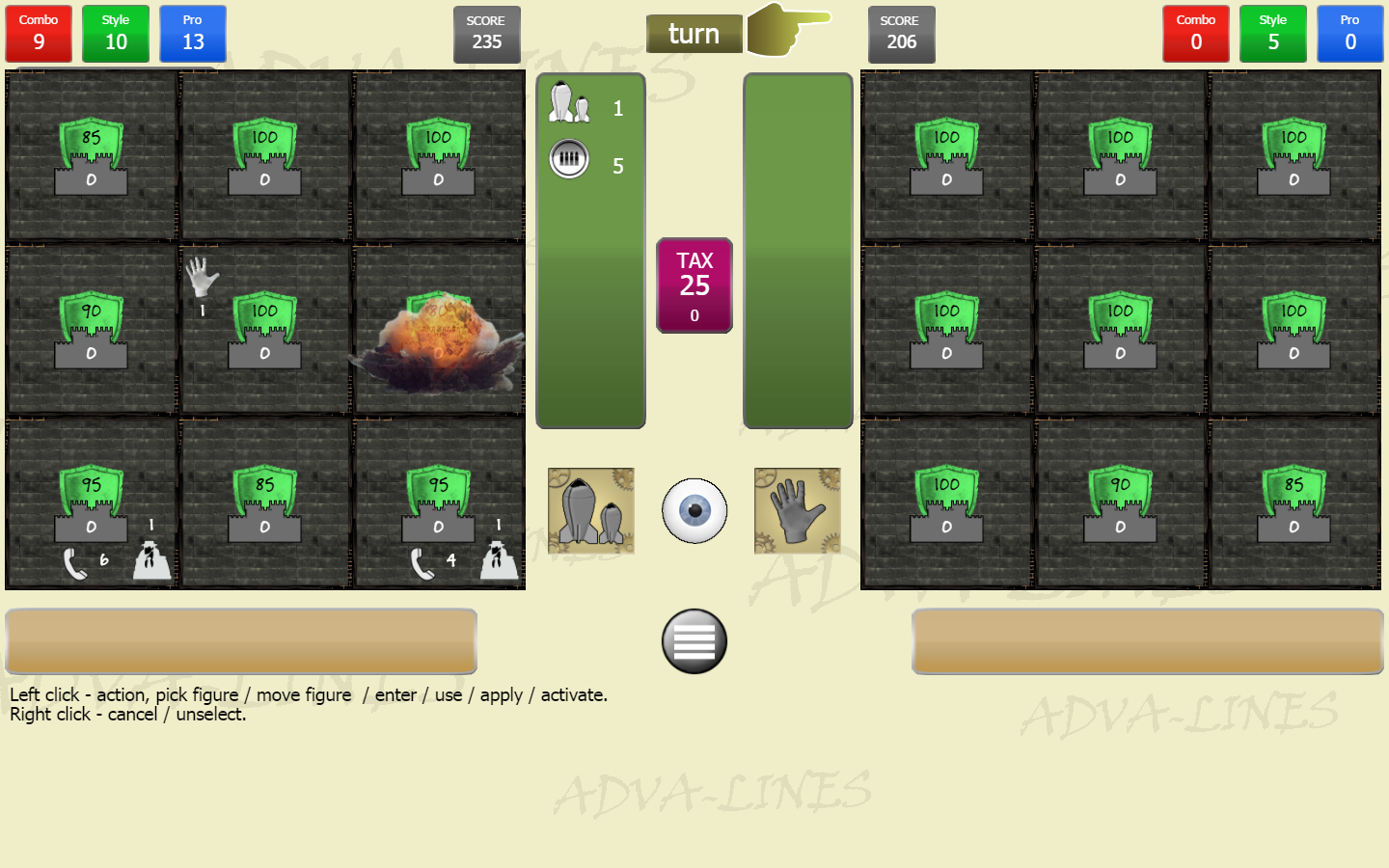 The lower the sector's integrity the less points player will get from scoring figures in it. Scoring a line with figures of each type grants a player certain bonus, ability or performs certain action.
For example scoring «Mortar» line will bombard enemy player's game board, scoring «Thief» line will give ability to infiltrate into enemy sectors and steal his victory points each turn, scoring «Deal» line will grant you doubled vitory points. The goal of this game mode is to damage, cripple, infiltrate and weaken enemy sectors while protecting your own and to force him to lose all of his victory points before he did it to you.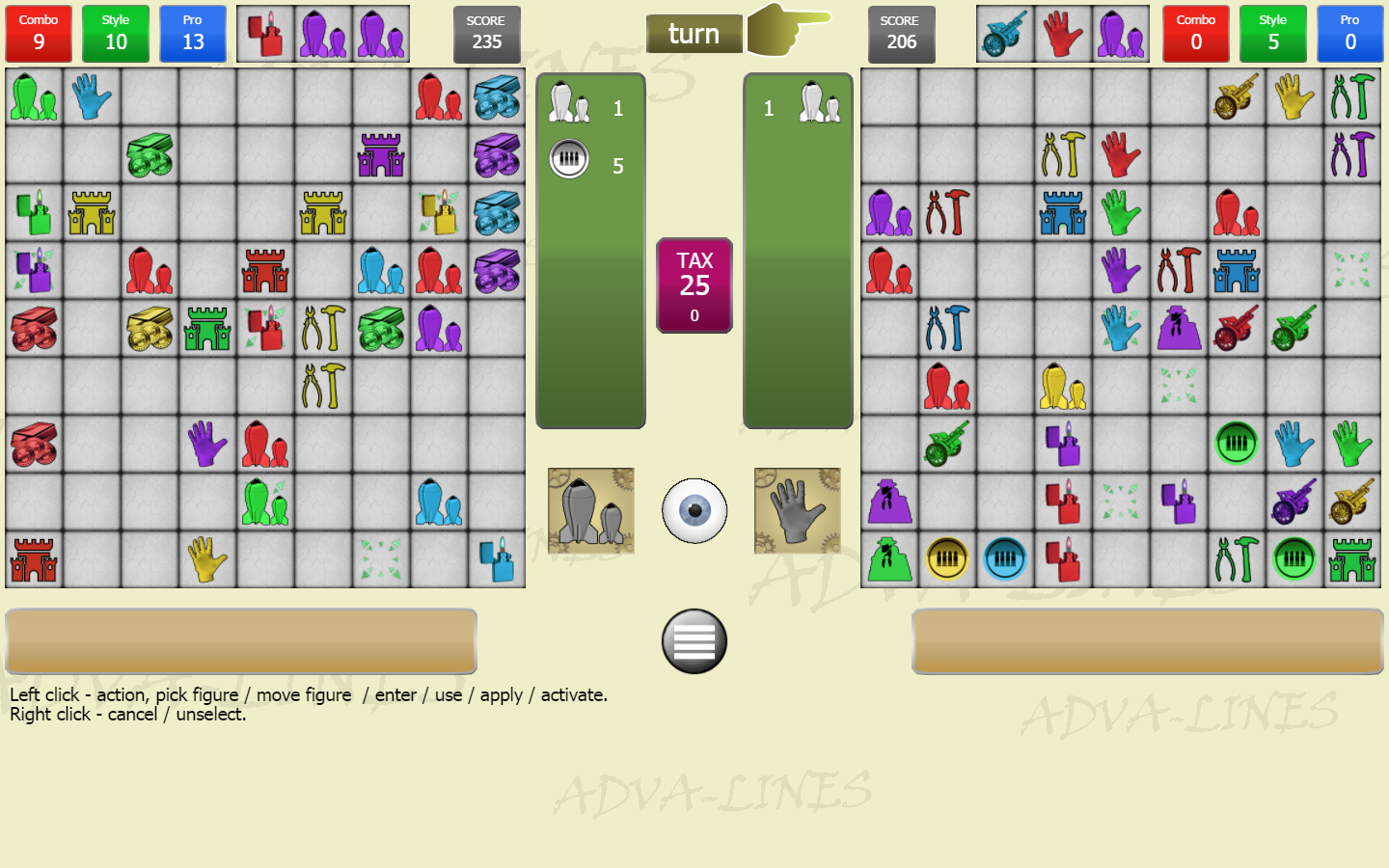 This is just a demo version. There is already 4 new game modes have been made for singleplayer and more is coming.
Please let me know what you think!