Guns are firing, bodies are piling up in the streets, and your fellow warlord just got shot in the shoulder. In other words, it's a typical day in the Iron Grip universe and things are looking grim as usual.
Well, listen up: they're about to get a lot grimmer. The dirty Confederation has a lot of tricks up their sleeves and they aren't about to let you just hold out in a city against their massive armies with your Molotov cocktails and pistols. They're going to fight fire with fire--throwing tanks and arachs at you, pinning you up against the wall, and silencing the rebels for good...
...Unless you have some explosives or a rocket launcher, anyway.
It's another week, another update. These renders might be familiar to old school followers, but they've never been posted outside of our company's forums. These are the Confederate vehicles in Iron Grip: Warlord. These bad boys got some big firepower, and they definitely pack quite the punch.
Honestly? I'm terrified of the so-called canon tanks (Ontos Hellfire) still, if Iron Grip: The Oppression was any lesson.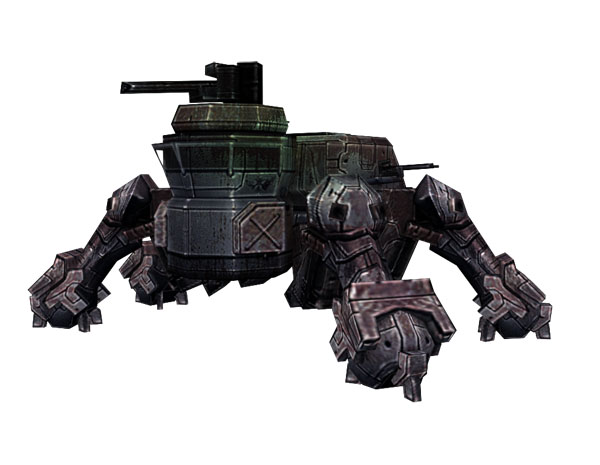 ST-35 Recluse Light Arach
The Recluse is a small four-legged armored arachnid usually used for reconnaissance and skirmishing with light enemy forces. Its low center of gravity and stocky legs for its size make it capable of nimble movement through mountainous terrain inaccessible to conventional tracked vehicles. It's powered by a small internal steam engine combined with a high pressure storage tank. The engine is too small to fully power the hydraulics for extended periods, so a store of steam pressure is kept in the tank, provided either by the engine while the vehicle is not moving, or by a fuel feed from a larger arach. It uses a 20mm cannon and an 11mm machine gun to dispatch its foes. In addition, during the Atelian urban-wars it has been fitted to launch large explosive timed bombs. The name derives from the fact that the explosive is a metal ball spewing fire through holes that due to its nature has a distinct noise as the flames heat up the device to explode several seconds after launch. It has proven very successful not only in bombarding entrenched Atelian warriors in Urban environments, but also due to its fear-effect.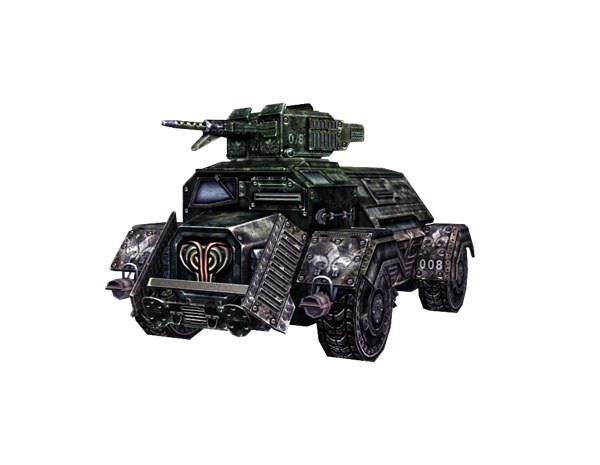 S54 "SCARAB"
The need for high-speed wheeled transport became an obvious necessity whenever combat in built-up areas erupted. As Arachs were far too large and slow to serve the purpose, the Scarab was designed to fill the role. Squatty and angry looking, the S54 Scarab has four wide tires making it equally effective on and off road, and its powerful coreburner-fueled self-contained steam piston engine gives it theoretically unlimited speed, though it damages the vehicle and engine to go much more than 80km/h (50mph). Built for urban environments where infantry can easily ambush vehicles, the Scarab is fitted with a powerful .30 cal machinegun.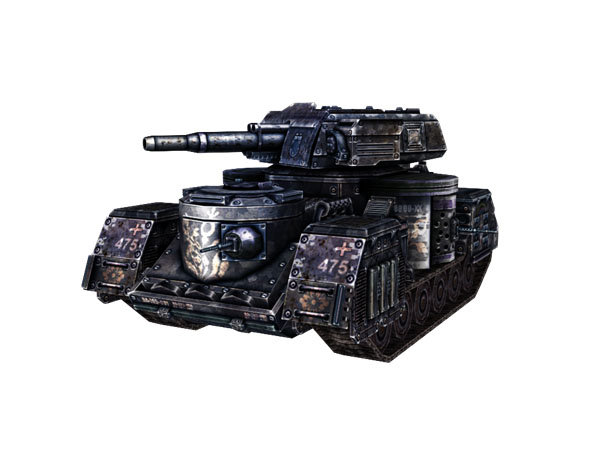 S75 "ONTOS"
Following the losses Fahrong took in the Maecenas due to Rahmos Steel Legion Engines, the Confederation needed a powerful mass-producible engine of their own. Superficially similar to Rahmos engines, the Ontos is a unique vehicle in its own right. Curvier than its northern counterpart, the vehicle is significantly more elegant, hiding its devastating power. Superior Fahrong armor makes the Ontos a very difficult target to destroy from any angle. The main firepower, a 95mm high velocity cannon in a large turret with a heavily armored mantlet and integrated stereoscopic rangefinders gives it more efficient killing power than the veritable land battleships that the Rahmos engines represent. All variants have a front-mounted 11mm machine gun, and most have a second and third on the left and right sides in armored casemates. Two coreburner boilers power the steam drive train, giving the tracked vehicle a surprisingly high speed for its weight, with vibrations being the limiting factor in the vehicle's speed, as opposed to engine power.
While relatively untested in combat, the Ontos is possibly the best engine in the world.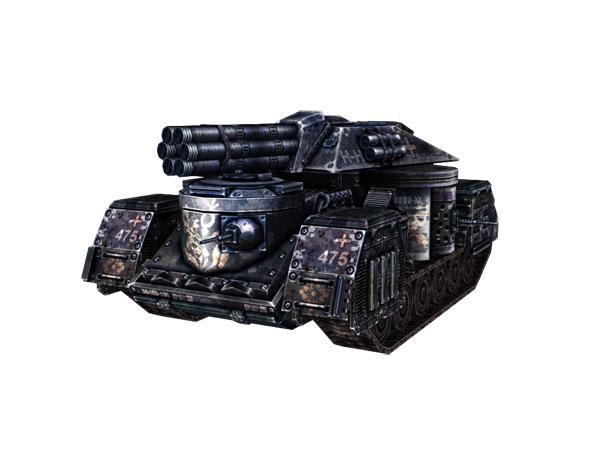 S75 "ONTOS" Hellfire Variant
The Hellfire Ontos is the newest variant of the S75 Ontos engine, replacing the turret with a semi-fixed rocket launching system. Capable of launching 175mm spin-stabilized rockets of varying type, the Hellfire can fulfill many artillery support roles, capable of firing accurately at large targets, or spreading a rain of rockets over a large area to suppress exposed enemy forces. Once a volley is fired, reloading is a lengthy process and the Hellfire is vulnerable when faced with close combat situations with enemy engines.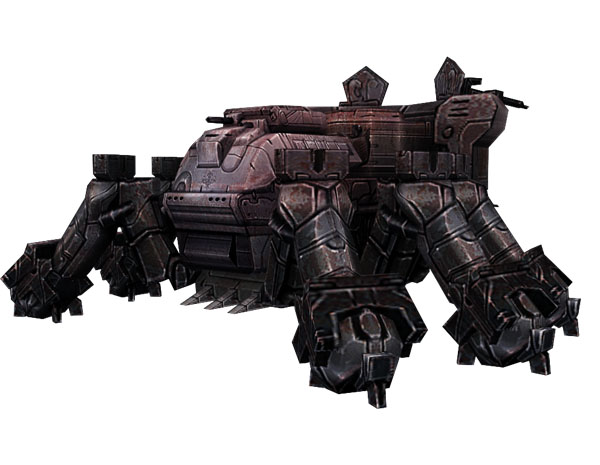 ST-38 Warweaver Medium Arach
The Warweaver, or simply Weaver, is the medium antipersonnel arach of the Confederate armed forces. It has heavier armor than the Recluse and uses a similar power system, scaled up to adequately provide locomotion via the six larger armored legs. The Weaver is equipped with a forward turret with a 20mm cannon and 11mm machinegun, the ball mount in front houses an 11mm machinegun, two pindle-mounded 11mms guard to rear, and primary firepower is provided by two 90mm mortars in the middle of the craft. The twin heavy mortars are excellent for raining high explosive fire on enemy infantry and light vehicles over ridgelines and hilltops, out of the line of direct enemy fire. It is not equipped to engage full-sized Engines.