Cogmind has been in mostly full-time development for 2.47* years now, and things got especially interesting this year with alpha opening up. Again it's time to recap the past year's highlights and make, um, "educated guesses" as to what the future holds ;).
Like last time, let's first check out a collage of development images from the past year:
I've been showing a heck of a lot of gifs instead of static images, so that doesn't really do the past year justice, but it's still pretty to look at :D.
Development Timeline
In the period since full-time development began, I've invested 4,339 hours of work into all things Cogmind. Below is a summary of how work was distributed over that period: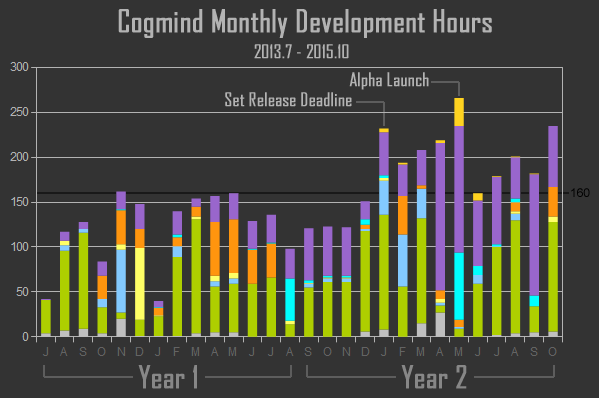 Cogmind Monthly Development Hours, 2013.7-2015.10 (click for crisper full-size version). (The color coding is for different aspects of development tackled each month, which I'll be covering in detail in a future article along with many other interesting charts when we have even more data :D)
Comparing year 1 and year 2 (note that for discussion purposes each of these "years" was more like 14 months), it's obvious the average input varied between the two: 115 average hours per month in Y1 vs. 195 in Y2.
During the first year I wasn't yet certain how long Cogmind might take to develop, or that it would be able to support itself when the time came, so I was occasionally taking on short freelance jobs to supplement the huge chunk of preexisting savings I was drawing on for development.
Then at the start of this year I decided there was no way about it--I needed to be 110% in, not 75% in, to make 1.0 a reality without spending several more years on it. I made a four-month release plan and set a deadline in April. I ended up getting pretty sick in April and postponed the release until May, but as you can see, the deadline and focus vastly increased the amount of work put into the game beginning in January.
One of the pre-release development highlights focused on early this year was the addition of a tileset pixeled by the great Kacper Woźniak. Like ASCII, the tiles emphasize recognizable shapes and readability over flair. Detailed yet not detailed. Simple and beautiful. He agonized over every pixel, I assure you ;).
Unfortunately his greatest works remain under wraps because 1) those parts of the game have not yet been added, and/or 2) spoilers. Still, we can admire this sample: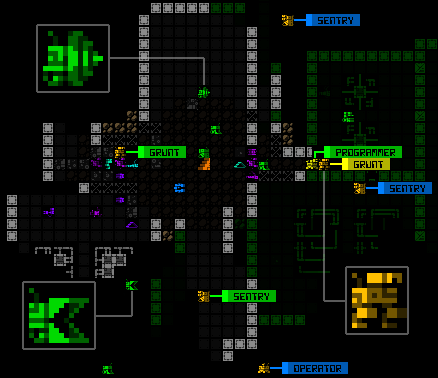 Tileset sample, with some closeups.
This year we also got our new website. For the first year Cogmind's home page was little more than one of those curiosity-inspiring black pages with a logo and basic description of things to come.
Then on May 19th, 2015, Cogmind Alpha was released into the wild.
The launch was a great success for an indie alpha game in an obscure niche. (Or maybe it was successful because it's an innovative new game in an obscure niche--but still, alpha!) You can read about the release process and first month of sales data in my in-depth postmortem here.
Since sales began in May, I haven't broken even on development costs, nor do I expect to before 1.0, but just yesterday the 1,700th player purchased Cogmind, and revenue is impressive for a game still in alpha and not sold through any major platform. Thank you everyone for your strong support!
I'd spent a few weeks before release putting together the launch trailer, and it was time well spent as it does a fairly good job of summarizing the game in 80 seconds. To date it's had more than 36,000 views, a majority of which watch through to the end. I wrote about the trailer production and results in a postmortem for that, too.
We've had three major releases since the first, so far aimed mostly at adding yet more features rather than jumping right into the long-term roadmap as originally planned: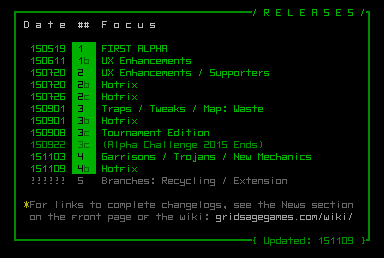 Cogmind Releases through November 9, 2015.
One major drag on development itself, but helpful in its own way and a community reward for early supporters, was the Alpha Challenge event held in September. Fun, prizes, and DATA! In this year's collage you'll see quite a lot of graphs, and this is where they came from.
Other developments:
Over the summer I did an interview with Roguelike Radio--a podcast dedicated to our favorite genre--in which you can hear me talk about the past, present, and future of my projects (mostly Cogmind, of course :P).
Quite recently I've started doing a bit of streaming, which is kinda weird but fun, and I need to do some real playing for playtesting purposes anyway, so I might as well share it. I stream the weekly seed runs when I have time.
As the year comes to a close, IndieDB is once again voting for Indie of the Year, and it it would be nice for Cogmind to make the Top 100 as in 2014 (before Cogmind was even released, heh :P). I'd appreciate any votes here! Woohoo, made the top 100! If you see this, you can still help vote for the top 10 here (much more difficult to take on the more mainstream games, but it's worth a shot).

2016
The decision to ride the wave of amazing initial support and allocate more effort into expanding Cogmind's feature set rather than immediately heading straight for 1.0 has pushed back the potential completion date, though there is a high chance that will still happen in 2016.
The next release, Alpha 5 (coming soon!), is starting to put us back on track with the original roadmap as we fill in the world's many more maps and story-related elements.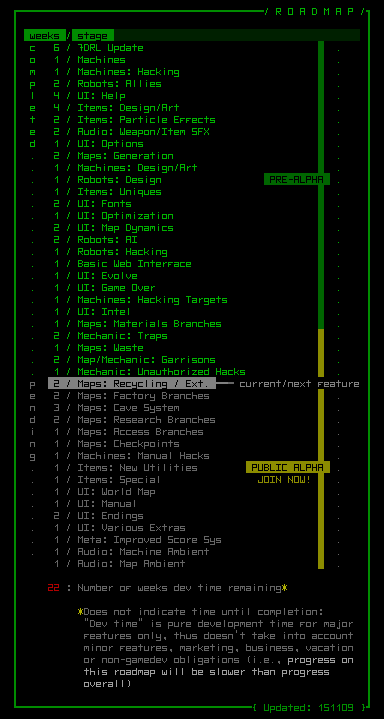 Cogmind Development Roadmap as of November 9, 2015.
As you can see: maps maps maps maps maps maps maps...
Not that there aren't a number of non-map features to work on--a couple of the newly-acknowledged major ones aren't even listed yet because I'm not yet sure if or how they'll be implemented. (Note the FAQ always has the latest version of the roadmap, which is updated at least once per release. The next update will involve more significant adjustments.)
I'd like everything to be in perfect shape by the time we hit Steam, but if funding starts running low and I think it will work I may have to cut some optional pre-1.0 features and join Steam earlier. (Don't worry, I'm not referring to anything you see listed there, and we can consider "these other features" again after 1.0, which is actually a good thing since it gives a suitable source of post-launch updates.) That's not a near-term thing--I'm talking like more than 6-8 months away.
This year GOG also approached me some time ago, asking if I'd be willing to put Cogmind on their platform. That was kinda nice, and a likely possibility as well.
For now I'm perfectly happy not giving a huge chunk of the revenue to a middleman. It all goes straight into Cogmind where it belongs :D.
*For the record Cogmind is technically 3.77 years old counting from the first prototype. Interestingly this is the same age as my son--too bad they can't play together :P