A new patch has arrived, bringing custom heroes and an inventory system to the game!

Custom heroes are created in the quests screen, and can be used not only for quests, but also for (single-player) custom games and the grand strategy mode. Besides Dwarven, Germanic and Teuton heroes, you can also create Gnome heroes (playable with Dwarven quests). Custom heroes are, of course, persistent.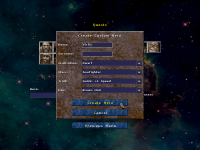 Persistent heroes (as well as regular Stonelords and Gryphon Riders) now have an inventory, and items can drop from AI-controlled units and buildings. Weapons, shields, boots and rings can be equipped by units who have an inventory, providing various bonuses. Besides regular items, you may also be lucky enough to find an item with a magic enchantment, or (more rarely) a unique item of legend. Entries for all the items, magic affixes and unique items can be found in the encyclopedia.