Wyrmsun 1.4.0 is here! This major update brings new units, learnable abilities, and an overhaul of the grand strategy mode. And Steam trading cards for Wyrmsun are now available!

The tech tree has been extended to make cavalry units trainable for both civilizations. The Dwarves are now able to train Gryphon Riders as well, while human archers get a 50% bonus against air units to compensate.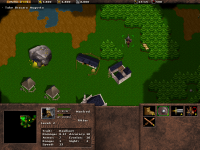 Two new learnable abilities have been added, Deadly Precision and Eagle Eye; the first increases critical strike chance, while the latter increases accuracy.

The Grand Strategy mode has underwent a thorough overhaul, so that there now are food-producing resource tiles and worker units. Contrary to other resources, food is stored in the province itself, and accumulating enough food will result in the creation of a new worker. Resource production is now dependent on workers - each one can work one resource tile. The Earth map has completely remade, so that it is now 16 times (!) larger. Happy playing!