WIZARDWIZARD DEV LOG #3

Hello Everyone!
Currently some new levels for WizardWizard are underway, however it is my promise as a honorable gamedev that they won't publicly be released until they are so polished and fresh you'd want to wipe your bum with them!
I like to try to make every level feel fresh and challenge the player in a new way rather than simply combine previous challenges.
It was digging though the Old WizardWizard archives from before WizzyWiz was hatched (back when WizardWizard was side scrolling) And I found this!
WARNING: TACKY FILTERS TO HIDE MY BAD DRAWING SHAME!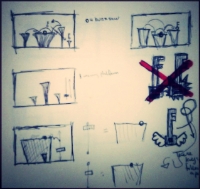 And I thought... "hmm maybe... just maybe, flying keys aren't such a bad idea... maybe."
ANYWAY!1.9 was released about a week ago, it added some little fancy bits just to add a little bit of polish and another shiny level. As well as hint at a possible Bad Guy and love interest!
I've had a few comments about the awesome muso laying down the beats for WizardWizard.
WELL HERE HE IS! Soundcloud.com
As easy as it is for me to say, this guy is a music genius, so please check out his stuff!
I'm also considering a possible Mac and EVEN a html5 release but the Windows release is my main focus as of this point.
In closing I'll leave you with another awesome video of gameplay for WizardWizard by KhaniGaming on Youtube.
Peace and love, Crateboy :)
DOWNLOAD THE LATEST HERE!