On this the 11th Hour of the 11th Day of the 11th Month we remember those who lost their lives in war. We commemorate them this year with a short music piece composed specially to accompany a poem written by a British widow after the war.
"Where Are You" is a poem written by Kathleen Lowe Oliver in 1950. It recounts the emotions Kathleen felt towards the event that occurred some 6 years earlier, when her husband Sgt Frederick Oliver was killed-in-action during WW2. Sgt Frederick Oliver, along with pilot Harry Cooke, was shot down over France on 23rd of June 1944. The Lancaster came down in Mayor Vandaeles farm, where Sgt. Oliver and Harry Cooke were buried by the villagers.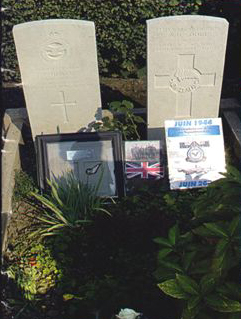 Many years after the war, the residents of Socx created a group of new houses for homeless older people and families with young children. They named these residences the Oliver-Cooke Cottages, in memory of Sgt Frederick Oliver and pilot Harry Cooke.
Kathleen Lowe Oliver passed away in 2012, aged 90.