Community Events & Notes Welcome Back Soldier Starts!
Welcome Back Soldier and the "Holiday" Patch!

TMAN
Full two-week access for everyone in our Welcome Back Soldier promotion starts next Tuesday the 22nd. WBS combined with our Christmas surprise patch will make for some incredible winter fights in the coming weeks. We encourage you to reach out and rally up some old squaddies and get them back into game for a free opportunity to use some of the new toys.Be sure to bring your cold weather gear as the long-range forecast calls for a colder and snowier winter.
2020 Holiday Release of version 1.36.8.0
Our latest release of a new game version is on schedule for later this week. This release will have many new goodies (andfixes) for everyone to play with just in time for Christmas. Yesterday we shared with our Builder subscribers the readme for the release and we can see the excitement in their comments! We can confirm that the previously announced commando infantry class for Builders will be in the release.
Because commandos were specialized units we wanted to be sure that it went to our top subscribers. We've also elected to make them part of the campaign experience from beginning to end, using tier 0 equipment. There is no other class of engineer or sapper that comes equipped with a submachine gun.
Commandos will be available for ALL countries in WWII Online.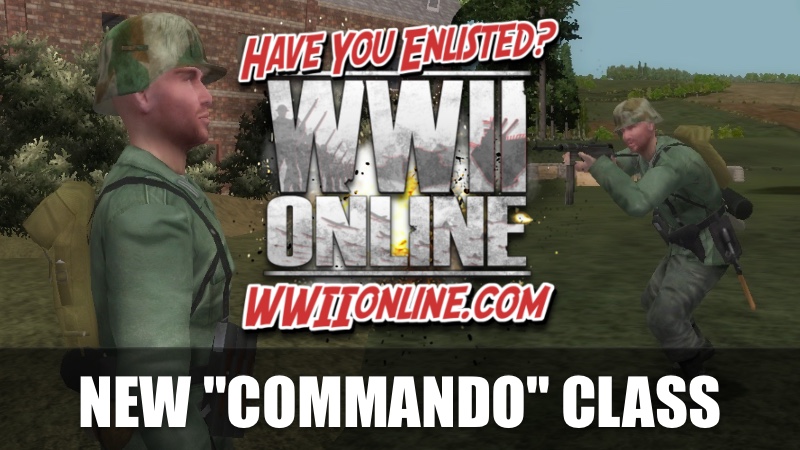 They're using existing equipment, which includes:
• Submachine Gun o DE: MP40 o US: M1A1 Thompson o UK: M1928 Thompson o FR: Mas38
• Pistol
• 2 x Smoke Grenades
• 2 x HE Grenades
• 1 x HEAT Satchel
• 1 x HE Satchel
• 1 x Knife
• 1 x Shovel
Campaign 177 Update
Welcome Back Soldier and the "Holiday" Patch! / We are 39 days into campaign 177 already and the map ownership is almost exactly where the campaign started. Currently the Allies own 56% and the Axis own 44% of the game map. This promises to be one of the best maps of all times as both sides dig in and fight with pure determination and fortitude! The Allied CinC is Colt and the Axis CinC is Googs. These two Commanders are supported by seasoned members of their high commands and senior commands. Most importantly their leadership helps create better fights and battles and we appreciate their efforts at making the game better for everyone.
High Commands Need Volunteers
The Allied and Axis High Commands are looking for more help. We have a streamlined training program that gets you trained up and into the high command of your choice pretty quickly. If your returning HC we bring you back in with just a quicker fresher. Remember with 1.36 and garrison supply in every front-line town we have relieved many of the duties and pressures prior HC experienced. Flag supply movement is now a secondary responsibility. Players in the air forces or navy are also encouraged to apply. Take an opportunity to see the game from whole different perspective – JOIN A HIGHCOMMAND.
Allied High Command Application
Player Shout Out
As we were looking through the top player lists of the campaign in all categories we kept coming across the player "Gefa68." His name kept appearing in Top 10 lists and we thought we would send a CRS shout out to him. A 3 year player of the game he has amassed 3,483 sorties so far this campaign. He has 2,157 kills (currently 12th place) and over 15,000 time on mission minutes. He plays only Allied and has been on 3,483 sorties this campaign. Of those sorties, Gefa68 also ends up on the Top Trucker list with over 440 trucker missions. You all know how critical truck drivers (to set FMS) are to the game! So S! and congrats Grefa68 - we wish we had an army of you!