Randomized Weather System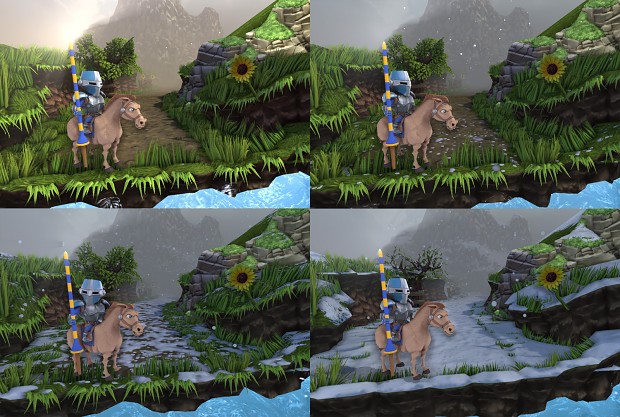 Last Knight is already in Beta but I get a little bored from all the fixing and polishing so that I tried to make a snow shader and with a little help from the Rocks Keep dev it turned out to be really cool. Then I set out to make a whole weather system and that is what came out of it:
Its all randomized and with smooth transitioning. Even extreme rare Thundersnow can happen! Thundersnow is really a thing: En.wikipedia.org
Interview
I had a Interview with True PC Gamer recently, they got a lot of interesting questions for me. Here are the first 2 questions:
TPG wrote:


Please tell us a little bit about yourself and your role with the development of Last Knight.

I'm 27 years old and from Germany, I'm making games at daytime and create monsters at night. Or more precisely: I work as a freelance artist which currently involves creating lots of monsters and I work on my game whenever I can. Last Knight is basically made by just me, I'm doing the programming side as well as all the artwork. The Music is made by Eduoard Brenneisen and the sounds by Jarno Sarkula.

How did you get started in developing PC games?

I started with making games way back when I was 14 or something around that. Through my uncle I came across a, at that time new, program called "Flash". He showed me the basics and then I quickly tried to make something, that could be called a game, with it. What emerged of it where lots of unfinished playable things. After being a gamer all my childhood it was a great experience for me to make my own games and make things work even if nothing of that was ever polished.

It got really serious with developing games when I started my Internship in a small games studio. It was just 2 guys, 1 programmer and 1 Artist, they were making mostly 3D web games which was at that time a pretty innovative thing. I quickly had to learn the ropes of 3D modeling and how to texture. After taking the hurdle of learning the basics of the overly complex modeling program 3Ds Max it became a lot fun and I could contribute to several released 3D web games. After that and some detours I became a Freelance artist while still working on my own projects whenever I had the time.
You can read the whole Interview over at True PC Gaming. I talk more about the development of Last Knight and also give some insight and tips about being a Indie Dev: Truepcgaming.com