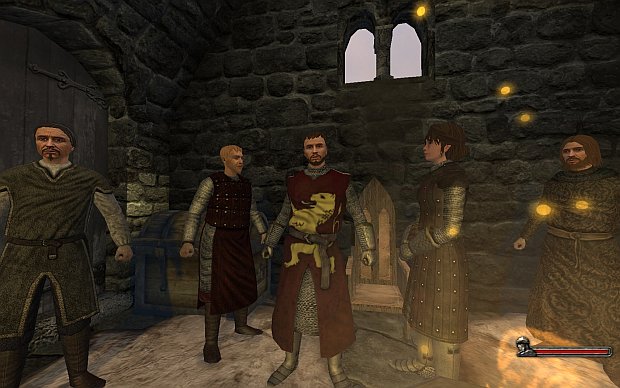 New Features:
- Have your wife join as companion
Your wife can join as a companion while still managing your kingdom. To do this first you have to have a castle or a town, and your wife located there. You can ask her to join your campaign and everytime you visit that castle from where you recruited her, she will still be there even if she is with you in the party (so you can still use her a minister). You cannot move residence or court with her in the party, so for that send your home (Part Ways). She will return to the castle/town you recruited here (mentions the location in the dialog).
If you lost all holdings or some strange bug occurs and you lost your wife go to a castle/town you own > Manage Castle/Town > Move Wife Here. Use Move Residence or Move Court(wife has to be out of the pary, send her home) if your lady is minister to move her around, since this way it will move your household contains too.
Even more you can now change her clotches with whatever you want while she is in the court. While she is in the party you will find her at the court castle/town with the armors/clotches you equiped her. No more ugly HATS for your LADIES!
- Can move while raiding/access inventory You can move within a certain radius of the village with the raid continuing and if you move beyond this radius, the raid is terminated. At half the limit distance, a menu appears, asking you if you want to continue the raid, serving as a warning.
- Access inventory and/or move during sieges
The player can exit from the auto-rest and access whichever menus they choose, without canceling the siege. Further, they can move within a certain radius of the besieged center with the siege continuing and if they move beyond this radius, the siege is terminated. At half the limited distance, a message scrolls on screen(orange color), notifying the player that their siege lines are stretched too thin and serving as a warning.
- Sort Troops Garrison in Villages/Castles and Towns
Sort Defenders just like you do with your members of your party, to get the best troops in battles. Go to Manage Castle/Town/Village > Sort Defenders. Put the best troops at the top so they will come first in battle.
- Store Troops in Villages
If you build a manor you can garrision troops in the village. They wont fight on their own, but if you arrive at the raid they will join if they are in garision. Make sure to put them at top (manage village > sort defenders menu).
Improvements and Fixes:
- Formation AI on KO disabled for now, i need to fix it.
- Nord Huscari upgrade reduced to 400 from 500 gold
- Doubled the number of horses available at merchants
- Deathcamera works in custom games once again.
- Added on option to disable the High Upgrade Costs on troops ( Camp > Diplomacy Preferences > Disable High Upgrade Cost )
- Reduced the days when you can keep your equipment on retire for freelancer from 90 to 45 days.
- commented max corpses in WSE ini since it could cause performance issues for some players.
- village income base doubled from 1200 to 2400.
- castle income base raised by 50% from 1200 to 1800
- town rents income based doubled from 2400 to 4800
- schools add 2 relation per week.
- construction complete COLOR Green message
- reduce construction time of fiefs, now buildings take between 10 and 20 Days to built
- one of your prisoners escaped COLOR Orange message
- more xp and money per week on freelancer