This update is fresh off the press and available to download through Desura now! It includes a lot of new features and bugfixes and many player suggested additions, such as the head and shoulder items that can now be created and equipped to your character and also the introduction of the crafting system. You can access the crafting system from the anvil and furnace items, that should be spawned near your starting area.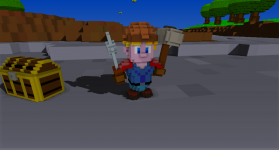 Head and shoulder items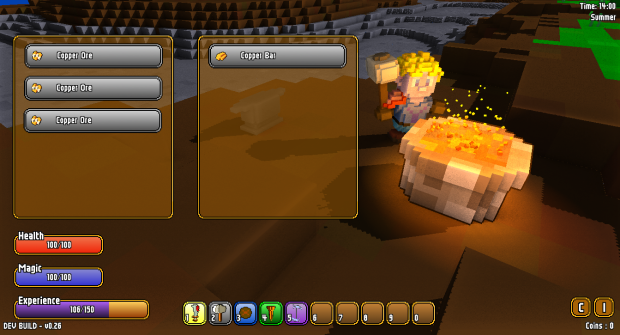 Crafting GUI - Use the anvil or furnace to start crafting items
Here is the full changelog:
New Features:
Ore deposits now take a number of pickaxe hits before they are expired of ore.
Each ore deposit hit with the pickaxe will yeild minerals on each strike.
Ore deposits get smaller and smaller with each hit.
Ice wand sound effect fadein and fadeout, rather than abrupt start/stop.
Play dirt crumble sound effect on mining ores.
Player stats/level/experience are now saved and loaded, progress is stored.
Better bee movement... no longer velocity based.
Aggro reset timers on ALL enemies - skeleton archers, bees, slimes, etc.
Better slime knockback when hitting the player.
Add name to character stats screen.
Add create world screen to the front-end and enable world creation buttons.
World creation is based on a number of parameters specified and a random seed.
World profiles saving and loading to file.
Ability to select small, medium, large or infinite world sizes.
Can now select what biomes are generated for the world - forest, tundra, desert, etc...
HUGE improvements to the collision detection and reponse with the world and items.
Player and monsters will no longer get stuck in the world or inbetween blocks as moving.
Improved bomb collision detection and 'bounce' around the world when thrown.
Add hats and helmets as a new item that can be equipped to the player.
Add shoulder items as equippable.
Dont replace the players head mdel when equipping a hat, add it as a new block sprite.
Add left and right side checkboxes to the weapon create GUI, so we can have non-semetrical equipment items.
Add furnace item, to allow for smelting of ores and other crafting.
Add anvil item to allow for creation of brand new equipment.
Minimum draw distance set to 100 in options menu.
Allow for non-semetric equipment items, use the left/right checkboxes in the weapon editor to select sides.
Add check to see if we can add an inventory item first, so we dont overspill the inventory.
Allow pickups and looting only if we have room in the inventory.
Crafting GUI is available when interacting with an anvil or a furnace
Items can now be crafted using the anvil and the furnace.
Ore nuggets can be smelted into ore bars... i.e. Copper Ore -> Copper Bars.
Create armor and wearable items using your newly smelted ore bars.
Exploding arrows, created by combining arrows with bombs.
Anvil and furnace have collision.
Bugfixes:
Can't target enemies when the player is a miner.
Better ghost random target wandering.
Only do the wand retract animation if we are actually casting.
Player stats are now stored in the profile manager.
Make sure we cant open the inventory,character stats or pause menu when we are dead.
If we die with the pause menu or inventory or other GUI open, close it automatically.
Hitting with bare fists doesn't cause a knockback on enemies.
Stop moving when we interact with a treasure chest.
Only allow random quests if we have random monsters to choose from.
NPCs now have a radius for collision.
NPCs dont render or update when out of draw distance.
Make sure that enemy target positions are always on the ground, not floating.
Better silhouette rendering, can't see lines/wireframe now.
Turn around to face camera view when throwing bombs also.
Also reset the chunk hash table when we goto frontend and back into game.
Make sure we render the block particles AFTER any outline silhouettes. (Stop particle bleed)
Only camera sort chunks if we are using occlusion culling.
Don't display the selection block (mining) if we are interacting with a copper ore deposit.
Fix player floating above the world.
Don't used the modified delta time when updating the diagnostics objects.
Don't always re-create the loot slots when loading and unloading the LootGUI.
Don't always re-create the inventory slots when loading and unloading the InventoryGUI.
Fix the light flicker rendering bug.
Don't allow opening/closing of the inventory or character screen when crafting.
Allow removing of 'non-quantity' items from the inventory. i.e. weapons
Fix shadow rendering draw order in the front-end.
Make sure shoulder slot is reset in the weapon create GUI when unloading.
Support ghost render wireframe mode.
The next update will be focusing on the questing system and adding more fun quests and challenges for you to do, stay tuned!